Carmelo Anthony & La La Vazquez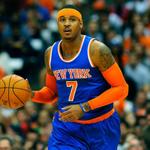 Carmelo Anthony
$160 Million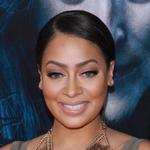 La La Vazquez
$30 Million
Carmelo Anthony and La La (Alani Vazquez) met through a mutual friend, DJ Clue. Carmelo was interested in meeting La La and the two were introduced. They started as friends and then progressed into a romantic relationship. Carmelo said that La La's eyes attracted him to her. Carmelo reportedly sent La La a bottle of Moet & Chandon in a New York night club to try and impress her. The two got engaged on Christmas Day in 2004. While engaged they had a son, Kiyan Carmelo Anthony, who was born in March of 2007. The two eventually did get married in New York in July 2010. The wedding ceremony was filmed as part of a VH1 reality show La La's Full Court Wedding. Since then the married couple now stars in a similar VH1 show La La's Full Court Life. There has been some controversy with the couple's relationship. It was reported that fellow NBA star Kevin Garnett once said that La La "tasted like Honey Nut Cheerios". This was denied by La La in her book The Love Playbook. In February 2014 Carmelo was caught staring at a woman during one of his basketball games. La La has said that she is totally against the idea of giving her man a free pass to cheat.
Carmelo Anthony net worth and salary: Carmelo Anthony is a Brooklyn-born professional basketball player who has a net worth of $160 million dollars. He is perhaps most famous for being a player for the New York Knicks...
La La Vazquez net worth: La La Vazquez is an American television personality who has a net worth of $9 million. La La Vazquez is also famous for...
Profession
Basketball player, Television producer, Actor, Athlete
Profession
VJ, Actor, TV Personality, Disc jockey, Television producer, Screenwriter
Date of Birth
May 29, 1984 (38 years old)
Date of Birth
Jun 25, 1979 (42 years old)
Nicknames
Melo
Carmelo Kiyan Anthony
Carmelo Kyan Anthony
Carmelo Kyam Anthony
Melo Man
Nicknames
LaLa Vasquez
La La Vazquez
Alani 'La La' Vazquez
Alani Vazquez
Alani Vazquez Anthony
La La Anthony
La La Vasquez
Alani "La La" Anthony
LaLa Vazquez
La La Anthony
Ethnicity
African American
Nationality
United States of America
Nationality
United States of America
Carmelo Anthony Appearances
Finally Orange: The Official 2003 NCAA Championship

NBA Street Series: Vol. 4: Class of '03
La La Vazquez Appearances
Two Can Play That Game

Bobby the DJ