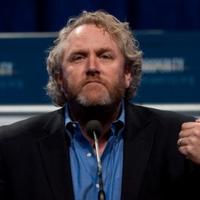 Andrew Breitbart Net Worth
| | |
| --- | --- |
| Net Worth: | $10 Million |
| Date of Birth: | Feb 1, 1969 - Mar 1, 2012 (43 years old) |
| Place of Birth: | Los Angeles |
| Gender: | Male |
| Profession: | Journalist, Writer, Editor, Author, Entrepreneur, Commentator, Publisher |
| Nationality: | United States of America |
What was Andrew Breitbart's Net Worth?
Andrew Breitbart was an American publisher, journalist and author. At the time of his death in 2012, Andrew Breitbart's net worth was $10 million. Andrew gained widespread fame (and fortune) after founding a number of websites, most notably his namesake site Breitbart.com. He also founded BigHollywood.com, BigGovernment.com, BigJournalism.com, and BigPeace.com. Perhaps surprisingly, Breitbart helped launch the very liberal Huffingtonpost.com. Today, over a decade after his death, Breitbart is still a notable and profitable website. It's arguably the largest non-mainstream conservative website in the world. Breitbart has attracted controversy almost continuously. It frequently publishes articles which could be construed as racist, sexist, homophobic or worse. In February 2010 he received the Reed Irvine Accuracy in Media Award during the Conservative Political Action Conference in Washington, D.C. He often appeared as a speaker at Tea Party movement events. In April 2011 Grand Central Publishing released his book, "Righteous Indignation: Excuse Me While I Save the World," in which he discusses his own political evolution and the part he took in the rise of new media, most notably at the Drudge Report and The Huffington Post. Andrew died on March 1, 2012 at the age of 43. One year after his death, Andrew's widow Susie paid $2.2 million for a home in Los Angeles, California. Susie and her four children remain the beneficiaries of the profits generated by the site.
Early Life
Breitbart was born on February 1, 1969 in Los Angeles to Irish-American parents. His parents gave him up for adoption soon after he was born and not much is known about them, though according to the name on his birth certificate, his biological father was a folk musician. When he was three weeks old, he was adopted by Gerald and Arlene Breitbart. His adoptive father worked as a restaurant owner while his adoptive mother was a banker. He grew up in the affluent neighborhood of Brentwood and was raised in a Jewish household, as his adoptive parents were Jewish. He studied at Hebrew school and also attended Brentwood School, one of the country's top private schools. While in high school, he worked as a pizza delivery driver. After graduation, he enrolled at Tulane University and achieved his bachelor's degree in American Studies in 1991.
Some of Breitbart's early post-university jobs included worked at "E! Entertainment Television," working in film production, and writing for an online magazine.
Huffington Post

Though he had liberal political views while growing up and while he attended college, he became more conservative after watching the 1991 confirmation hearings for Supreme Court justice Clarence Thomas, as he considered some of the questions directed at Thomas by liberal members of the Senate to be unfair. He later described himself as a "Reagan conservative" who also had libertarian values. He also started listening to conservative radio hosts like Rush Limbaugh, which helped him further refine his political positions.
In 1995, Breitbart became aware of "The Drudge Report," a news website which primarily linked to stories on other websites. He became friends with the website's founder, Matt Drudge, and also began working at the website. Drudge later introduced him to Ariana Huffington, who was a Republican at the time. In the years that followed, he helped Huffington create "The Huffington Post." He also was writing a weekly column for "The Washington Times" around this time.
Breitbart News
In 2007, Breitbart founded "Breitbart News." Originally, he conceived of the website as being "The Huffington Post" of the right, as "The Huffington Post" had become much more liberal and progressive since Breitbart had been involved in its early founding. The website featured content from the Associated Press, PR Newswire, U.S. Newswire, and Reuters, among others. The same year as he founded the website, he also launched a video blog, Breitbart.tv.
In June of 2011, "Breitbart News" was the first to break the story about congressman Anthony Weiner. Weiner had been sending inappropriate photos of himself to underage females and Breitbart had been able to get word of the story before all other major news outlets.
As the years went on, "Breitbart News" became more affiliated with the alt-right. By 2016, the news platform became somewhat of a virtual rallying spot for supporters of Donald Trump's 2016 presidential campaign. The platform's evolution towards the more far right aligned with Andrew Breitbart's own personal shift towards more radical conservative views as well. He often appeared as a speaker at Tea Party events around the country, speaking at the first National Tea Party Convention in 2010. He is also credited for creating the so-called "Breitbart Doctrine," which is the idea that "politics is downstream from culture." Breitbart was often heard explaining that in order to change politics in the United States, it was first critical to change culture which involved understanding people and how they make decisions. He believed that if someone could change people and their thought processes on a large scale, this ultimately would have an effect on politics.
Controveries
Breitbart was involved in a number of controversies over the years as well. In 2011, he was sued by Shirley Sherrod after he posted a video of Sherrod giving a speech on his news website. The video had been selectively edited to make it appear as though Sherrod had purposely discriminated against a white farmer, though the unedited version of the video shows that Sherrod had really been telling a story about how she had helped the farmer. The lawsuit eventually settled in 2016.
In 2012, a video surfaced of Breitbart yelling at Occupy D.C. protestors outside a Washington D.C. hotel. In the video, Breitbart can be heard telling the protestors to "stop raping people" and calling them "filthy, filthy, raping, murdering freaks." The video sparked a viral storm on the internet. He later appeared in the documentary film, "Occupy Unmasked," which alleges that the Occupy movement was orchestrated by sinister and violent organizers who were intent on destroying the American government.
Personal Life
At the time of his death Breitbart was married to Sussanah "Susie" Bean. During their marriage, the couple had four children together.
Late in the day on February 29, 2012, Breitbart collapsed on a street near his Brentwood home. He was immediately rushed to the hospital where he was pronounced dead shortly after. He was 43 years old. An autopsy showed that he had hypertrophic cardiomyopathy and died from heart failure. He was buried in Hillside Memorial Park.
Following his death, many notable conservative political figures paid tribute to Breitbart including Rick Santorum, Tucker Carlson, Rush Limbaugh, Glenn Beck, Sarah Palin, and Newt Gingrich. He has since been credited with having a massive impact on the radical conservative movement in the United States and for developing news outlets for the most conservative-leaning Americans.
All net worths are calculated using data drawn from public sources. When provided, we also incorporate private tips and feedback received from the celebrities or their representatives. While we work diligently to ensure that our numbers are as accurate as possible, unless otherwise indicated they are only estimates. We welcome all corrections and feedback using the button below.