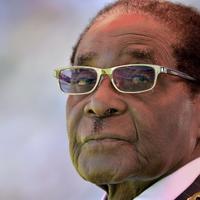 | | |
| --- | --- |
| Net Worth: | $20 Million |
| Date of Birth: | Feb 21, 1924 - Sep 6, 2019 (95 years old) |
| Place of Birth: | Zvimba District |
| Gender: | Male |
| Profession: | Politician |
| Nationality: | Zimbabwe |
What was Robert Mugabe's Net Worth?
Robert Mugabe was a Zimbabwean revolutionary and politician who had a net worth of $20 million at the time of his death in 2019. Born February 21, 1924 in Salisbury, Southern Rhodesia (now Harare, Zimbabwe), Robert Mugabe served as Prime Minister of Zimbabwe from 1980 to 1987 and then as President from 1987 to 2017.
Although many people in Southern Rhodesia went only as far as grammar school, Mugabe was fortunate enough to receive a good education. He attended school at the local Jesuit mission under the supervision of school director Father O'Hea, who turned out to be a powerful influence on the boy. O'Hea taught Mugabe that all people should be treated equally and educated to the fulfillment of their abilities. Mugabe's teachers, who called him "a clever lad," were early to recognize his abilities as considerable.
By 1953, he had earned his Bachelor of Education degree through correspondence courses and in 1955 Mugabe moved to Northern Rhodesia where he taught for four years at Chalimbana Training College while also working toward his Bachelor of Science degree in economics through correspondence courses with the University of London. In 1960, Mugabe was elected public secretary of the National Democratic Party. In accordance with Ghanaian models, Mugabe quickly assembled a militant youth league to spread the word about achieving black independence in Rhodesia. In 1963, the police arrested Mugabe for his participation in the resistance movement and sent him to Hwahwa Prison where he remained for over a decade. Mugabe later escaped back across the border to Southern Rhodesia, assembling a troop of Rhodesian guerilla trainees along the way. By 1980, Southern Rhodesia was liberated from British rule and became the independent Republic of Zimbabwe and Mugabe was almost simultaneously elected President of Zimbabwe.
Mugabe's legacy is complicated, as he initially helped Zimbabwe free itself from British colonialism and white minority rule. However, he then became a somewhat despotic leader, and people suffered widespread human rights abuses during his time in power, especially the latter years.Robert Mugabe died on September 6, 2019 at the age of 95.
Early Life
Mugabe was born on February 21, 1924 at the Kutama Mission village in Southern Rhodesia's Zvimba District. His mother was a carpenter while his mother was a Christian catechist for local village children. They had both been trained in their professions by the Jesuits, the religious order which had established the Kutama Mission. He grew up with his five brothers and sisters and was a member of the Zezuru clan, a branch of the Shona tribe.
Around 1930, his father had an argument with one of the Jesuits and the family was subsequently expelled from the mission village by its French leader, Father Jean-Baptiste Loubiere. They settled in a village about 11 kilometers away. However, the children were allowed to continue attending school at the mission. A few years later, his family left the village seeking work in Bulawayo. He did not return as he established a relationship with another woman. The family then returned to the mission and Mugabe completed his schooling. He was offered a place on a teacher training course at Kutama College in 1941. He obtained his teaching diploma and then began teaching as schools throughout Southern Rhodesia.
He later won a scholarship to student at the University of Fort Hare in South Africa. There he was exposed to Marxist teachings as well as the actions of Mahatma Gandhi during the Indian Independence. He obtained his Bachelor of Arts degree in history and English literature before returning to Southern Rhodesia in 1952. Over the next few years, he continued teaching and also achieved other degrees, while also growing more devoted to the teachings of Marxism. He additionally grew more and more critical of colonialism and wanted to rid Southern Rhodesia of British rule.
Political Career
Mugabe became involved in politics in the early 1960s when he joined a demonstration in protest of the arrest of African nationalist leader, Leopold Takawira. Mugabe was invited to speak to the crowd, as he had spent the years prior establishing himself as an intellectual man with who was sympathetic to the nationalist movement. After speaking, he decided to devote himself full-time to activism. He was elected to the National Democratic Party as their publicity secretary.
Following the win of the Rhodesian Front in the 1962 election, a party which aimed to preserve white minority rule and the colonialist system, Mugabe was instrumental in establishing a new party – the Zimbabwe African National Union (ZANU). He was appointed to be the party's secretary-general. Soon after, he was arrested for making anti-government remarks. He spent from 1963 to 1974 in prison. Upon his release, he was more committed than ever to ZANU, especially considering that guerilla style warfare had broken out in the country while he was imprisoned.
This warfare continued until a ceasefire was called and the warring factions were called to negotiate at Lancaster House in London. The resulting peace agreement called for a new election to be overseen by a British governor. It also detailed that Southern Rhodesia would be renamed Zimbabwe and would become an independent country after decades of colonial rule.
In the subsequent election, the ZANU party secured 63% of the national vote and Mugabe was elected Prime Minster in 1980. Under his administration, he expanded healthcare and education access and adhered to generally mainstream economic policies, despite his own personal interested in socialism. He was elected President of Zimbabwe in 1987.
While the beginning years of his rule were generally positive for the country, over time the people of Zimbabwe began to suffer. Due to his belief in redistributing formerly white-owned lands in pursuit of full decolonization, Mugabe became impatient that the process was not happening quickly enough. He encouraged Zimbabweans to violently seize white farms, which severely impacted food supply and led to famine and economic decline, as well as foreign sanctions. Though opposition to him grew, he was still re-elected in 2002, 2008, and 2013 through campaigns dominated by violence, electoral fraud, and nationalistic appeals.
In 2017, members of his own party ousted him in a coup, replacing him with former vice president, Emmerson Mnangagwa.
Personal Life and Death
Mugabe's first wife was Sally Hayfron. They had a son together in September of 1963 though he died only three years later of cerebral malaria in 1966. While married to Hayfron, Mugabe began an affair with his secretary, Grace Marufu, in 1987. Grace was 41 years younger than him and at the time was married to Stanley Goreraza. In 1988, she had a daughter with Mugabe, named Bona, followed by a son, Robert, in 1990. The relationship was kept secret from the public though Hayfron was aware of it. Hayfron died in 1992. In 1996, Mugabe and Grace were married in a large Catholic ceremony. In the years that followed, Grace developed a reputation for her expensive taste, as she loved luxury clothing and jewelry. In 1997, she gave birth to their third son, Chatunga.
Mugabe became ill not long after his resignation in 2017. He traveled frequently to Singapore for medical treatment and was hospitalized there in 2019. He died at a hospital there in September of that year at the age of 95.
All net worths are calculated using data drawn from public sources. When provided, we also incorporate private tips and feedback received from the celebrities or their representatives. While we work diligently to ensure that our numbers are as accurate as possible, unless otherwise indicated they are only estimates. We welcome all corrections and feedback using the button below.