Kim Jong-il Net Worth
What was Kim Jong-il's Net Worth?
Kim Jong-il was the Supreme Leader of the Democratic People's Republic of Korea (North Korea) who had a net worth of $4 billion at the time of his death. Kim Jong-il died on December 17, 2011, at the age of 70.
Kim Jong-il succeeded his father and founder of the DPRK, Kim Il-sung, after the elder Kim passed away in 1994. Kim Jong-il was the Chairman of the National Defense Commission of North Korea and the General Secretary of the Workers' Party of Korea (WPK), and he was the Supreme Commander of the world's fourth-largest standing army, the Korean People's Army. North Korea's constitution was amended in April 2009 to refer to Kim as the "supreme leader." Many North Koreans believed he had "magical" ability to "control the weather" based on his mood. Kim was named the "Eternal Chairman of the National Defence Commission" and the "Eternal General Secretary" of the WPK after his death.
Early Life
Kim Jong-il's official biography states that he was born on February 16, 1942, in a secret military camp in Japanese-occupied Korea, but Soviet records tell a different story, showing that he was born Yuri Irsenovich Kim on February 16, 1941, in Vyatskoye, Khabarovsk Krai, Russia. His mother, Kim Jong-suk, died in 1949 while giving birth to a stillborn baby, and Kim's younger brother, Kim Man-il, drowned in 1947. Kim's father later remarried and reportedly had three children with his new wife.
Kim studied at Pyongyang's Primary School No. 4 and Middle School No. 1, according to his biography, and he was a member of the Democratic Youth League of North Korea and the Korean Children's Union. In 1960, he graduated from Namsan Higher Middle School and enrolled at Kim Il Sung University, where he majored in Marxist political economy.
Rise to Power

After Kim Jong-il graduated in 1964, he rose to power in the Korean Workers' Party, and by the 1980s, he was being prepared to succeed his father as North Korea's leader. When the Sixth Party Congress was held in 1980, Kim was given senior posts in the Military Commission, the Secretariat, and the Politburo, and in 1982 he was appointed to the Seventh Supreme People's Assembly. Kim was named Supreme Commander of the Korean People's Army in 1991 despite the fact that he had no military experience, and in 1992, Kim Il-sung put him in charge of internal affairs in the Democratic People's Republic. The following year, Kim Jong-Il became Chairman of the National Defence Commission.
Kim il-sung died of a heart attack on July 8, 1994, and Kim Jong-il officially began serving as General Secretary of the Workers' Party of Korea on October 8, 1997. A 2004 Human Rights Watch report stated that under Kim's leadership, the North Korean government was "among the world's most repressive governments" due to the fact that they kept up to 200,000 political prisoners and did not allow freedom of the press, equal education, political opposition, or freedom of religion. In 2008, Kim had two strokes, and the TBS TV network in Japan reported that the second stroke "affected the movement of his left arm and leg and also his ability to speak." He was re-elected as chairman of the National Defence Commission in April 2009, and his appearance at the Supreme People's Assembly was his first public appearance since August 2008.
Publications
Kim purportedly published nearly 900 works between 1964 and 1994, and Kim Jong-il's Works Exhibition House in North Korea has kept more than 1,100 of his writings. His works include "Let Us Make Party Work Thorough Work with People" (1965), "On Giving Wide Publicity to the Leader's Greatness Among the South Korean People" (1965), "On Enhancing the Role of Party Organizations and Political Organs in the People's Army" (1969), and "On the Art of the Cinema" (1973).
Personal Life
Kim married Hong Il-chon in 1966, and they had one daughter, Kim Hye-kyung (born in 1968), before divorcing in 1969. In 1974, he married Kim Young-sook, and they had a daughter, Kim Sul-song, in 1974. Though the pair was still married at the time of Kim 's death in 2011, they had been estranged for years. Kim Jong-il also had several mistresses, and he had son Kim Jong-nam with Song Hye-rim in 1971, and sons Kim Jong-chul (born in 1981) and Kim Jong-un (born in 1983) and daughter Kim Yo-jong (born in 1987) with Ko Yong-hui.
Kim always chose to travel by train because he was afraid of flying. A huge movie buff, he reportedly owned more than 20,000 films on DVD and video, and he particularly enjoyed the "James Bond," "Godzilla," and "Friday the 13th" franchises. In 1978, Kim ordered the kidnapping of South Korean film director Shin Sang-ok and his wife, actress Choi Eun-hee, and forced them to make films for him.
Death
The North Korean government announced Kim Jong-il's death on December 19, 2011, two days after he passed away from a suspected heart attack while traveling on a train. His third son, Kim Jong-un, was promoted to a senior position in the ruling Workers' Party and succeeded him. The government declared a period of national mourning from December 17th to 29th, and Kim's funeral was held on the 28th in Pyongyang. The following month, it was announced that Kim's body would be placed on permanent display at Kumsusan Memorial Palace. Since Kim Jong-il's death, his birthday has been known as the Day of the Shining Star and "the greatest auspicious holiday of the nation."
Real Estate
Kim Jong-il owned 20 to 30 homes, including a compound in Pyongyang, a beach house, and several homes outside Pyongyang. Many of his properties included private train stations as well as swimming pools and lakes.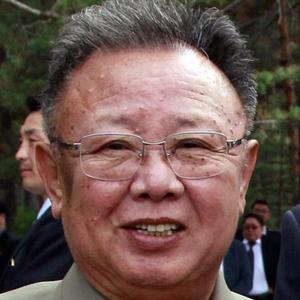 Kim Jong-il
| | |
| --- | --- |
| Net Worth: | $4 Billion |
| Date of Birth: | Feb 16, 1941 - Dec 17, 2011 (70 years old) |
| Gender: | Male |
| Height: | 5 ft 2 in (1.6 m) |
| Profession: | Politician |
| Nationality: | North Korea |
All net worths are calculated using data drawn from public sources. When provided, we also incorporate private tips and feedback received from the celebrities or their representatives. While we work diligently to ensure that our numbers are as accurate as possible, unless otherwise indicated they are only estimates. We welcome all corrections and feedback using the button below.