Michael Bloomberg Net Worth
What is Michael Bloomberg's net worth?
Michael Bloomberg is an American politician and entrepreneur who has a net worth of $70 billion. Michael Bloomberg earned his fortune through his financial news and information services media company Bloomberg LP. He owns 88% of the privately held company. Michael is also notable for being the former Mayor of New York City. He is one of the wealthiest people in America and the world. As of this writing, he is the 12th wealthiest person on the planet, the 8th richest American. In November 2019, Michael Bloomberg officially entered the 2020 Presidential race.
Early Life
Michael Bloomberg was born on February 14, 1942 in Boston, Massachusetts. He grew up in a middle class family and was in the boy scouts, eventually reaching Eagle Scout. He graduated from Johns Hopkins University in 1964 with a degree in electrical engineering. He then earned an MBA from Harvard Business School.
After Harvard Michael immediately went to work on Wall Street, landing a job at Solomon Brothers with a starting salary of $9,000 per year. In 1973 he made partner at Solomon Brothers where he was in charge of equity trading. He was laid off in 1981 after Solomon was acquired by a rival bank. At the time he was laid off, he owned $10 million worth of Solomon equity. That's the same as around $30 million after adjusting for inflation.
With no job but lots of money, Bloomberg launched a business called Innovative Market Systems. His realization was that financial services would pay a high price for fast access to quality business information. Within a year Merrill Lynch ordered $30 million worth of Innovative's "Market Master" terminals. These machines were the precursors to his now ubiquitous Bloomberg Terminals.
Within 10 years of launching, the newly named Bloomberg LP had installed tens of thousands of terminals. As of this writing there are more than 300,000 Bloomberg Terminals around the world. A single terminal without bulk discount costs more than $20,000 per year.
By the early 1990s, the company was worth $2 billion. Today Bloomberg generates more than $10 billion per year in revenue. The company employs more than 20,000 people around the world.
Mayor of New York
Michael stepped down as CEO in 2001 to run for mayor of New York City. He won the election which took place just three weeks after the September 11 terror attacks. A lifelong democrat, he actually ran as a Republican. He officially assumed the office as the 108th mayor of New York in January 2002.
In 2008, after serving two terms, he pressured the City Council to change the rules so that he could run for a third term. They did and he won.
During his time in office, Michael Bloomberg spent $268 million of his own money on re-election campaigns. He also spent $890,000 to provide free breakfast and lunch every day for his entire staff during his three terms.
As mayor he was entitled to $2.7 million in salary over three terms but instead opted to earn just $1 per year. He also paid for his own travel and security, amounting to more than $6 million in total costs during his term.
After his third term was up, Michael returned to his position as CEO of Bloomberg LP.
Wealth
In 2008, when CelebrityNetWorth first started tracking Michael Bloomberg's net worth, we estimated his fortune at $12 billion. One year later we raised the estimate to $16 billion. In 2012, he was worth $22 billion. At that point he was the 11th richest-person in the US and the 20th richest-person on the planet. By 2015 his net worth topped $43 billion, enough to make him the 6th richest-person in the US.
As of this writing, Bloomberg's $60+ billion net worth makes him the 17th richest-person in the world, the 10th richest-person the US.
The vast majority of his net worth is the presumed value of his privately-held company Bloomberg LP. The company, which generates an estimated $10 billion in revenue per year, would be worth a minimum of $40 billion on the open market if it ever came up for sale. More likely it is worth $60-70 billion, but there are potentially no companies or private equity firms in the world who would be willing or able to plunk down that much cash all at once for the firm. Bloomberg has stated that if he were ever to become President of the United States, he would sell the firm.
Real Estate
In May 2013 Michael released his final mayoral tax return/financial disclosure. In that disclosure we learned that Boomberg at the time owned 14 personal residences and spends at least $500,000 per year on household staff salaries.
Michael's primary residence in NYC is a 5-story townhouse on East 79th Street which he bought in 1986 for $3.5 million, which is the same as spending around $8 million in today's dollars. Over the next several decades Michael bought five of the six units in an adjacent townhouse next door, expanding his first residence horizontally to create a monster mega-property. His NYC home is a block from Central Park and a short walk to the Metropolitan Museum of Art. The combined mega-property is worth at least $50 million today.
He also owns an estate in Westchester County, NY, made up of several different property purchases. Located in North Salem, his first purchase occurred in 2001 when he bought a 20-acre equestrian estate. His daughter Georgina is famously a professional rider. In 2011 he expanded his North Salem foot print when he paid $4.55 million for a 33-acre estate located next to his equestrian estate. Roughly 30 minutes away he owns a home in Armonk, NY which he bought in 1993 for $375,000.
Rounding out his New York state property portfolio is a 35-acre estate in Southampton which he bought for $20 million in 2011. His oceanfront Southampton house has an 11-bedroom 22,000 square-foot mansion. His initial purchase bought 25-acres. He has since added at least 10-acres worth of nearby property.
Outside of New York, Michael owns a homes in London, Bermuda, Vail and Wellington, Florida. His Florida home is an $8.9 million mansion within a horse riding community which he bought for $8.9 million in 2006. In Vail, Colorado home is a four bedroom condo at a luxury building called Mountain Haus. A similar unit recently was listed for $4.35 million. He bought his London home in 2015 for $25 million.
While he was mayor, he would fly to Bermuda aboard his own private jet twice a month on average. After buying his Bermuda home, he demolished the former property and spent $10 million building a brand new mansion.
Philanthropy
Michael Bloomberg is an extremely generous philanthropist, with a special focus on the environment, gun control and education. He intends to give away the vast majority of his fortune before he dies. Some notable donations include over $3 billion to Johns Hopkins University across several donations. He gave Cornell University $100 million in 2015. He has donated around $8 billion of his fortune as of this writing.
In 2011 he gave $50 million to the Sierra Club. In June 2019 he committed $500 million to fight global warming through the Beyond Carbon initiative. He donated $30 million to the New York Metropolitan Museum of Art to help fund audio tours in dozens of languages, another $30 million to assist impoverished and Latino black men and $7 million to promote gun control.
Through his Bloomberg Philanthropies Foundation, he has donated and/or pledged over a billion to various causes.
Personal Life
Michael was married to Susan Brown-Meyer from 1975 to 1993. They have two children together. One of their children, Georgina Bloomberg, is a socialite who owns an equestrian team.
Michael has been in a relationship with Diana Taylor since 2000.
Summary
Michael Bloomberg has a net worth of $70 billion. As of this writing, that makes him one of the 13th richest-people in the world. He is an entrepreneur, politician and philanthropist.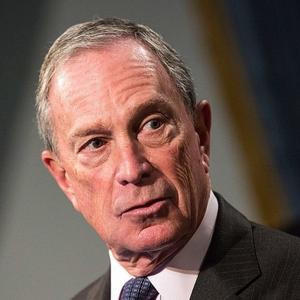 Michael Bloomberg
| | |
| --- | --- |
| Net Worth: | $70 Billion |
| Date of Birth: | Feb 14, 1942 (80 years old) |
| Gender: | Male |
| Height: | 5 ft 8 in (1.73 m) |
| Profession: | Entrepreneur, Politician, Businessperson, Business magnate |
| Nationality: | United States of America |
All net worths are calculated using data drawn from public sources. When provided, we also incorporate private tips and feedback received from the celebrities or their representatives. While we work diligently to ensure that our numbers are as accurate as possible, unless otherwise indicated they are only estimates. We welcome all corrections and feedback using the button below.