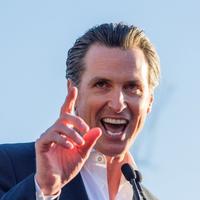 | | |
| --- | --- |
| Net Worth: | $20 Million |
| Date of Birth: | Oct 10, 1967 (55 years old) |
| Place of Birth: | San Francisco |
| Gender: | Male |
| Height: | 6 ft 3 in (1.91 m) |
| Profession: | Politician |
| Nationality: | United States of America |
What is Gavin Newsom's Net Worth and Salary?
Gavin Newsom is an American politician and investor who has a net worth of $20 million. Gavin Newsom became the 40th governor of California in 2019. A Democrat, he previously served as the lieutenant governor of California and as the mayor of San Francisco. Additionally, Newsom founded the PlumpJack Winery, and hosted "The Gavin Newsom Show" on Current TV.
In 1997, Brown appointed him to the San Francisco Board of Supervisors, a position he held until he ran for mayor. In 2003, he was elected the 42nd Mayor of San Francisco, the city's youngest in 100 years. Newsom was re-elected in 2007. In 2010 he was elected as the 49th Lieutenant Governor of California. In 2018 he was elected Governor of California.
He has co-founded 11 businesses. In 1991, the 24-year old Newsom and his investors created the company PlumpJack Associates L.P. In 1992, the group started the PlumpJack Winery. In 2002, his business holdings were valued at more than $6.9 million. Newsom sold his share of his San Francisco businesses when he became mayor in 2004.
Early Life and Career Beginnings
Gavin Newsom was born in 1967 in San Francisco, California, the son of father Wilfred, a state appeals court judge and Getty Oil attorney, and mother Tessa. He was baptized and brought up in his father's Irish Catholic faith. As a child, he went to Ecole Notre Dame Des Victoires, a French-American bilingual school. Due to severe dyslexia, however, he ended up transferring. He later attended Redwood High School, where he played baseball and basketball. For his higher education, Newsom enrolled at Santa Clara University, graduating in 1989 with a BS degree in political science.
In 1991, Newsom and his investors launched the company PlumpJack Associates, which subsequently led to the creation of the PlumpJack Winery. Over time, the business grew to have over 700 employees. From 1993 to 2000, Newsom and his investors opened a number of other businesses, including restaurants, hotels, and retail clothing stores.
Entering Politics
Newsom's first real political experience came when he worked for Willie Brown's 1995 campaign for San Francisco mayor. After he was elected, Brown appointed Newsom to a seat on the Parking and Traffic Commission, which Newsom later became the president of. In 1997, Brown appointed Newsom to the San Francisco Board of Supervisors; he was subsequently elected to a full four-year term in 1998. Newsome was reelected in both 2000 and 2002 to represent the second district. In his role as Supervisor, he gained recognition for his part in advocating for the reform of San Francisco's municipal railway, and for his support of housing projects through public-private partnerships.
Newsom's most significant accomplishment as Supervisor was his Care Not Cash voter initiative, which provided care, drug treatment, supportive housing, and behavioral health services to the homeless. The successfully passed measure raised Newsom's public profile, and gave him the resources he needed to make him a future mayoral candidate.
San Francisco Mayor
In 2003, Newsom was elected as the 42nd mayor of San Francisco; at the age of 36, he became the city's youngest mayor in a century. For his reelection campaign in 2007, Newsom was challenged by 13 candidates, including nudist activist George Davis and Power Exchange sex club owner Michael Powers. However, having raised $1.6 million for his campaign by early August, Newsom faced no serious threats. He won reelection with over 72% of the vote, and promised in his second term to focus on homelessness, health care, the environment, housing, and education. He also would focus on development projects in Treasure Island and Hunters Point.
Among his notable achievement as mayor, Newsom initiated programs including the San Francisco Homeless Outreach Team and Project Homeless Connect, which provided permanent housing and affordable rental units to people living without shelter. Much national attention came in 2004, when he directed the city-county clerk to issue marriage licenses to homosexual couples, a move that violated state law. Although the marriages were annulled, Newsom's action rallied a great deal of political support around the LGBTQ community, building a foundation for the future legalization of same-sex marriage. Later, in 2007, Newsom signed a law establishing Healthy San Francisco, which gave city residents universal health care.
California Lieutenant Governor
After a failed gubernatorial campaign in 2009, Newsom ran for lieutenant governor of California in 2010; he won, and was sworn in under Governor Jerry Brown. He was reelected in 2014, defeating Republican Ron Nehring. During his time as lieutenant governor, Newsom supported failed measures that would repeal the death penalty. He was more successful in getting cannabis legalized in 2016, and in creating education programs throughout the state.
Governor of California
Newsom was elected governor of California in 2018, defeating Republican John H. Cox in a landslide victory. In 2019, shortly after he was sworn in, Newsom was finally able to end the California death penalty. He also exercised his first acts of clemency by pardoning seven formerly incarcerated people who were facing deportation. Later on, Newsom drew approval for his progressive measures on transgender rights, gun control, health care, and hydraulic fracturing.
Early in his tenure, many recall attempts were made against Newsom. Although these efforts were unsuccessful, they began picking up momentum in 2020, when many Californians criticized the governor for mishandling the state's response to the COVID pandemic. In Feburary of 2021, it was announced that enough signatures had been acquired to trigger a recall election.
Is Gavin Newsom Nancy Pelosi's Nephew?
The short answer is no, Gavin Newsom is not Nancy Pelosi's nephew. They have no blood relation. However, decades ago there was indeed a very close familial connection between the two.
Nancy Pelosi has been married to Paul Pelosi since 1963. Paul has a brother named Ron. From 1956 to 1977 Ron Pelosi was married to Barbara Newsom. Barbara's brother William Newsom is Gavin's father. Gavin was born in 1967. So, for the first decade of his life, Nancy Pelosi was Gavin's aunt's sister-in-law. In other words, as a child Gavin was related to Nancy's brother-in-law by marriage.
To understand this in your own terms, do you have an aunt? Imagine your aunt being married to someone and then imagine that someone has a brother. And that brother has a wife. But! Now imagine your actual blood aunt has not been married to that someone for decades.
Let's pretend you have an aunt named Katie. Imagine your aunt Katie was at one point married to a guy named Joe Example. While they were married, Katie and Joe Example would be your aunt and uncle. Now let's say Joe has a brother named Bill. And let's say Bill Example was married to a woman named Sarah. No reasonable person would consider Bill Example an uncle. And on no planet would anyone ever consider Bill's wife Sarah Example to be an aunt. Oh and keep in mind, to be consistent now also imagine Katie and Joe Example divorced 50 years ago.
Personal Life
In 2001, Newsom wed former San Francisco prosecutor and conservative legal commentator Kimberly Guilfoyle; they divorced in 2006. That year, Newsom started dating film director Jennifer Siebel, whom he later married in 2008. Together, they have four children. Jennifer's father Ken Siebel is an extremely successful investment manager and real estate investor. Her father's second cousin is Thomas Siebel, the multi-billionaire founder of software company Siebel Systems.
Following his election as governor, Newsom moved with his family from a house in Marin County to the California Governor's Mansion in Downtown Sacramento. Since then, he settled in the Fair Oaks area.
In 2007, it was revealed that Newsom had carried out an affair with Ruby Rippey-Tourk, the wife of Alex Tourk, his campaign manager at the time. Consequently, Tourk filed for divorce and left Newsom's administration.
Real Estate
In 2011 Gavin and Jennifer paid $2.225 million in Kentfield, California. They listed this home for sale in February 2019 for $5.995 million. They sold this home in August 2021 for $5.895 million.
In late 2018, soon after Gavin was elected Governor, the couple bought a $3.7 million house in Sacramento.
All net worths are calculated using data drawn from public sources. When provided, we also incorporate private tips and feedback received from the celebrities or their representatives. While we work diligently to ensure that our numbers are as accurate as possible, unless otherwise indicated they are only estimates. We welcome all corrections and feedback using the button below.