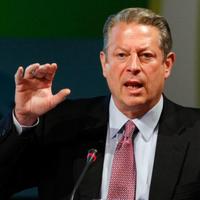 | | |
| --- | --- |
| Net Worth: | $300 Million |
| Date of Birth: | Mar 31, 1948 (74 years old) |
| Place of Birth: | Washington, D.C. |
| Gender: | Male |
| Height: | 6 ft 1 in (1.87 m) |
| Profession: | Politician, Writer, Author, Presenter, Advocate, Philanthropist, Environmentalist, Actor |
| Nationality: | United States of America |
What is Al Gore's Net Worth?
Al Gore is a former senator, Vice President, environmental activist, and entrepreneur who has a net worth of $300 million. Al Gore is probably best known for serving as Vice President under Bill Clinton from January 1993 to January 2001. He also earned acclaim for his award-winning documentary An Inconvenient Truth. He unsuccessfully ran for president in the 2000 US election, losing to George W. Bush.
Al Gore has earned the vast majority of his current net worth in the decades after leaving the White House. According to his last financial disclosure released when he was Vice President in 2000, Al Gore's net worth at that time ranged between $1.4 and $2.5 million. The vast majority of his net worth at that time was attributed to the value of his family's property in Tennessee. Upon leaving the White House, Al pivoted to a career as a media entrepreneur with the founding of the cable network CurrenTV. In 2012 Al and his partners sold CurrenTV to Al Jazeera for $500 million. As 20% owner of the network, Gore's pre-tax cut of the sale was $100 million.
Al has served on the Board of Directors for Apple Inc. since 2003. He is one of 9 board members. As a member of Apple's board, Al earns a salary of $377,000 per year. His Apple position also at one pointed allowed Al to amass 100,000 shares of the company. He sold 59,000 shares in 2013 for a windfall of $30 million.
Early Life
Albert Arnold George Jr. was born on March 31st of 1948 in Washington, D.C. Born into a political family, Al spent his youth working on his family farm in Carthage, Tennessee. During his high school years, he served as captain of the football team. In 1965, Gore enrolled at Harvard and studied government. After he graduated in 1969, he was drafted into military service during the Vietnam War.
Political Career
In 1976, Al Gore was elected to the US Senate. He first ran for president in 1988, but received only 10% of the popular vote in the New York Primary and dropped out of the race. In 1992, he became Bill Clinton's running mate. After the pair won the election, he became the 45th vice president of the United States. In 2000, he announced plans to run for president a second time, eventually becoming the Democratic nominee. He lost against George W. Bush in a controversial election marred by a Florida recount.
Film
Al Gore released the environmentalist documentary An Inconvenient Truth in 2006. The film was based on a novel Gore had written earlier, and it made a huge impact on the global environmentalist movement. The film also won an Academy Award for Best Documentary. In 2017, he released a sequel called An Inconvenient Sequel: Truth to Power.
Farming
It was reported that in 1999, Al Gore sold $600,000 worth of cows. At this point in time, his net worth was only $1.7 million, and most of this wealth came from pasture rents and royalties from a zinc mine. Records show that Gore gave the $600,000 to his children before his presidential run.
Current TV
Shortly after releasing An Inconvenient Truth, Al Gore went on to found a cable news network called Current TV. While Current TV was declining into obscurity, Al Gore was reportedly paying himself $1.2 million per year in salary and bonuses. Despite its low ratings, Current TV was purchased by Al Jazeera for $500 million in 2012. Gore's 20% stake in Current TV earned him $100 million in pre-tax profits.
It was important for Gore and his business partners to finalize the deal before December 31st of 2012, as this was when capital gains tax rates were raised from 15% to 20%. Ironically, the previous tax rates were put in place by Gore's biggest political rival, George W. Bush. So even though Bush handed Gore a crippling defeat in the US elections, the president's tax laws helped Gore save $5 million.
Apple
Al Gore has been a board member of Apple since 2003. According to a company's filing, before the stock split in 2020, Gore owned around 100,000 shares of vested and unvested Apple stock. After the stock split 4-1, he would have received 400,000 shares. At various times those shares would be worth $50 – 60 million, obviously depending on the share price.
In 2013, Gore exercised options on his shares, cashing in on 59,000 Apple shares that were in his possession since 2003. In the end, this led to a $30 million payday. Observers have commented that this success story is largely down to good timing on Gore's part. When he joined Apple's board, their shares were worth $7.50 each. These shares were eventually worth well over $400 each.
Inheritance
When Al Gore's father passed away, he inherited a number of shares for Occidental Petroleum Corp. These shares had an estimated value of between $500,000 and $1 million.
General Investment Management
Al Gore is the chairman of Generation Investment Management (GIM), a company that has approximately $8.5 billion in assets. Between 2008 and 2011, GIM generated over $218 million. That number was split between 26 partners, which of course included Al Gore. As one of the co-founders of GIM, Gore likely takes home a much higher equity stake compared to other partners. Although GIM is successful, they reportedly lost over $165 million after they invested heavily in a solar panel company that quickly tanked.
Speaking Fees
After the success of An Inconvenient Truth, Al Gore embarked on a speaking tour, charging upwards of $200,000 for a single speaking event.
Real Estate
Al and Tipper own at least $25 million worth of real estate around the United States.
In 2010, Al Gore purchased an ocean-view estate in Montecito, California for $8.9 million. Today this home is likely worth north of $15 million. The gated villa sits on 1 ½ acres of land and features a pool and spa. The house provides over 6,500 square feet of living space and high ceilings. Fountains adorn the outer perimeter. The famous environmentalist was heckled when news of this came to light, as this purchase seemed to contradict his stance on climate change. After all, his critics argued, why would a man so concerned about rising sea levels invest in property by the coast?
Al Gore's property in Belle Meade, Tennessee caused even more controversy for Gore. He was forced to add solar panels to this 10,000-square-foot property when it was revealed how much energy his household was consuming. One report found that Gore's mansion, which is worth an estimated $8 million, consumed 34 times more energy than an average household over a period of one month and that his swimming pool alone consumed enough energy to power six homes over a one-year period. His home is also heated by natural gas, which is a big no-no among environmentalists. All in all, Gore was spending over $2,400 per month in utility bills.
Funnily enough, George W. Bush got the last laugh once again in the midst of this controversy. Observers soon pointed out that in contrast, George was living in one of the most sustainable, green-friendly homes imaginable. It was revealed that Bush Jr.'s home had a smaller footprint of 4,000 square feet, and it was heated by sustainable geothermal energy 75% times more efficient than a conventional heating/cooling system. Bush even made a point to collect rainwater from the roof, purify it, and then redirect it as irrigation to the surrounding fields. Once again, Al Gore was outdone.
In San Francisco, Al and Tipper own a condo in the St. Regis building that is worth an estimated $3 million.
All net worths are calculated using data drawn from public sources. When provided, we also incorporate private tips and feedback received from the celebrities or their representatives. While we work diligently to ensure that our numbers are as accurate as possible, unless otherwise indicated they are only estimates. We welcome all corrections and feedback using the button below.