Category:

Net Worth:

$200 Million

Date of Birth:

Jun 20, 1949 (74 years old)

Place of Birth:

Tuskegee

Gender:

Male

Height:

5 ft 10 in (1.803 m)

Profession:

Record producer, Actor, Musician, Singer-songwriter, Multi-instrumentalist

Nationality:

United States of America
💰

Compare Lionel Richie's Net Worth
What is Lionel Richie's net worth?
Lionel Richie is an American singer-songwriter who has a net worth of $200 million. Lionel Richie embarked on his professional music career as a member of the Commodores, a funk/soul band signed to Motown Records in the 1970s. Richie's smooth vocal style on hits like "Easy" and "Three Times a Lady" garnered him significant attention.
In 1982, Richie ventured on a solo career that further propelled his status as a global music icon. His debut solo album, "Lionel Richie," included the number-one hit "Truly." However, it was his second album, "Can't Slow Down," that solidified Richie's position in the music industry. This album included the chart-topping hits "All Night Long," "Hello," "Stuck on You," and "Penny Lover," and won two Grammy Awards, including Album of the Year.
To date, Richie has sold over 100 million records worldwide, making him one of the world's best-selling artists of all time. His enduring success resulted in him receiving a multitude of accolades, including an Academy Award for Best Original Song, four Grammy Awards, and a Golden Globe Award. Richie's significant contributions to the music industry were recognized when he was inducted into the Songwriters Hall of Fame in 1994.
Early Life
Lionel Brockman Richie, Jr. was born on June 20, 1949, in Tuskegee, Alabama. He grew up on the campus of the Tuskegee Institute. He graduated from Joliet Township High School in Joliet, Illinois where he was a star tennis player. He attended the Tuskegee Institute on a tennis scholarship and graduated with a B.S. in economics. Richie formed a number of R&B groups in the mid- 1960s while he was a student at Tuskegee. Richie attended graduate school briefly at Auburn University.
Career
In 1968, Richie joined the Commodores as a singer and saxophone player. The group signed a one record recording deal in 1968 with Atlantic Records before moving to Motown Records. The Commodores became a popular R&B group with the songs "Brick House," "Machine Gun," "Easy,", and "Three Times a Lady."  In the late 1970s Richie started writing songs on commission for other musicians. He wrote "Lady" for Kenny Rogers, which became a number one hit for him in 1980. In 1981, Richie sang the theme song for the movie "Endless Love," which was a duet with Diana Ross. It was one of Motown's biggest hits and was nominated for an Academy Award. This success inspired Richie to go out on his own with a solo career.
Richie's debut solo album "Lionel Richie" was released in 1982 and had three hit singles: "Truly," "You Are," and "My Love." Stylistically it was similar to the music of the Commodores. The album hit number three on the charts and sold over four million copies. He released "Can't Slow Down" in 1983 and it sold twice as many records as "Lionel Richie." "Can't Slow Down" also won two Grammy Awards including Album of the Year. The standout single from the album was "All Night Long," which Richie performed at the closing ceremony of the 1984 Summer Olympics in Los Angeles.
Throughout the 1980s Richie had a number of Top 10 hits including "Hello," "Stuck on You," "Running with the Night," and "Penny Lover." He wrote and recorded the title song for the 1981 movie "Endless Love." It was a duet with Diana Ross and was nominated for the Academy Award for Best Original Song in 1982.
He wrote and performed the song "Say You, Say Me" for the 1985 film "White Nights." The song won the Academy Awards for Best Original Song and was the number one song in the United States for four weeks. Richie also collaborated on "We Are The World" with Michael Jackson. He released the album "Dancing on the Ceiling" in 1986 which spawned five Top 20 songs including "Say You, Say Me," "Dancing on the Ceiling," "Love Will Conquer All," "Ballerina Girl," and "Sela."
Richie's albums in the 1990s failed to match the success of his first three albums. Since 2004, Richie has produced six Top 40 singles in the U.K. He released the album, "Just Go" in 2009. On March 26, 2012, Richie released his tenth studio album, "Tuskegee."
Richie has had enormous success and become very popular in a number of Arab nations in recent years. He has performed in  Morocco, the United Arab Emirates, Egypt, and Libya.
Richie has won four Grammy Awards including Song of the Year in 1985 for "We Are the World," Album of the Year in 1984 for "Can't Slow Down," Producer of the Year (Non-Classical) in 1984 and Best Male Pop Vocal Performance for "Truly" in 1982. Richie was the first person to receive an RIAA Diamond album award. Richie has been nominated for two Golden Globe awards and won one.
In 2019, Richie was a judge on "American Idol."
American Idol Salary
Lionel Richie made $10 million as a judge during his first season on "American Idol" in 2019.
Beverly Hills Mansion
In 1999 Lionel paid $6 million for an absolutely incredible 13,000 square-foot mansion in Beverly Hills. The mansion overlooks the fourth hole green at the famous Los Angeles Country Club. Today this home is worth $40-60 million… at least.
You can see the mansion in the background of the photo below which shows golfer Lucas Glover hitting a chip shot from the fourth hole during the US Open in June 2023. During that US Open Lionel reportedly rented his house out for an ungodly amount, variously reported at $1 million per week or $10 million for the month.
And here are several more photos of Lionel Richie's house as taken during the US Open by Scott Palmer, a friend of Celebrity Net Worth: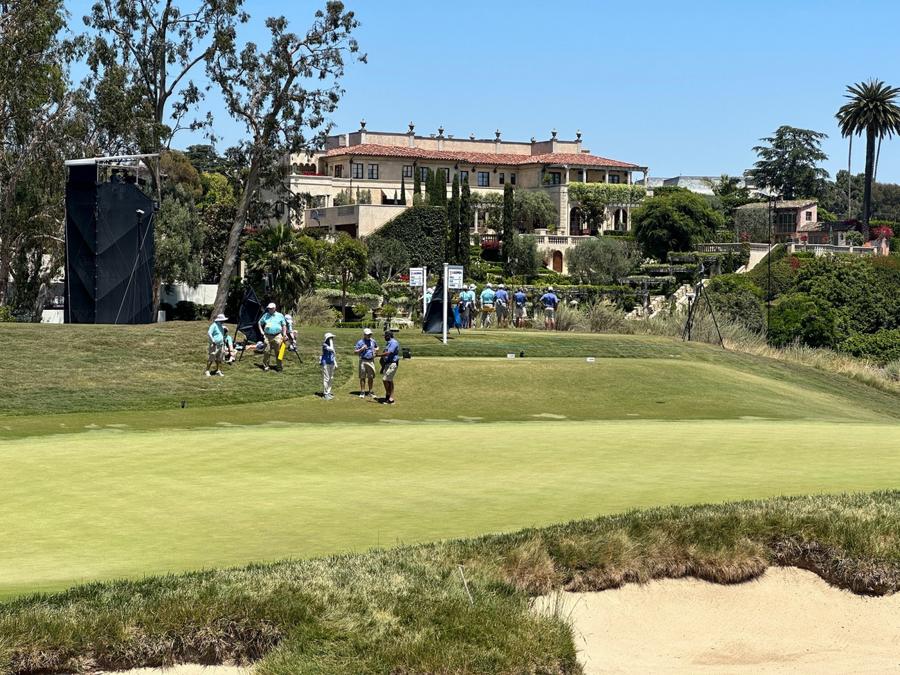 Personal Life
Richie married his college sweetheart Brenda Harvey on October 18, 1975. They informally adopted two-year-old Nicole Camille Escovedo, the daughter of Sheila E's niece and one of the members of Lionel Richie's band. When Nicole was nine, Richie made the adoption legal.
Richie started a relationship with Diane Alexander in 1986. He was still married to Brenda Harvey. Richie and Harvey divorced in 1993 after 18 years of marriage. Richie married Alexander in December 1995. They have a son, Miles, and a daughter Sofia. They divorced in early 2004.
Richie became a grandfather in 2008 when Nicole Richie gave birth to a baby girl with her husband Joel Madden, the lead singer of  the band Good Charlotte. Richie's second grandchild was born to Nicole and Joel in 2009.