Category:

Net Worth:

$18 Million

Date of Birth:

May 16, 1919 - Feb 4, 1987 (67 years old)

Place of Birth:

West Allis

Gender:

Male

Height:

5 ft 9 in (1.77 m)

Profession:

Pianist, Actor, Singer

Nationality:

United States of America
💰

Compare Liberace's Net Worth
What was Liberace's Net Worth?
Liberace was an American pianist and vocalist who had a net worth of $18 million at the time of his death in 1987. That's the same as around $42 million in today's dollars after adjusting for inflation. The exact value of his estate was made public in a bitter lawsuit that was waged after the singer's death. More info on this legal battle later in this article. Liberace's personal fortune likely could have been significantly higher, but he famously spent enormous sums of money on an exceptionally lavish lifestyle. For better or worse, this lavish lifestyle was a cornerstone in Liberace's brand and persona. He was the world's highest-paid artist throughout the 1950s and the 1970s.
After starting his career as a child prodigy in Wisconsin, Liberace later became a major figure in the entertainment industry. Over the course of his career, he gave many concerts, appeared on television multiple times, starred in a number of films, and endorsed various brands. At one point, Wladziu was the highest-paid entertainer on the planet. During his peak front the 50s to the 70s, he had incredibly popular concert residencies in Las Vegas and toured throughout the world. During his life, he became known for his unique style and personality, and earned the nickname "Mr. Showmanship."
Early Life
Władziu Valentino Liberace was born on May 16th of 1919 in West Allis, Wisconsin. Raised alongside three siblings by a Polish mother and an Italian father, Liberace's identical twin died at birth. He was encouraged to pursue music at a young age, as his father was a musician. At the age of four, he began his piano lessons. His father was quite strict and demanded excellence from Wladziu. This strict approach ensured that the young Liberace was memorizing complex pieces by the age of seven.
By this point, it was clear that the family was dealing with a child prodigy. Over the next few years, he started playing music in theaters and on local radio. During the 30s, he teamed up with a musical group at school and played jazz piano. Throughout these years, he even performed at strip clubs and cabarets. This provided him with a solid income, despite the country being in the middle of a depression.
Career
Although he started his career with performances of classical music, he later veered towards pop music in the 40s and played in nightclubs throughout the United States. Eventually, he became more of a showman than a musician, showing off his eccentric personality. Soon enough, he turned his attention towards bigger things. He wanted to become a television and movie star, although he was raking in huge amounts of money for live performances at the Madison Square Garden and in Las Vegas. It's worth mentioning that critics were very harsh on Liberace when it came to actual piano-playing skills.
In the 50s, he was given his own show, "The Liberace Show." His career then slumped, although he was still earning solid money from various performances. In the 70s, he appeared on a number of television shows. In terms of his movie appearances, Liberace appeared in films like "South Sea Sinner," "The Man Who Played God," and "The Boys Meet the Girls." By the mid-60s, he had largely abandoned his goal of becoming a movie star. He also recorded a number of records over the course of his career. His most successful single was "Ave Maria," which sold over 300,000 units.
Brand Endorsements
Liberace was famous for endorsing a huge number of brands over the years, and this helped him add to his fortune significantly. It is rumored that many of his extravagant mansions were funded almost entirely by these brand endorsements. Sponsors also sent him a wide range of impressive gifts, including a white limousine which became one of his favorite vehicles. There was almost no limit to what he might endorse, and over the course of his career, he appeared in advertisements for banks, insurance companies, automobiles, food companies, and morticians.
These sponsors knew that Liberace had a loyal audience of purse-holding housewives, and they were happy to make the most of it. Liberace himself showed no regret for these brand endorsement deals, even though he was regularly lambasted by critics for these cheesy ads. Far from apologizing for "selling out," Liberace embraced the criticism and regularly uttered his famous catchphrase in response: "I laughed all the way to the bank."
Lawsuits
As early as 1956, Liberace was filing lawsuits against news publications that claimed he was gay. He sued "Daily Mirror" for libel and claimed that he had never been a homosexual. After receiving about $250,000 in damages (in today's money), Liberace famously stated that he "cried all the way to the bank." The phrase has since been repeated numerous times by various figures.
One year later, he sued an American newspaper called "Confidential" for similar reasons. This publication had implied that he was homosexual throughout his entire career. This suit was settled with similar payouts for Liberace. Fast forward to 1982, and Liberace's 22-year old chauffeur was filing a palimony lawsuit against Liberace, claiming that he had been the star's long-term, live-in lover. He claimed $113 million in damages, arguing that Liberace had an obligation to support him after being romantically involved with him for so long.
This latest lawsuit was more difficult to ignore. Although Liberace denied being gay and denied that the chauffeur was his lover, he settled the lawsuit for $75,000. In addition, the chauffeur received three cars and three dogs.
Mansions
In 1953 Liberace designed and built a home in the LA suburb of Sherman Oaks. Liberace lived in this home with his mother from 1953 to 1958. They moved after his mother was attacked by burglars one day while she took out the trash. The house was designed with a piano theme throughout, including a piano shaped pool which still exists and can be seen from satellite photos: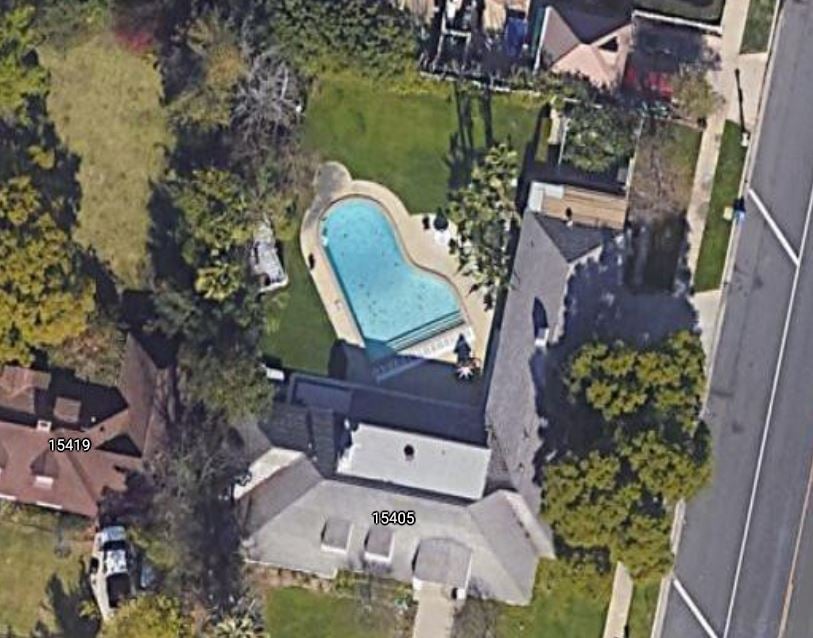 After the incident with the burglars, Liberace and his mother moved to Malibu where he bought and combined two units to make one large.
Over in Hollywood, Liberace owned a penthouse and a 28-room mansion in the hills. He paid $250,000 for the Hollywood Hills mansion in 1961. That's the same as around $2.25 million today. Today the home is worth $15-20 million.
Two hours east in Palm Springs, Liberace owned a handful of homes.
Liberace was most-famous for his mansion in Las Vegas. In the mid-1970s Liberace created a 14,400 square foot mansion in Las Vegas by combining two homes. After his modifications, the mansion had two bedrooms and 10 bathrooms on a half-acre lot. After his death, Liberace's foundation sold the home to a non-famous couple. In 2006 the home was purchased for $3.7 million. By 2013 the home was in foreclosure and was acquired for $500,000 by a British businessman who reportedly proceeded to spend $3 million of his own money to restore and upgrade the mansion. In 2016 the home was designated a Clark County Historical Designation.
Death
Liberace was diagnosed with HIV in 1985, although this was covered up. There is some suggestion that the musician infected other people with the virus, either knowingly or unknowingly. Two of his lovers later tested positive and died. Liberace did not seek any medical treatment for his illness, and only a few close family members knew. His manager, Seymour Heller, was also notified. In 1987, Liberace was hospitalized in early January of 1987 for pneumonia.
His pneumonia was a complication of AIDS, and he passed away in his retreat home in Palm Springs at the age of 67. Although early reports stated that he died from anemia and heart disease, it was later revealed that his family members, his doctors, and his manager had tried to conceal the real cause of Liberace's death. Finally, the truth came out, and the general public came to realize that Liberace was not only gay, but that he had also died from HIV/AIDS.
Estate Battle
Upon his death, a battle brewed between several former Liberace associates and employees. The battle would soon reveal in court documents that Liberace left behind $18 million worth of assets.
The legal battle later involved Liberace's nephew, niece, cook, sister, maid and a longtime companion. They wanted to remove Liberace's estate trustee. The trustee painted the companions as freeloaders who were upset that they did not receive enough money or control over his assets and image.
According to Liberace's will, his sister was left $500,000. His former companion was left $250,000. His dogs were left $50,000. His cook was given a house and a car. His maid received $5,000. The nephew and niece were upset that they did not receive anything.
The estate questioned where various jewelry went after Liberace's death, accusing the companions of raiding safety deposit boxes and the mansion itself.
Liberace's relatives and companions eventually lost the lawsuit. Therefore, according to the terms of his will, the majority of Liberace's wealth was left to his nonprofit organization, the Liberace Foundation for the Creative Performing Arts