Category:

Net Worth:

$4 Million

Date of Birth:

Mar 12, 1953 (70 years old)

Place of Birth:

Queens

Gender:

Male

Height:

5 ft 6 in (1.68 m)

Profession:

Pornographic film actor, Actor, Film director, Businessperson, Screenwriter, Teacher

Nationality:

United States of America
💰

Compare Ron Jeremy's Net Worth
What is Ron Jeremy's Net Worth and Salary?
Ron Jeremy is an American former adult film actor who has a net worth of $4 million. Probably the most recognizable face within the adult film industry, Ron Jeremy has established quite the reputation over the course of his long career. Also known as "The Hedgehog," Jeremy has appeared in more adult films than any other performer. He was also at one time ranked as #1 Pornstar of All Time by Adult Video News (AVN).
Outside of his adult film career, Ron Jeremy has appeared as a regular actor in a wide range of mainstream projects, including films and television shows. He is also a controversial figure, having been accused of sexual assault by multiple women.
In June 2020, Ron Jeremy was indicted on 30 charges including various counts of sexual assault and serial rape. His trial was indefinitely delayed after he was being declared mentally incompetent.
Court-Revealed Finances
In mid-2023 a court-ordered appraisal of Ron's assets and liabilities was conducted. In the end, the appraisal found that Ron Jeremy's net worth was $4 million.
Here is what that appraisal found:
At the time of his arrest, Ron was living in a cockroach-infested Hollywood apartment that was filled wall-to-wall with boxes of junk and trash. He actually owns three units in this building, which is called Franklin Towers. A court filing in August 2023 estimated the value of these three condos at $1.8 million.
He owned a fourth condo in a different part of Hollywood that on its own was worth $1.6 million.
Ron controlled five bank accounts, containing $666,191. One account on its own contained $550,815.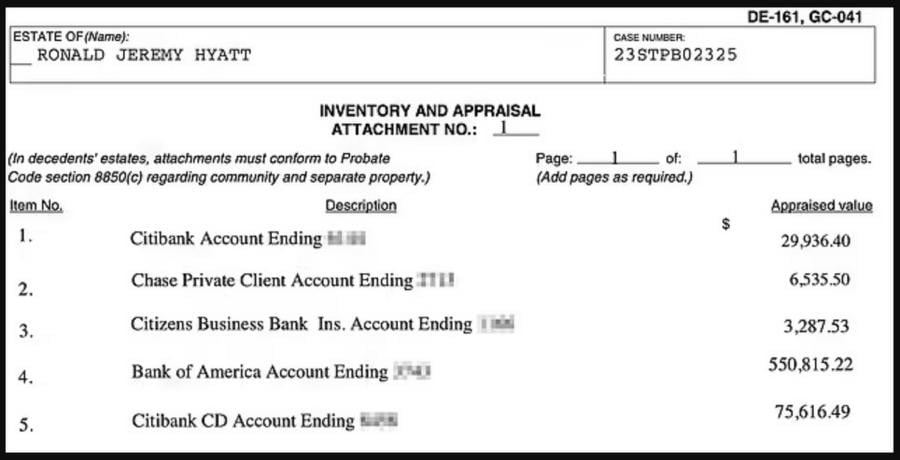 Early Life
Ron Jeremy Hyatt was born on March 12th of 1953 in Queens, New York City. Raised in a Jewish family, Ron had middle-class parents with good careers. His father was a physicist, and his mother was a book editor and a veteran of the O.S.S. during the Second World War. After graduating from high school, Ron Jeremy planned to pursue a career as a legitimate actor. However, he quickly discovered that acting wasn't as lucrative as he might have planned. It got to the point where he was starving as an unemployed Broadway stage actor.
Adult Films
After his failure to succeed in the acting industry, Ron Hyatt decided to pose for "Playgirl" magazine. After gaining notoriety, Hyatt entered the adult film industry, initially using his real name. However, this decision had immediate consequences on his family. His grandmother was listed as "R. Hyatt" in the phone book, and she received hundreds of phone calls from people pestering her about Ron's appearance in "Playgirl." In the end, she was forced to move out of her apartment. After a stern warning from his father, Ron started to use his middle name in the adult industry, becoming known henceforth as "Ron Jeremy."
Later, he earned the nickname "The Hedgehog" due to an incident involving his hair standing on end. Throughout the rest of his career, Jeremy appeared in 2,000 adult films. He also directed 285 adult films. His credits completely overshadow any other performer within the adult film industry, as the next most active individual has just 384 credits.
Mainstream Projects
Due to his "guy next door" image, Ron Jeremy found the transition to mainstream roles fairly easy. One of his earliest appearances was on the game show "Wheel of Fortune" in 1980, and he won a trip to Mazatlan. Jeremy was also credited as a special consultant on the film "9 ½ Weeks." He then booked a minor role in the film "They Bite" before acting as a special consultant once again in the film "Boogie Nights." During the second season of "The Surreal Life" in the mid-2000s, Ron Jeremy made numerous appearances and developed a close relationship with Tammy Faye Bakker.
In addition, Jeremy has appeared in films such as "The Chase," "Boondock Saints," and "Spun." Ron also appeared on TV shows like "Chappelle's Show," "Family Guy," "Robot Chicken," and "Kathy Griffin: My Life on the D-List."
Memoir
In 2007, Ron Jeremy released a memoir called "The Hardest (Working) Man in Showbiz." Published by HarperCollins, the book explored many of his exploits and experiences, including interactions with high-profile celebs.
Business Ventures
Outside of his role in the entertainment industry, Ron Jeremy has explored a number of additional business ventures. In 2009, he opened a swingers nightclub in Portland, Oregon, called Ron Jeremy's Club Sesso. In 2015, the club was forced to shut down due to legal issues. He also lent his likeness and name to a highly-rated rum from Panama called Ron de Jeremy. As part of the marketing campaign, he also appeared in ads for the rum.
Health Issues
Ron Jeremy had a serious health scare in 2013 when he suffered chest pains and drove himself to a hospital in Los Angeles. Doctors discovered a potentially life-threatening aneurysm and operated on him to address the issue. Three days later, he was released from the hospital, with media sources reporting that he had been "fighting for his life." In 2023, mental health experts at Jeremy's sexual assault trial determined that Ron suffers from severe dementia.
Legal Issues
In the mid to late 2000s, various women started to come forward with sexual assault and rape allegations against Jeremy. One of the most notable first cases was in 2014 when a woman accused Ron of raping her in a West Hollywood house when she was 25. In 2016, a court dismissed a similar case against him due to a lack of evidence. In 2017, all Exxxotica national adult conventions made the decision to ban Ron Jeremy from all future conventions. This was due to countless allegations from attendees who alleged that Jeremy had forcibly groped them and inserted his fingers into their orifices without consent.
Webcam model Ginger Banks was one of the leading figures calling for action against Jeremy. Two women accused Ron of sexually assaulting them at a specific West Hollywood Bar, while a third woman claimed to have been raped by the adult actor at the same bar.
Finally, Jeremy was arrested in 2020 and charged with three counts of rape, three counts of forcible penetration by a foreign object, and one count of forcible oral copulation and sexual battery. He was immediately taken into custody and held on $6.6 million bail, and he pled not guilty. The maximum sentence is 90 years to life in prison if Jeremy is convicted. In August 2021, he was indicted on 30 sexual-assault counts involving 21 women. Ron was later found to be mentally unfit to stand trial, and in February 2023, he was committed to a state mental health facility in California to be held for up to two years.