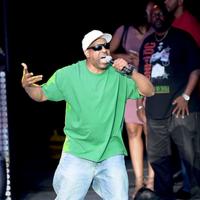 | | |
| --- | --- |
| Net Worth: | $1 Million |
| Date of Birth: | Mar 3, 1966 (56 years old) |
| Place of Birth: | Los Angeles |
| Gender: | Male |
| Profession: | Record producer, Actor, Voice Actor, Rapper, Composer |
| Nationality: | United States of America |
What is Tone Loc's Net Worth?
Tone Loc is an American rapper and actor who has a net worth of $1 million. Tone is the artist behind several songs. The two most notable of his songs are "Funky Cold Medina" and "Wild Thing". To date he's released two studio albums, Loc After Dark and Cool-Hand Luke, and he also appeared on the 2003 album by FeFe Dobson.
Early Life
Tone Loc was born Anthony Terrell Smith on March 3, 1966 in Los Angeles, California. His mother Margaret managed a retirement home and raised Tony and his three older brothers after his father James Smith died in 1972. Tone went to the Hollywood Professional School and later attended University High School. He began rapping as a teenager when he joined the rap group Triple A.
Music Career
Tone Loc released his debut album in January 1989, "Loc-ed After Dark." Once MTV got ahold of the video for the first single "Wild Thing," it became a staple on screens in the U.S. The song was a hit and rose to number 2 on the Us Hot 100 Chart. It even made the top 20 in Australia. "Funky Cold Medina," the second single off the album, was also a hit. The song reached the top 5 in the U.S. and peaked at number 3 in Australia. It was also a top twenty hit in the U.K. The album reached number one in the U.S. and has since been certified platinum in the U.S. twice over. Tone Loce released his second album "Cool Hand Loc" in November 1991. "All Through the Night," the album's first single, found only moderate success compared to his first massive successes. It reached No. 80 on the Billboard Hot 100 and No. 16 on the Rap Songs chart. The video for the song enjoyed frequent airplay on BET and MTV. In 1993, he contributed a song to the soundtrack to "Posse" called "Posse Love." His song "Ace in the House", which samples the Beastie Boys hit "No Sleep Till Brooklyn" is featured in 1994's film "Ace Ventura Pet Detective" starring Jim Carey, as well as 2009's sequel "Ace Ventura Jr: Pet Detective." In 2003, Tone provided vocals for Fefe Dobson's track "Rock It Til You Drop It" on her first album "Fefe Dobson."
Film and Television Career
As a voice actor, Tone Loc has appeared on many children's animated series, such as Aladdin and Static Shock along with more mature animated sitcoms such as King of the Hill and "C-Bear and Jamal." He was also featured in the animated film "Bebe's Kids," voicing the sassy Baby Pee Wee.  Tone Loc's voice could also be heard at the Walt Disney EPCOT attraction Food Rocks, in which he parodied his hit "Funky Cold Medina" in the song "Always Read the Wrapper." This was played from 1994-2004 at EPCOT. In 1992, he voiced Lou the Goanna in "FernGully: The Last Rainforest." Tone has also provided his voice for episodes of Cartoon Network's "Uncle Grandpa" and "Chowder."
As an actor, he can be seen in Ace Venture: Pet Detective with Jim Carrey, which also features his song "Ace Is In The House." He's also been seen in sitcoms like Newsradio, and in movies like Spy Hard and Heat. On November 11, 1995, he appeared in a season 2 episode as the character Albert in "Touched by an Angel." In 2016, he joined the list of performers for the "I Love the '90s" tour, which continues to perform worldwide and invites attendees to walk down memory lame about the '90s with some of the most iconic figures in pop culture. Tone was also a featured performer on the "I Love the '90s: The Party Continues" tour from July 2017–September 2017.
Personal Life
Loc was arrested for a DUI in December 2010. He claimed a medical condition had caused him to have a seizure and was released on bail and the charges were dropped. Tone was arrested for felony domestic violence and felony possession of an assault weapon on June 18, 2011. The weapon, a Colt AR-15 Sporter rifle, was restricted by California law. It was not involved in the domestic violence incident, an altercation with the mother of one of his kids. Loc was released three hours later on a $50,000 bond. He entered a plea of no contest to both charges on October 3, 2011. He was sentenced to a day in jail, three years probation, 30 days of community service and 52 weeks of anger management courses and counseling. In March 2019, he was detained by the Midland Police Department in Midland Texas after getting into an argument with a teenager wearing a hat with a confederate flag on it at the Midland Air & Space Port.
Tone has been plagued with health problems since the mid-'90s, when he collapsed multiple times on stage beginning in 1995. Many of the falls have been due to seizures. In May 2009, Loc was rushed to a local hospital after he collapsed onstage during a concert in Pensacola, Florida. Two years later, he collapsed on stage during a concert in Atlanta and was hospitalized for exhaustion. A similar event occurred in 2012 and again in 2013 when he collapsed on stage in Des Moines, Iowa. He refused medical care this time. Two more similar instances occurred during performances in 2013 and 2016. These days, he dons a pair of signature sunglasses at each performance in order to help reduce the chance of a seizure.
All net worths are calculated using data drawn from public sources. When provided, we also incorporate private tips and feedback received from the celebrities or their representatives. While we work diligently to ensure that our numbers are as accurate as possible, unless otherwise indicated they are only estimates. We welcome all corrections and feedback using the button below.