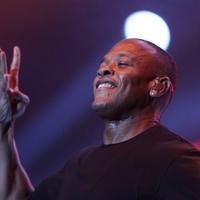 | | |
| --- | --- |
| Net Worth: | $500 Million |
| Date of Birth: | Feb 18, 1965 (57 years old) |
| Place of Birth: | Compton |
| Gender: | Male |
| Height: | 6 ft (1.85 m) |
| Profession: | Record producer, Actor, Disc jockey, Rapper, Artist, Musician, Music executive, Entrepreneur, Songwriter, Film Producer |
| Nationality: | United States of America |
What is Dr. Dre's Net Worth?
Dr. Dre is an American rapper, actor, entrepreneur and producer. As of this writing, Dr. Dre has a net worth of $500 million. Dr. Dre is one of the most successful entertainers of the last three decades. He has earned hundreds of millions of dollars from his music career and significantly more through various entrepreneurial pursuits.
As a member of N.W.A and later as a solo artist, Dre has sold hundreds of millions of albums and singles during his career. He then launched the careers of both Eminem and 50 Cent through his production company/label Aftermath Entertainment.
Musicians seem to come and go, and rap stars have a tendency to flare up and flare out with more frequency than just about any other group.  A rap artist might release a popular mixtape, or guest perform on someone else's hit song, but then we never hear from them again.  Some of them simply put the mic down and go on with their lives.  Some are never able to recapture their early success.  Still others run into problems unrelated to their music careers, and they are unable to continue making music.  Whatever the reason for their disappearance, rap starts seem to come and go in the blink of an eye.  Dr. Dre, also known as Andre Romelle Young, is not one of those rap artists.  He bucked the trend, and truly achieved success.  The rap star turned producer and successful entrepreneur, began his rap career in the mid-80s with the group World Class Wreckin' Cru.  The group was successful in California, but it was not until he joined what would become known as N.W.A., that Dr. Dre became a household name.  Pioneering the "gangsta rap" sound, Dr. Dre, Ice Cube, and Eazy-E, would come to change the rap and hip-hop landscapes forever.  Fast forward to today, and Dr. Dre has released several popular solo albums, won seven Grammy Awards (out of 26 nominations) started his own record label – Aftermath Entertainment, produced hit tracks for a number of artists, including Eminem, 50 Cent, Mary J. Blige, Young Buck, and Kendrick Lamar, and launched and sold his own line of signature headphones.
Outside of music Dr. Dre and music producer Jimmy Iovine co-created the consumer electronics company Beats By Dre which was acquired be Apple in May 2014 for $3 billion. At the time of the sale, Jimmy and Dre both owned 25% of Beats by Dre and therefore they each earned $750 million pre-tax from the deal. Immediately after the sale, Dre was left with a post-tax fortune (after combining with his other assets) of $780 million.
In June of 2020 it was reported that Dre's wife of 24 years, Nicole Young, had filed for divorce. The couple reportedly does not have a prenup. In a court filing made in December 2021, Dr. Dre lifted the curtains on his finances. The filing showed that Dre controls assets worth $450 – $500 million and has monthly income that averages around $230,000. The filing showed that in 2021 Dr. Dre sold $73 million worth of Apple shares and that he held $182,733,809 in his checking/savings accounts. He has another $6 million in stocks and $270 million in personal property.
Key Facts
Has sold hundreds of millions of albums as an artist and producer
Launched the careers of Eminem and 50 Cent through Aftermath Entertainment
Earned the bulk of his fortune thanks to headphone company Beats by Dre
Sold Beats by Dre to Apple in 2014 for $3 billion
At the time of the sale Dre and co-founder Jimmy Iovine owned 25% of Beats
Dre and Jimmy earned $750 million pre-tax off the deal
They each received approximately 1 million shares of Apple from the sale
After Apple stock split 4-1 in 2020, it's possible Dre owns 4 million shares today
One month after selling Beats, Dre paid $50 million for Tom & Giselle's LA mansion
Owns approximately $80 million worth of real estate in total
Dre's wife of 24 years Nicole filed for divorce in June 2020
The couple reportedly does not have a prenup
Early Life and Early Success
He was born Andre Romelle Young on February 18, 1965. Dre was raised in South Central Los Angeles during the budding West coast hip-hop scene. As a teenager Dre frequented nightclubs where he learned to DJ. In 1984 he became a member of electro-hop group World Class Wreckin' Cru. After meeting fellow rapper Ice Cube, Dr. Dre joined rap project N.W.A. run by rapper Eazy-E. Under Eazy-E and Jerry Heller's Ruthless Records, the group released their debut album "Straight Outta Compton", in 1988. Violent, profane and undeniably groundbreaking, Straight Outta Compton would eventually be certified double platinum and would go down in music history as one of the most pivotal albums in the formation of hip-hop.
Ice Cube left N.W.A. in 1989 over disputes with Jerry Heller and Eazy-E related to royalty payments. Dr. Dre eventually had his own falling out with Eazy-E. He left the group in 1991 and soon co-founded Death Row Records with Suge Knight. In 1992 Dr. Dre released his first solo album "The Chronic". The album eventually sold 6 million albums worldwide and would be considered one of he most well-produced and popular hip-hop albums of all time. It peaked at number three on the Billboard 200 and went multi-platinum less than a year later. The album also earned Dr. Dre a Grammy for Best Rap Performance for the single, "Let Me Ride". While at Death Row Records, Dre produced for his fellow label mates Tupac, Snoop Dog and Warren G (who is also his step-brother).
In 1996, Dre left Death Row after becoming fed up with the legal troubles and disputes that were constantly occurring at the controversial company. He walked away from his back catalogue rights and company ownership stake. Dre would later claim that he walked away from $50 million when he left Death Row. He quickly established Aftermath Entertainment which would eventually be home to numerous talents including Eminem, Mary J. Blige, and 50 Cent.
In 2001, Dre sold his share in Aftermath Entertainment to Interscope Records for $52 million.
Beats By Dre and Sale to Apple
In a 2006 meeting with Interscope Chairman Jimmy Iovine, Dr. Dre complained that he was upset at the quality of his music when played via Apple's plastic Airbuds headphones. He remarked in the meeting: "Man, it's one thing that people steal my music. It's another thing to destroy the feeling of what I've worked on." By the end of the meeting, Jimmy and Dre decided to launch their own headphone company.
They initially partnered with Monster Cable to manufacture the first Beats by Dr. Dre Studio headphones, which launched in July 2008. In August 2010, mobile phone manufacturer HTC purchased 50.1% of Beats for $309 million, valuing the company at roughly $618 million. In July 2012, HTC sold half it's stake back to Jimmy and Dre for $150 million, retaining a 25% stake. In September 2013, HTC sold the remaining 25% stake back to Jimmy and Dre for $265 million. At the same time, Beats announced that it had received a $500 million investment from private equity firm Carlyle Group. The investment valued Beats at $1 billion for the first time. In January 2014, the company launched a subscription music service called Beats Music.
On May 28, 2014, after weeks of rumors, Apple officially confirmed that it was acquiring Beats by Dre for $3 billion. Apple would pay $2.6 billion in cash and $400 million in stock for the company. At the time of the sale, Dre and Jimmy both owned 25% of Beats. Their respective stakes were worth $750 million before taxes, roughly $500 million after taxes.  The Carlyle Group earned $1 billion.
Apple Stock Ownership
As we mentioned a moment ago, when Beats sold to Apple, $400 million of the $3 billion purchase price was paid in Apple stock. As the 25% owner, Dre received $100 million worth of Apple shares. At the time the deal closed, Apple traded at around $95 per share which means he received roughly 1 million shares. As of this writing, Apple trades at a bit over $200 per share. Assuming Dre has held on all 1 million shares, today his Apple stock alone is worth $200 million (before taxes).
Dr. Dre Career Earnings By Year
2007 – $20 million
2008 – $15 million
2009 – $13 million
2010 – $17 million
2011 – $14 million
2012 – $110 million
2013 – $40 million
2014 – $620 million
2015 – $33 million
2016 – $41 million
2017 – $34.5 million
2018 – $35 million
Total: $992.5 million
Philanthropy
In May 2013, Dr. Dre and Jimmy Iovine donated a combined $70 million to the University of Southern California to establish the USC Jimmy Iovine and Andre Young Academy for Arts, Technology and the Business of Innovation.
In June 2017 he donated $10 million to construct a performing arts center at Compton High School.
Dr. Dre Real Estate
The total value of Dr. Dre's known real estate portfolio is at least $80 million.
Woodland Hills: In the late 1990s, Dr. Dre spent $2.4 million to acquire a mansion in Woodland Hills, California. After listing the house for sale in July 2019 for $5.25 million, he found a buyer a month later for $4.5 million. The home was located within a gated community and sat on a 16,000+ acre lot. In 2014, fresh off the sale of Beats, Dr. Dre spent $50 million to acquire Tom Brady and Giselle Bundchen's incredible brand new monster mansion in Brentwood.
Hollywood Hills: In January 2013, Dre sold his Hollywood Hills mansion for $32.5 million. He bought this house in 2001 for $15.4 million.
Malibu: In 2000 Dr. Dre paid $4.8 million for a beachfront mansion in Malibu. Built in 1993, the home on coveted Carbon Beach has 8,800 square-feet of living space, 6 bedrooms and 7 bathrooms. Dre listed his Malibu mansion for sale in November 2022 for $20 million. You can see his mansion at the 10 minute mark of this drone video:
Calabasas: In 2018 he bought a mansion in Calabasas, California for $4.9 million.
Pacific Palisades: In 2019 he spent $2.25 million on a relatively modest home in the Pacific Palisades that has ocean views and is located in a gated community.
Personal Life
When Dre was 16 in 1981 he had a son with his girlfriend at the time, a 15-year-old woman named Cassandra Joy Greene. Their son Curtis is a rapper who performs under the name Hood Surgeon. He reportedly did not meet his father until he was in his 20s.
In 1983 Dre had another child, a daughter named La Tanya Danielle Young.
In 1988 Dre and girlfriend Jenita Porter had a son who was given his father's name, Andre Young Jr. Tragically, Andre died in August 2008 of a drug overdose.
In 1990 Dre had a son named Marcel with singer Michel'le.
Dre and Nicole Young were married from 1996 until she filed for divorce in 2020. They have two children together; a son named Truice and a daughter named Truly. At the time of her June 2020 divorce filing, it was reported that the two did not have a prenuptial agreement and she therefore could be entitled to a significant portion of his fortune.
Divorce Settlement
In the end, Dr. Dre agreed to pay Nicole $100 million in two payments. He paid her $50 million upfront and will pay another $50 million a year later.
Super Bowl Halftime Show
On February 13, 2022, Dre headlined the Super Bowl halftime show at SoFi stadium in Inglewood, California.
All net worths are calculated using data drawn from public sources. When provided, we also incorporate private tips and feedback received from the celebrities or their representatives. While we work diligently to ensure that our numbers are as accurate as possible, unless otherwise indicated they are only estimates. We welcome all corrections and feedback using the button below.