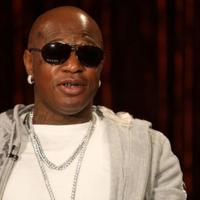 | | |
| --- | --- |
| Net Worth: | $150 Million |
| Date of Birth: | Feb 15, 1969 (53 years old) |
| Place of Birth: | New Orleans |
| Gender: | Male |
| Height: | 5 ft 10 in (1.8 m) |
| Profession: | Entrepreneur, Record producer, Rapper, Musician |
| Nationality: | United States of America |
What is Birdman's net worth?
Birdman is an American rapper, record executive, CEO, and entrepreneur who has a net worth of $150 million. Birdman, also known as Bryan "Baby" Williams, is the CEO and founder of Cash Money Records, which he founded with his brother Ronald "Slim" Williams in 1991. In addition to being a musical artist himself, Cash Money Records represents such notable acts as Lil Wayne, Drake, Nicki Minaj and Blueface.
Early Life
Bryan Christopher Brooks was born on February 15, 1969, in New Orleans, Louisiana. It took his parents, Johnnie Williams and Gladys Brooks almost a month to name him. Williams did not sign the birth certificate, so Bryan used his mother's last name. He has three siblings – Kim, Ronald, and Ray. Birdman and his family lived in an apartment above the bar his father owned. In 1975, when Birdman was five years old, his mother got sick and died. After Gladys' death, Birdman and his siblings spent a few years living with their uncle in British Columbia, Canada.
When the Brooks children moved back to New Orleans, they spent two years in foster care. When their father found out his kids were in foster care, he launched a lawsuit to get custody of his kids. After a long, drawn-out legal battle in the 1970s, Birdman went to live with his father Johnnie and stepmother Patricia. At this time he changed his last name to Williams. Birdman's father and stepmother lived in the Magnolia Projects in New Orleans. While living there, Birdman with his stepbrother Eldrick Wise. The two teens committed robberies and sold heroin. They were both arrested when they were 16. When Birdman and Wise were 18, they were both arrested and sentenced to three years in a correctional center. Williams served 18 months and was eventually acquitted of all charges.
Cash Money Records

Once Birdman got out of prison, he and his brother Ronald "Slim" Williams began noticing the emerging "bounce" sub-genre of hip-hop, which was popular in New Orleans nightclubs at the time.
Looking to capitalize on the trend, in 1991 the brothers formed their own record label. They named it Cash Money Records. Neither brother had any experience running a record label, or even working in the music industry. They didn't own a recording studio and they didn't have any artists on their roster. On the other hand, the brothers did have around $100,000 in startup capital which may have (allegedly) been drug money provided by their half brother Terrence. Terrence Williams was the founder of a notorious drug crew called the Hot Boys.
Ronald and Bryan chose the name "Cash Money Records" as a reference to the recently released film "New Jack City", in which Wesley Snipes played a wealthy New York City gangster who runs a crew called the "Cash Money Brothers."
Soon the duo was traveling up and down Louisiana catching acts at various nightclubs, trying to find artists to sign to their brand new label. The very first artist they signed was a rapper named Kilo G. His 1992 horrorcore album "The Sleepwalker" was Cash Money's first project. Birdman and Slim continued to look for new artists to recruit. Eventually, Birdman convinced his friend, DJ Mannie Fresh, to be the in-house producer for Cash Money.
Cash Money grew to be one of the most popular independent record labels in the south by the mid-1990s. In 1995, Birdman was introduced to Dwayne Carter, a local 12-year-old rapper. Birdman signed Carter to Cash Money. You may know him better as Lil' Wayne.
Despite their regional success, Cash Money faced a number of setbacks. For example Kilo G, Pimp Daddy, and Yella — all Cash Money artists–were murdered in the 1990s. Desperate for success, Birdman and his brother Slim recruited Turk and Juvenile to create the new band which they called Hot Boys, which also soon featured Lil Wayne and B.G. This proved to be the ticket for Cash Money
Through sheer hustle and talent, Cash Money records signed dozens more artists between 1994 and 1997. Even more impressively, their albums were selling between 25,000 and 50,000 copies without a distribution or promotional deal from any major label. The Hot Boys' debut album sold 300,000 copies in its first two months.
Universal Records Deal
In 1998 Cash Money Records was being pursued by a number of record companies to forge some sort of partnership or straight-out acquisition.
Their timing was perfect as Sony and Universal Music were in a death-match for market share. Cash Money ended up signing with Universal Music Group which offered Ronald and Birdman a $30 million contract. The deal gave the brothers $3 million upfront, guaranteed them $1.5 million per album. But in the boldest move of all, when Cash Money signed with Universal they negotiated a deal which would allow them to own their masters, a deal that not even The Beatles ever had! So instead of getting a few pennies for every record sold, the company gets several dollars of the profits generated per unit.
In exchange, Universal earned a simple 7% fee for distributing Cash Money albums and singles, but it did not receive any ownership in the label. On the other hand, with the rise of Lil Wayne, Nicki Minaj and Drake years later, Universal would soon be more than twice the size of its two closest competitors… combined.
The total value of the Universal deal was $30 million.
More Success
That same year, Birdman got into the rapping game, forming a group with DJ Mannie Fresh called the Big Tymers. They released their debut album How Ya Luv That? in 1998 and followed that up with I Got That Work and Hood Rich. B.G. and Juvenile departed Cash Money sometime in this time period, forcing Birdman to turn to his solo work. In November 2002, Birdman released his major-label debut, called simply Birdman. The album peaked on the Billboard 200 at #24.
In 2004, Lil' Wayne released Tha Carter, which was both critically and commercially successful. Lil' Wayne was Cash Money's biggest artist. In 2005, Birdman released his second album, Fast Money. It debuted at number nine on the Billboard 200. Like Father, Like Son, the first collaborative album from Lil Wayne and Birdman was released on Halloween 2006. The album peaked at number three on the Billboard 200.
Cash Money Records is the most commercially successful label in the history of hip-hop music with 50 million records sold. At its peak, Cash Money Records pulled in $100 million per year in revenue.
In early 2010, Birdman launched an oil and energy venture under the name "Bronald Oil" with his brother. "Bronald" is a combination of his name, Bryan and his brother's name Ronald. Their plans were to explore and develop oil resources in the U.S. Gulf Coast and Oklahoma Osage County. It's unclear if this venture ever became successful or actually discovered oil.
Legal Issues
In November 2007, Birdman was arrested in Tennessee and found to be in possession of nearly a pound of marijuana.
In 2009, Birdman, Lil Wayne, and Cash Money Records were sued for copyright infringement by Thomas Marasciullo, who claims his voice was used without permission. Both rappers asked him to record some "Italian-styled spoken word recordings" in 2006. The lyrics were allegedly used  tracks from the rappers' collaboration album Like Father, Like Son and Birdman's 5 * Stunna.
Personal Life
Birdman's mother died in 1975 after an illness. His step-brother Eldrick Wise was killed in an unsolved murder in 1991. His father was killed in a car accident in 1996. One of Birdman's younger sisters, Tamara, was killed in a car accident in 2006.
Birdman has 10 brothers and 12 sisters.
Birdman has two biological children, Bryan Jr. (born 1997) and Bria (born 1998).
At his peak, Birdman claimed that he bought 100 new cars every six months, giving the "old" ones away to friends and family. He is typically seen wearing several million dollars worth of jewelry including a 15-carat black diamond ring and matching earrings and a $500,000 grill on his teeth.
During Hurricane Katrina, Birdman lost 20 houses and 50 cars including two Maybachs and four Ferraris.
Earnings Highlights
By the time Birdman was 22 he had already amassed a net worth of $40 million.
Birdman Career Earnings By Year
Year
Amount
2007
$12,000,000
2008
$10,000,000
2009
$9,000,000
2010
$10,000,000
2011
$15,000,000
2012
$20,000,000
2013
$21,000,000
2014
$24,000,000
2015
$18,000,000
2016
$18,000,000
2017
$20,000,000
2018
$20,000,000
2019
$20,000,000
Total:
$217,000,000
Birdman has been sued by several current and former artists for failing to pay royalties.
Real Estate
At his peak, Birdman owned a $30 million condo in Miami in addition to at least two other properties in Miami (one of which is a recording studio) and a large mansion in New Orleans. His property portfolio is significantly smaller today.
For many years, Birdman's primary house was a large mansion on Palm Island in Miami. The mansion has an interesting history. Hip hop producer Scott Storch paid $10.5 million in 2006, only to lose it to foreclosure a few years later after blowing through what was a peak $70 million fortune. Entrepreneur Russell Weiner, who earned his multi-billion dollar fortune as the founder of Rockstar energy drinks, bought the house out of foreclosure from a bank in 2010 for $6.7 million. Just two years later Russ flipped the house to Birdman for $14.5 million.
In January 2018, a bank threatened to evict Birdman from the 20,000 square-foot waterfront mansion. Birdman immediately tried to sell the house for a sky-high $20 million, but had no takers. He dropped the price to $16.9 million, then $15 million, ultimately accepting $10.9 million in November 2019.
In December 2021 a home owner in Los Angeles sued Birdman seeking $114,000 in back rent related to a mansion in Bel-Air. According to the legal filings, Birdman had reportedly agreed to pay $33,000 per month in rent for the mansion but at some point stopped paying.
Birdman Quotes on Money
"The only time I've ever been broke in my life is when I was born." – Birdman
"I was born broke but after that we woke up and realized we could get some money." – Birdman
"I lost 20 houses, 50 cars, and memories." – Birdman, on the damage caused by Hurricane Katrina
"Put some respek on my name!" – Birdman
All net worths are calculated using data drawn from public sources. When provided, we also incorporate private tips and feedback received from the celebrities or their representatives. While we work diligently to ensure that our numbers are as accurate as possible, unless otherwise indicated they are only estimates. We welcome all corrections and feedback using the button below.