What is Big Boy's net worth and salary?
Big Boy is an American radio host, actor, producer, and author who has a net worth of $9 million. His annual salary is $3.5 million. Big Boy is best known for hosting the L.A.-based syndicated radio show "Big Boy in the Morning." The Radio Music Awards have named him Personality of the Year four times, and he has received the same honor from "Radio and Records" magazine eight times. The National Association of Broadcasters has awarded him the Marconi Award three times. In August 2007, Big Boy and ABC Radio Networks entered into a multi-year deal to syndicate "Big Boy in the Morning" and "Big Boy's Hip Hop Spot." The syndicated show launched later that month, and it is now known as "Big Boy's Neighborhood."
Category:

Net Worth:

$9 Million

Salary:

$3.5 Million

Date of Birth:

Sep 8, 1969 (53 years old)

Place of Birth:

Chicago

Gender:

Male

Profession:

Actor, Film Producer, Radio personality

Nationality:

United States of America
💰

Compare Big Boy's Net Worth
Big Boy has appeared in numerous films, such as "The Players Club" (1998), "Deuce Bigalow: Male Gigolo" (1999), "Malibu's Most Wanted" (2003), "Charlie's Angels: Full Throttle" (2003), "The Longest Yard" (2005), "Project X" (2012), and "Popstar: Never Stop Never Stopping" (2016), and from 2002 to 2003, he had a recurring role as Aquarius on the Fox series "Fastlane." He launched the production company Ida's Son Productions in 2010, and he produced the 2012 film "Exit Strategy." Big Boy is also the author of the 2011 book "An XL Life: Staying Big at Half the Size." He was inducted into the National Radio Hall of Fame in 2015, and he received a star on the Hollywood Walk of Fame in 2021.
Big Boy's iHeart Contract
In March 2015, Big Boy signed a three-year, $10.5 million contract with iHeartMedia. The contract gave him an annual $200,000 video production budget and four weeks of vacation plus the use of a private jet for domestic travel (including Hawaii). Furthermore, iHeart agreed to spend $1 million annually on marketing costs related to the show. When word leaked out about the deal, his former employer, Emmis Radio LLC, filed an injunction hoping to prevent the new contract from being signed. Emmis, which had been paying Big Boy $1.45 million per year, claimed it should have been allowed to match the offer, which they attempted to do. A judge ultimately ruled against Emmis.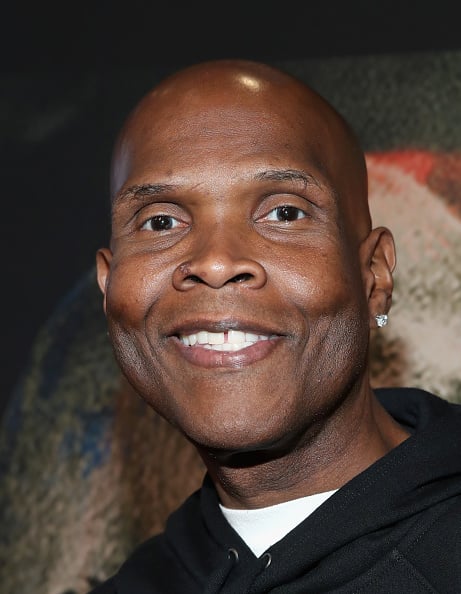 Early Life
Big Boy was born Kurt Alexander on September 8, 1969, in Chicago, Illinois. When he was 2 years old, his family relocated to Los Angeles. The description of his book, "An XL Life: Staying Big at Half the Size," states that Big Boy grew up "homeless, fatherless and facing more than a few problems with gang violence." As a teenager, he began DJing at Culver City High School parties, and he later took a job as a bodyguard for the hip hop group The Pharcyde. Big Boy was friends with the Power 106 morning show hosts the Baka Boyz, and he was offered a position as a host at the radio station, finding success in afternoon and nighttime hosting spots.
Career
In the late '90s, Big Boy's image became fairly well-known in Los Angeles, and he gained national recognition in 1998 after he was hired to be the announcer of the syndicated talk show "Vibe," which was hosted by Sinbad. In the early 2000s, Power 106 promoted Big Boy by putting his 520-pound image (wearing only underwear) on billboards in L.A. In the late '90s, he appeared in the films "The Players Club" (1998) and "Deuce Bigalow: Male Gigolo" (1999) and guest-starred in a 1999 episode of "The Jamie Foxx Show." Big Boy later guest-starred on "Entourage" (2004; 2006), "Real Husbands of Hollywood" (2013), and "Bel-Air" (2022) and lent his voice to the television series "The Proud Family" (2002–2003) and "Chozen" (2014), the film "The Proud Family Movie" (2005), and the video games "Grand Theft Auto: San Andreas" (2004), "Grand Theft Auto V" (2013), and "Grand Theft Auto Online" (2022). Big Boy has also appeared in the films "3 Strikes" (2000), "Malibu's Most Wanted" (2003), "Charlie's Angels: Full Throttle" (2003), "Project X" (2012), "Battlefield America" (2012), "Popstar: Never Stop Never Stopping" (2016), and "Thriller" (2018), and he co-starred with Adam Sandler and Chris Rock in the 2005 sports comedy "The Longest Yard." From 2002 to 2003, he played Aquarius in 11 episodes of the Fox series "Fastlane."
Big Boy began hosting "Big Boy's Neighborhood" after signing a deal with ABC Radio Networks, and in 2015, he joined iHeartMedia. In 2018, it was announced that iHeartMedia was teaming up with Fuse Media to televise "Big Boy's Neighborhood." Michael Schwimmer, the president/CEO of Fuse Media stated, "Music is a passion point for our young, multicultural audience and who better to provide a daily dose of the biggest names in music entertainment and breaking pop culture news than radio icon Big Boy. We look forward to bringing 'Big Boy's Neighborhood' to FM and partnering with iHeartMedia on the type of cutting-edge entertainment his radio listeners have enjoyed for so many years." Big Boy was an executive producer on the televised version of the show from 2018 to 2020.
Personal Life
In a 2012 interview with "Black Enterprise," Big Boy spoke about his experience with Duodenal Switch surgery, which caused him to lose more than 250 pounds and was nearly fatal. He told the publication, "I had to fight for my life a couple of times [after the surgery]. I was in the intensive care unit for 10 days. I had to be fed through a feeding tube, have multiple blood transfusions… It was awful. That's why I tell people that surgery [for weight loss] should always be your last option–if at all." According to his bio on the "Big Boy's Neighborhood" website, the radio host "is married with two beautiful children."