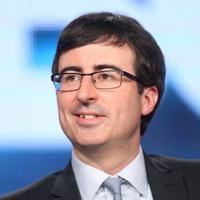 | | |
| --- | --- |
| Net Worth: | $35 Million |
| Salary: | $8 Million |
| Date of Birth: | Apr 23, 1977 (45 years old) |
| Place of Birth: | Birmingham |
| Gender: | Male |
| Height: | 6 ft (1.83 m) |
| Profession: | Actor, Screenwriter, Comedian, Television producer, Voice Actor |
| Nationality: | United Kingdom |
What is John Oliver net worth's and salary?
John Oliver is a British comedian, actor, and satirist who has a net worth of $35 million dollars. He is known for being part of the cast of "The Daily Show" and for hosting "Last Week Tonight" on HBO. John appeared as a correspondent on 356 episodes of "The Daily Show with Jon Stewart." He was a writer on 962 episodes. In 2013 while Jon took a leave of absence to direct a film, John stepped-in as host for 32 episodes. "Last Week Tonight" debuted in 2014.
Outside of his television hosting duties John has appeared in a number of successful films and television series, notably including 2019's "The Lion King," 2011's "The Smurfs" and 19 episodes of "Community."
Last Week Tonight Salary
John Oliver's current annual salary for "Last Week Tonight" is $8 million.
Early Life
John William Oliver was born on April 23, 1977 in Erdington, Birmingham, England to Carole and Jim Oliver His mother was a music teacher and his father was a school headmaster and social worker. John graduated from Christ's College in Cambridge with a degree in English. While in college, he served as Vice-President of the famed amateur theater troupe, the Cambridge Footlights.
Career
Oliver started out doing stand up comedy and appeared for the first time on stage at the Edinburgh Festival Fringe in 2001 as part of The Comedy Zone, a showcase of new acts. His character was that of an "oleaginous journalist." Oliver also worked frequently with members of another group of comedians who collaborated and performed together called the Chocolate Milk Gang. Oliver performed his first solo show in 2002. Throughout 2004 and 2005, he collaborated with other performers on the radio show Political Animal, with various acts revolving around political material. He also made appearances on British television as a panelist on the satirical news quiz show "Mock the Week."
In the summer of 2006, Oliver was recommended to Jon Stewart on the advice of comedian and actor Ricky Gervais, who had never met Oliver but had become familiar with his standup work, ever-growing in popularity. Oliver flew to NYC for the interview–it was his first time ever visiting the States. Two weeks after the interview, in July 2006, Oliver moved to New York City to work on "The Daily Show with Jon Stewart" as its Senior British Correspondent. While working on the show, he continued to do stand up in small clubs around the city and later headlined shows for larger venues. He released his first stand-up special, "John Olver: Terrifying Times" on Comedy Central in 2008.
In 2013, Oliver guest-hosted "The Daily Show" for two months while Stewart was off filming his movie "Rosewater." Oliver's performance was met with overwhelmingly rave reviews and sparked the discussion that he should get his own show immediately. CBS even discussed Oliver replacing Craig Ferguson on "The Late Show." Three months after Oliver's guest-hosting stint on the "Daily Show", HBO announced it would be giving him his own program. Oliver earned Emmy Awards for outstanding writing for "The Daily Show" in 2009, 2011, and 2012.
Oliver began hosting "Last Week Tonight with John Oliver" on April 27, 2014 on HBO. Initially only a two-year contract with HBO, in September 2017 he signed an extension through 2020. Oliver retains full creative freedom and free rein to openly criticize corporations, given there are no ads on HBO. His work is universally critically acclaimed, leading to a Peabody Award in 2018 and landing him on a list of Time's 100 Most Influential People in 2015. Oliver received more than 85 million views for his segment with Donald Trump in 2016.
Other Work
In addition to his work with the "Daily Show," John co-hosted the podcast The Bugle from 2005-2016. He also appeared in a recurring role on "Community" as Ian Duncan. Oliver has done voice work over the years for several animated shows: "Gravity Falls" as the voice of Sherlock Holmes, "Rick and Morty," "People Like Us," "Randy Cunningham: 9th Grade Ninja," "My Hero,", "Green Wing," and "Bob's Burgers," and he guest-starred at Booth Wilkes-John in the "Pay Pal" episode of "The Simpsons." In 2008, he made his first film appearance in "The Love Guru." In 2018, Oliver began working as an executive producer for HBO's documentary television series "Wyatt Cenac's Problem Areas."
Influence
"Last Week Tonight" has been credited with helping to influence legislation in the United States, court rulings, regulations, and many aspects of influence culture. It's been dubbed "The John Oliver Effect," taken from the show's fifth episode that dealt with net neutrality. Oliver documented the problems and argued that the FCC could resolve concerns with upcoming changes to internet regulation. He urged viewers of the show to submit public comments through the FCC's website, which subsequently led the website to crash after being flooded with 3.7 million comments. Ultimately, the FCC enacted robust net neutrality rules that classified broadband internet service as a public utility, with Oliver credited with transforming the debate.
Oliver has long maintained that he's a comedian, not a journalist, but experts argue that his show does actively engage widely in constructive investigative journalism. Oliver was also credited with investigating the Miss America organization, which bills itself as "the world's largest provider of scholarships for women." Oliver's staff collected and analyzed tax forms and claims about the organization's scholarship program and found that it only distributes a small fraction of its claimed "$45 million funds for scholarships made annually for women." The YouTube video of the segment has been viewed more than 15 million times.
In August 2015, Oliver founded and legally incorporated his own church called Our Lady of Perpetual Exemption, in order to demonstrate how easy it is in the U.S. to qualify as a church and obtain tax-exempt status.
As far as his own personal influences, he names comedians such as Armando Iannucci, David Letterman, Monty Python, Peter Cook, Richard Pryor, and, of course, Jon Stewart, as his comedic heroes.
Personal Life
Oliver and Kate Norley, an Iraq War veteran, were married in October 2011. They have two sons, born in 2015 and 2018. Oliver became a U.S. citizen on December 13, 2019. Oliver's philanthropy includes on-air giveaways, the most memorable being when he forgave over $15 million of medical debt owed by over 9,000 people. He purchased the debt for $60,000 and forgave it on a show that aired in June 2016.
Real Estate
In May 2017 John and Kate paid just under $10 million for the penthouse apartment in New York City. They paid roughly 50% in cash and financed the remainder through J.P Morgan bank.
The unit, which is located atop a 40-story building, has just over 3,000 square-feet of living space, 8 total rooms (4 bedrooms) and comes with a monthly $3,700 building HOA fee. The unit has a private terrace with views of the city skyline and Hudson River. The building itself has a 40,000 square-foot athletic club, a 75-foot indoor pool, a 40-foot indoor rock climbing wall, bowling alley, basketball courts and more.
Most people are aware that John has been extremely critical of President Donald Trump and tax loopholes that benefit the wealthy. For example, in a July 2014 segment on his show, John lambasted tax loopholes saying "At this point the rich are just running up the score… What sets America apart is that we are actively introducing policies that disproportionately benefit the wealthy."
Ironically, John and Kate used one of these loopholes when they purchased their apartment. Known as the "421-a" tax exemption, John and Kate were able to lower their annual property tax rate significantly. Thanks to that loophole, for property tax purposes their unit was reportedly assessed at $1.3 million instead of $9.5 million. As a result, when it was all said and done, their annual property tax bill was reduced from $66,390 to $27,343.
All net worths are calculated using data drawn from public sources. When provided, we also incorporate private tips and feedback received from the celebrities or their representatives. While we work diligently to ensure that our numbers are as accurate as possible, unless otherwise indicated they are only estimates. We welcome all corrections and feedback using the button below.