Vanna White Net Worth
What is Vanna White's Net Worth and Salary?
Vanna White is an American television personality, model, and actress who has a net worth of $85 million dollars. She is best known as the hostess and puzzle-board turner of the long-running game show "Wheel of Fortune."
As of this writing, Vanna's $85 million net worth makes her roughly $15 million richer than her co-host Pat Sajak (net worth $70 million). The difference is thanks partially to real estate investments made with her former husband, real estate developer/restaurateur named George Santo Pietro. At the time of his death in 2020, Alex Trebek was worth $75 million. Therefore, Vanna is/was actually the richest of the three.
Vanna White's "Wheel of Fortune" salary is $10 million per year, but as we explain later in this article, that's not even her largest source of income every year. Both she and Pat Sajak make more every year licensing their image to casino slot machines than they do from the actual game show.
Early Life 
Vanna Marie Rosich was born on February 18, 1957, Conway, South Carolina. She is the daughter of Joan and Miguel Rosich. Her parents divorced when she was a baby. Her mother remarried a man named Herbert White, Jr. Vanna took his last name. She was raised in North Myrtle Beach and graduated from North Myrtle Beach High School. She moved to Atlanta to attend the Atlanta School of Fashion and Design. During college, she was a contestant in the 1978 pageant for Miss Georgia USA. In 1979, she moved to Los Angeles to pursue an acting career. In June 1980, she was a contestant on "The Price is Right."
Key Facts
Earns $10 million per year from Wheel of Fortune
Has been on Wheel since 1982
Beat out 200 other models for the job
Earns $34,722 per show taping
Earns $208,33 per work day thanks to multiple tapings
Earns $15 million per year from casino image licensing
Has donated millions to St. Judes
Previously owned $50 million worth of Beverly Hills real estate
Career
In 1981, Vanna booked a bit part in the film "Looker" and also appeared in the horror movie "Graduation Day."  In October 1982, White was hired as one of three substitute hostesses of "Wheel of Fortune."  White became the show's regular hostess on December 13, 1982, and has remained as the show's primary hostess ever since. She beat out more than 200 other young women for the job. White continues to co-host the evening version of the show along with Pat Sajak. Her contract runs through 2022. White has worn more than 6,700 dresses with no repeats during her tenure on "Wheel of Fortune." She does not get to keep her wardrobe from the show. White's dresses are usually borrowed from designers and returned once she's done taping the show.
White was presented with a Guinness World Record on the May 24, 2013, episode of "Wheel of Fortune." Her world record is for "most frequent clapper." She clapped at least 3,480,864 times across the show's 30 seasons as of January 31, 2013.
"Wheel of Fortune" tapes an impressive six shows a day, meaning that White and Sajak are only expected on set four days a month.
She has made appearances on a number of television shows such as "Just Shoot Me," "Married With Children," "The King of Queens," and "The A-Team."
Playboy Lawsuit
At the same time, 30 years of fame and fortune hasn't come without some bumps in the road. In 1987, Vanna appeared in Playboy Magazine to the shock of middle America. The photos were actually taken in 1982, a few months before she landed the Wheel gig, by a photographer who wasn't even associated with Playboy. Five years later, the photographer sold the photos to Hugh Hefner and Playboy. After they photos were published, Vanna filed a $5.2 million lawsuit against Playboy, claiming that they were never intended for mass publication and that publishing them would "tarnish her image as a modest, wholesome, attractive and innocent all-American girl." She also sued Hefner personally. Playboy claimed that Vanna was aware the magazine was planning to publish the photos and actually wanted them to come out around the same time as her autobiography was hitting book stores. The lawsuit was eventually dropped.
Decades later she would explain:
"I did something I shouldn't have done. When I first moved to Hollywood, I was too embarrassed to ask my dad for rent money. I was young and I wanted to do it on my own. So, I did these lingerie shots and from the moment I said I would do them, I thought, 'I shouldn't be doing this, but I'm not going to ask my dad for money, so I'm just going to do it!'"
Sony Lawsuit
In 1993, Vanna successfully sued the Samsung Electronics corporation over a commercial after the company aired a commercial that featured a smiling robot that turned letters on a game show. White asserted that the company was using her likeness without permission. Incredibly, Vanna ended up winning the lawsuit after several appeals and was awarded $403,000 in damages.
Personal Life
When Vanna White left North Myrtle Beach, South Carolina to pursue her dream of becoming a star, she only $1,000 to her name. She waited tables and modeled while in college in Atlanta and while looking for fame and fortune in her early days in Los Angeles.
In the 1980's Vanna dated "Playgirl" centerfold and Chippendales-dancer-turned-actor John Gibson. They got engaged at some point in the 80s, however, Gibson was killed in a plane crash in 1986, before they got married.
In the summer of 1980, she returned briefly to South Carolina to be with her mother as she battled ovarian cancer. Her mother lost her battle with the disease.
Vanna married restaurant owner George Santo Pietro in December 1990. Santo Pietro was born to a wealthy family in Beverly Hills. He launched his first restaurant in the early 1980s.  He followed up with a successful sushi place called Sushi-Ko that became a hot spot for celebrities. They had two children together, son Nicholas, born in 1994 and a daughter Giovanna, nicknamed Gigi, in 1997. White and Santo Pietro divorced in November 2002.
Her grandmother taught her how to crochet when she was five. She continues this hobby to this day. After talking about her love of crocheting on the "Tonight Show Starring Johnny Carson," she was contacted by the yarn manufacturer Lion Brand Yarns. The comapny contracted with her to create her own line of yarns called Vanna's Choice.
White is a patron of St. Jude Children's Research Hospital. She has donated $1.8 million to date to St. Jude's. She plans to continue her philanthropic works after her retirement from "Wheel of Fortune."
Wheel of Fortune Salary Highlights
Vanna White's salary from "Wheel of Fortune" is $10 million per year.
Pat Sajak's salary is $15 million.
Wheel of Fortune tapes four days per month, six shows per day. They tape two Thursdays and two Fridays. On taping days, they both arrive around 8:30 am and start shooting at noon. One audience watches three shows, then there is a break for lunch. A second audience comes in to watch three more tapings.
In other words, Vanna and Pat work 48 days per year of work to earn $10 and $14 million per year, respectively. On a per-workday basis, Vanna White earns $208,333. Pat earns $312,500 per workday. Breaking it down per show, Pat Sajak earns $48,611 per show and Vanna White earns $34,722 per show.
But! As we explain in the next paragraph, Vanna's "Wheel of Fortune" salary isn't even her biggest annual paycheck!
Casino Licensing Earnings
Believe it or note, Vanna White's salary from "Wheel of Fortune" isn't actually her largest source of annual income. Vanna and Pat both make more money licensing their images to casino slot machines than they do from the game show itself.
Wheel of Fortune was actually the FIRST entertainment property to be licensed for use on slot machines. In 1996 the first Wheel of Fortune branded slot machines were placed in casinos in Las Vegas. They quickly proved to be extremely successful and were licensed to casinos around the world. Within a decade, the Wheel of Fortune branded slot machines were reported to be the highest revenue generating slot machines in most casinos. There are an estimated 20,000 "Wheel" slot machines on casinos floors around the world. In Las Vegas alone, Wheel of Fortune slot machines generate over $1 billion per year in gross revenue. Worldwide the machines generate over $2 billion.
In exchange for licensing their respective images and likenesses for the slot machines, Pat and Vanna both earn at least $15 million per year, mostly from a base royalty payment both also from a variety of bonuses and appearance fees.
Annual Income
Total it all up, and between her "Wheel of Fortune" salary and casino licensing earnings, Vanna White's annual income easily tops $25 million every year.
Real Estate
At one point George Santo Pietro and Vanna lived in a gated community called The Mulholland Estates. They lived next door to Jack Nicholson and Warren Beatty. They eventually built a 15,000 square-foot spec house in the gated community of Beverly Park. The couple lived in the home until their divorce in 2002. After their divorce, they both vacated the property and for several years they rented it for $175,000 per month. In 2017 they listed the house for sale for $47.5 million. They also owned a house on a nearby. They eventually sold the two properties separately. The second lot sold for $22 million. The primary lot that featured Vanna's mansion sold in June 2020 for $19.3 million. Here's a video tour of their former mansion:
White uses her income to invest in apartment buildings, and she likes flipping houses.
Her longtime primary residence has been a 10,000 square-foot mansion in the hills above Beverly Hills which she bought in the early 2000s for $3.4 million. Today this home is likely worth north of $10 million.
In 2013 Vanna paid $1.125 million for a home in Sherman Oaks, California. She listed this home for rent in May 2020 for $20,000 per month.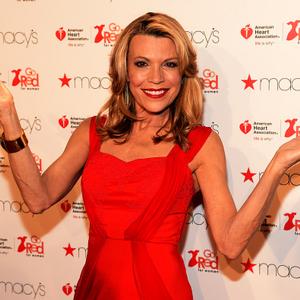 Vanna White
| | |
| --- | --- |
| Net Worth: | $85 Million |
| Salary: | $10 Million |
| Date of Birth: | Feb 18, 1957 (65 years old) |
| Gender: | Female |
| Height: | 5 ft 5 in (1.67 m) |
| Profession: | Presenter, Actor |
| Nationality: | United States of America |
All net worths are calculated using data drawn from public sources. When provided, we also incorporate private tips and feedback received from the celebrities or their representatives. While we work diligently to ensure that our numbers are as accurate as possible, unless otherwise indicated they are only estimates. We welcome all corrections and feedback using the button below.