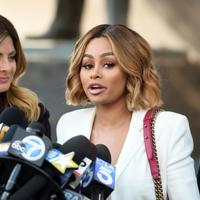 | | |
| --- | --- |
| Net Worth: | $5 Million |
| Date of Birth: | May 11, 1988 (34 years old) |
| Place of Birth: | Washington, D.C. |
| Gender: | Female |
| Profession: | Model, Stripper, Entrepreneur |
| Nationality: | United States of America |
What is Blac Chyna's net worth?
Blac Chyna is an American reality television personality, former stripper and social media entrepreneur. Blac Chyna has a net worth of $5 million. Although her activities as a stripper helped propel her to fame, her relationships with high-profile celebrities took this notoriety to another level. Blac Chyna has a child with rapper Tyga and another child with Rob Kardashian.
After becoming a well-known public figure, Blac Chyna started to appear in a number of television shows. Chyna has also been involved in a number of self-branded business ventures, usually revolving around beauty products and services. She has also made millions from the social platform OnlyFans. She is reportedly one of the platform's highest-paid creators.
Kardashian Lawsuit and Personal Finances
In 2017 Blac Chyna filed a $108 million lawsuit against the Kardashians in which she accused the family of purposely getting her reality show "Rob & Chyna" canceled after airing one season between September and December2016. The show was renewed for a second season but in July 2017 E! informed Chyna that production had to be put "on hold" as they waited to "follow the Kardashian family's lead" on what to do next. Later legal filings would claim, according to Chyna, that members of the Kardashian family demanded that the E! network not proceed with a second season of her show. Chyna's lawsuit names Kim, Kris, Khloe and Kylie as defendants.
Upon filing her lawsuit, Blac Chyna's lawyer claimed the Kardashian family had permanently damaged her reality television career and even potentially defamed the former stripper.
The Kardashians sought to have the lawsuit dismissed but in October 2020 a judge denied this request.
In March of 2022 Blac Chyna complained about her personal financial struggles since she was apparently not receiving child support from Rob. Rob then reportedly told an Instagram account that he pays for practically all of the child's expenses. In the past Rob has sought to have his support payments reduced because Blac Chyna is a multi-millionaire who earns millions of dollars in income every year.
Jury selection for the trial began in April 2022. The first day of proceedings was April 18. On April 21, the second day of the trial, Blac Chyna finally gave her testimony in the case. Over the course of her testimony to the defense attorney we learned the following from Blac Chyna:
She did not file for personal taxes in 2019, 2020 or 2021.
She claimed to not have a personal bank account.
She claimed to have made $2 million per year in 2018, 2019 and 2020.
She claimed to have made a total of $1 million from OnlyFans. Far less than $20 million that has been reported.
Early Life
Blac Chyna's real name is Angela Renee White. She was born in Washington, D.C. on May 11th of 1988. Her mother is Shalana-Jones Hunter, also known as Tokyo Toni. Blac Chyna's mother served in the U.S. military in 1991, is the CEO of her own production company, and featured heavily in reality TV shows centered around her daughter. After attending high school, Blac Chyna enrolled in college in Maryland.
Early Stripping and Modeling Career
Blac Chyna began stripping soon after starting college, mainly to pay her tuition fees. Eventually, she moved to Miami to attend Johnson & Wales University, where she continued pursuing a stripping career while simultaneously taking classes. Soon enough, Blac Chyna was too exhausted to even stay awake during her studies. The young college student found herself between a rock and a hard place. If she stopped stripping, she wouldn't be able to pay her tuition fees. If she continued stripping, she would undoubtedly fail her classes because she kept falling asleep during lectures. In the eyes of Blac Chyna, the only option was to drop out and focus on stripping.
Initial Breakthrough
With school out of the picture, Blac Chyna could explore more potential income sources, such as modeling. This led to lucrative deals with publications such as Dimepiece Magazine, for which she appeared on the front cover. Other publications soon took notice, and she eventually appeared in Straight Stuntin' Magazine and Black Men's Magazine as she significantly expanded her portfolio. As she gained more attention in the Hip-Hop and urban community, high-profile figures began to take notice. One of these individuals was Drake, who mentioned her in one of his songs.
Mainstream Success
The blessing of Drake in 2010 proved to be the spark that would launch her career in earnest, and it seemed as though Blac Chyna had become a star overnight. Her presence on social media grew exponentially, and she was eventually offered a role as a stunt double for Nicki Minaj for the "Monster" music video. This led her winning Model of the Year in the 2011 Urban Model Awards. Tyga also chose to hire the model for his music video for the track "Rack City." The next few years saw Blac Chyna appearing in a range of other publications, including Smooth Girl and Urban Ink. She rounded off 2012 with an appearance in one of Nicki Minaj's music videos.
Relationships
Blac Chyna's first high-profile relationship was with Tyga. The couple connected shortly after the model appeared in the rapper's music video. They started dating in 2011, and by 2012 the couple had welcomed a son into the world. Tyga eventually bought a home for the new family, but the relationship would not stand the test of time. In 2014, the couple split up, with Tyga turning his attention towards Kylie Jenner as a new love interest.
After splitting up with Tyga, Blac Chyna publicly feuded with Kylie Jenner over social media. Although this would cause a rift between her and the Kardashians, Blac Chyna would eventually redeem herself in the eyes of the family. She started dating Rob Kardashian in 2016 and became close to the Kardashians. The model and Kim Kardashian reportedly became especially good friends. Later in 2016, Blac Chyna and Rob Kardashian had a daughter together. Approximately one month after the child's birth, the couple split up. They would eventually get back together for a short period, but it seemed that the relationship was not meant to be. After the split, the two parents have been involved in an ongoing custody battle over their daughter. Blac Chyna also filed a restraining order against Rob Kardashian after he posted sexually explicit pictures of his ex-partner on social media.
The custody battle between Rob Kardashian and Blac Chyna revealed insights into her earnings. According to court documents, Blac Chyna makes $60,000 per month mainly through personal appearances and social media endorsements. She also received $20,000 per month from Rob Kardashian in spousal support payments, although her ex-partner moved to reduce or remove these payments due to his diminishing income, as he no longer appears on Keeping Up With The Kardashians.
OnlyFans Earnings
As we mentioned previously, Blac Chyna is reportedly one of the highest-earning people on the adult social platform OnlyFans. According to some reports she has made north of $20 million from OnlyFans. As a point of comparison, her ex-boyfriend Tyga is supposedly one of the top 10 earners and made around $8 million in a year from the service.
As we mentioned previously, according to her own court testimony Blac Chyna has perhaps only earned around $1 million total from OnlyFans.
Television
Blac Chyna has appeared as herself in a number of reality TV shows. These include Keeping Up With The Kardashians, Rob & Chyna, Rupaul's Drag Race, Good Morning America, The Real, The Wendy Williams Show, Rupaul, and more. While many of these appearances were brief cameos in one or two episodes, she also appeared in a reality TV show centered entirely around her life, entitled The Real Blac Chyna.
Business Ventures
Aside from her stripping/modeling and TV career, Blac Chyna has pursued a number of business ventures. In 2013, Blac Chyna was trained professionally as a makeup artist. The celebrity owns her own beauty salon in Encino, Los Angeles, and she runs beauty classes and courses through this establishment. She also created her own line of make-up products called Lashed by Blac Chyna. During 2013, she launched an online store called 88fin, through which she sells her own clothing products and various other items.
All net worths are calculated using data drawn from public sources. When provided, we also incorporate private tips and feedback received from the celebrities or their representatives. While we work diligently to ensure that our numbers are as accurate as possible, unless otherwise indicated they are only estimates. We welcome all corrections and feedback using the button below.