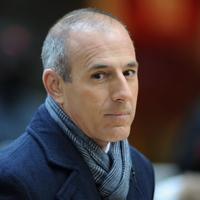 | | |
| --- | --- |
| Net Worth: | $80 Million |
| Date of Birth: | Dec 30, 1957 (64 years old) |
| Place of Birth: | New York City |
| Gender: | Male |
| Height: | 5 ft 10 in (1.8 m) |
| Profession: | Journalist, TV Journalist, Presenter, Actor, Newscaster |
| Nationality: | United States of America |
What is Matt Lauer's Net Worth and Salary?
Matt Lauer is an American former news anchor and TV host who has a net worth of $80 million. He is most famous for being the host of NBC's "The Today Show from 1997 to 2017. He was forced to step down in 2017 amid allegations of sexual harassment. At his peak, before the scandal and ensuing divorce, Matt was the highest-paid person on television and had a net worth that easily topped $120-$150 million.
Salary
At the peak of his time hosting "The Today Show", Lauer made $28 million per year.
Early Life and Career Beginnings
Matthew Todd Lauer was born in New York City on December 30, 1957. His mother, Marilyn Lauer, was a boutique owner, and his father, Jay Robert Lauer, was a bicycle-company executive. He attended Ohio University, and dropped out in 1979 to pursue his television career upon being hired at WOWK-TV in Huntington, West Virginia. While there, his first job was as a producer for the noon newscast, and by 1980 he had worked his way up to being an on-air reporter for their 6 p.m. and 11 p.m. newscasts. Eventually, Lauer returned to Ohio University to complete his undergraduate degree, and graduated in 1997 at age 39.
Career
Following his start at WOWK-TV, he worked on a number of programs. These include the syndicated television series "PM Magazine", which he co-hosted in Richmond (1980-1981), Providence (1981-1984) and New York City (1984-1986). Following the cancellation of the New York edition of "PM Magazine" in 1986, Lauer worked on the show "Made in New York" for the WNYW station, although it only ran for fifteen weeks.
Lauer's first national television appearance was as co-host with Robin Leach of ABC's daytime series "Fame, Fortune and Romance", which was a spin-off of the syndicated show "Lifestyles of the Rich and Famous". The spin-off series was short-lived, and Lauer subsequently returned to local television as the host of programs in Philadelphia and Boston from 1987 to 1989. During this time, he also occasionally appeared as an anchor for HBO entertainment news segments. He returned to New York City in September 1989, hosting the WWOR-TV show "9 Broadcast Plaza", but he was not with them for long. In 1990, the Kushner-Locke Company hired Lauer to host a pilot called "Day in Court". It was executive-produced by David Sams, who helped achieve national syndication for "The Oprah Winfrey Show".
In 1992, Lauer joined NBC as co-anchor of the weekday morning news show "Today in New York", which aired on the network's New York flagship station WNBC. In 1993, he temporarily began co-hosting the afternoon news show "Live at Five" with Sue Simmons, and he eventually took over this afternoon role permanently in 1994, giving up his morning duties. He remained with "Live on Five" until 1996. His on-camera presence and growing popularity helped gain him more opportunities within the network and NBC News. Between 1992 and 1993, he would fill in as the "The Today Show" newsreader in Margaret Larson's place when needed. This temporary role effectively served as his audition for the program, and he earned a full-time spot on "The Today Show" as a news anchor in January 1994. In this new position of news anchor, he would occasionally substitute for Bryant Gumbel, and eventually he was named as the official co-anchor of "The Today Show" after Gumbel stepped down in January 1997. During this time, Lauer also regularly substituted for Scott Simon, Mike Schneider, Jack Ford, David Bloom and Lester Holt on "Weekend Today"; for Ann Curry as anchor of "NBC News at Sunrise"; and for Tom Brokaw on "NBC Nightly News". Additionally, he also hosting programming on the Discovery Channel and MSNBC.
While with "The Today Show", Lauer has interviewed and interacted with many notable international figures, including England's Prince William and Prince Harry, Russian President Vladimir Putin, former American President George W. Bush, and then-presidential candidates Hillary Clinton and Donald Trump in 2016. From 1998 to 2009, Lauer also hosted an annual five-day segment, "Where in the World is Matt Lauer?", which followed him to various locations around the world as he reported on the importance of those locations. Places he went on the segment include Bhutan, Easter Island, the Panama Canal, Iran, Hong Kong, Croatia, and the Great Wall of China.
NBC Firing and Sexual Assault Allegations
On November, 2017, NBC News announced the termination of Lauer's employment with them after an unidentified female NBC employee reported that he had sexually harassed her during the 2014 Winter Olympics in Sochi, Russia. She also reported that the harassment had continued upon their return to New York from Russia. More accusations went public in the following days, and NBC eventually acknowledged three additional cases that took place during 2000 to 2007.
Personal Life
Matt Lauer was married from 1982 to 1988 to television producer Nancy Alspaugh, but the marriage ended in divorce. He dated another television newscaster, Kristen Gesswein, until 1996, and in 1998 he married Dutch model Annette "Jade" Roque. Roque has appeared in Revlon's "The Most Unforgettable Women in the World Wear Revlon" ads. The two briefly separated during Roque's third pregnancy in 2006, but they reconciled their differences after Roque initially filed for divorce. Following Lauer's 2017 sexual harassment allegations, the couple separated, and began divorce proceedings. In July 2019 it was revealed that Lauer had agreed to pay Roque a $20 million divorce settlement, and they finalized their divorce on September 7, 2019.
Real Estate
For many years Matt split his time between an apartment in New York City and a house in the Hamptons. His most recent NYC apartment was bought in 2004 for $5.9 million. He sold this property in 2018 for $7.4 million.
Out in the Hamptons Matt owns a number of properties. In 2016 he sold a modest bay front home in Southampton for $3.6 million. That same year plunked down a mouth-watering $36.5 million for a two-home compound in Sag Harbor. The seller was Richard Gere. Gere, who bought the property in 2005 for $6.9 million and then performed massive renovations, had at one point been seeking $70 million. Lauer listed the home in June 2019 for $44 million. As of this writing he is still the owner. Here is a video tour:

As of this writing Matt still owns a 25-acre property nearby in Sag Harbor that has an 8,000 square-foot house which at one point was listed for sale for $18 million but has since been reduced to $12.75 million.
He also still owns a 16,000-acre ranch in New Zealand which he and Annette Roque purchased in 2017 for $9 million. After his sexual assault allegations became public, a New Zealand government agency called the Overseas Investment Office investigated whether or not Lauer breached a "good character test for foreign property buyers". At the time he purchased the land no allegations were public. Foreign buyers of large tracts of land must pass a broad and vague "good character" test before being approved for purchase. Government officials eventually concluded that they did not have sufficient evidence to have failed the test today.
All net worths are calculated using data drawn from public sources. When provided, we also incorporate private tips and feedback received from the celebrities or their representatives. While we work diligently to ensure that our numbers are as accurate as possible, unless otherwise indicated they are only estimates. We welcome all corrections and feedback using the button below.