Steven Spielberg Net Worth
What is Steven Spielberg's net worth?
Steven Spielberg is an American director, screenwriter and producer who has a net worth of $8 billion and annual income of $150 million. As of this writing, Steven's $8 billion fortune makes him the second richest celebrity on the planet, behind good buddy and fellow director/producer, George Lucas (who is worth $10 billion).
Steven Spielberg's name is synonymous with film and his career spans over four decades. Some of his most-famous movies include "Jaws", "Close Encounters of the Third Kind", "Indiana Jones"… honestly, even the hit list is too long mention in a quick blurb.
Earnings and Salary
For his own films, Steven frequently opts for a relatively low upfront salary, $10 million, in exchange for backend points on the gross revenue. One such deal for 1993's "Jurassic Park", resulted in a $250 million payday for Steven. That's the same as roughly $360 million in today's dollars. He earned at least $150 million from the sequel and $75 million from the third installment, which he did not even direct.
He famously refused to accept a salary for "Schindler's List", calling any money earned "blood money". He instead directed all proceeds owed to him in perpetuity be used to fund the USC Shoah Foundation in 1994 which honors and remembers Holocaust survivors.
Universal Parks/Comcast Deal
Steven was able to negotiate what eventually became hundreds of millions of Jurassic Park dollars thanks to a particularly generous deal struck in 1993 with the film's studio, Universal Pictures. Actually, the deal was with Universal's parent MCA. In the early 1990s, MCA was flat broke and Spielberg's contract was up for renewal. Warner Brothers made a generous offer that was almost impossible to match in terms of cash, so MCA had to get creative. In the end Spielberg successfully negotiated a deal that entitled him to 2% of all Universal park GROSS ticket sales, annually in perpetuity.
Details of this arrangement became public decades later during a legal battle between Dreamworks and Disney in 2009. Legal filings showed that Steven loaned Dreamworks $15 million to help keep the studio afloat. A footnote in the lawsuit detailed Spielberg's 2% Universal deal amounted to $30 million per year, in recent years. The payments are called "consulting fees".
Fast forward to 2015. By this point Universal was owned by the publicly-traded Comcast. Also by this point, Universal operated multiple theme parks around the world, all of which paid Steven a cut of ticket sales.
As part of an Securities filings on business risks and upcoming costs, Comcast was forced to disclose that in 2017 it could owe Spielberg as much as $535 million due to a buyout clause in the contract. When 2017 came around, Spielberg did not activate the buyout clause. Instead, Comcast and Spielberg agreed to a new deal in which Comcast took an ownership interest in his film studio, Amblin Partners in a deal that could ultimately pay over $1 billion.
Star Wars Bet
Back in the late 1970s during the production of what would become "Star Wars", writer/director/creator George Lucas was convinced that his passion project would be an enormous bomb. At the same time Spielberg was filming what would become "Close Encounters of the Third Kind". In a moment of particular weakness and desperation, Lucas asked Spielberg if he would trade backend points on their respective films. As Spielberg would later recount:
"He said, 'You want to trade some points? I'll give you two and a half per cent of Star Wars if you give me two and a half per cent of Close Encounters.' I said, 'Sure, I'll gamble with that, great.'"
Spielberg accepted. And while Close Encounters was a big hit, earning more than $300 million globally, Star Wars would eventually go on to earn billions. In the process, Steven made (and still makes to this day) a small fortune from a movie he had nothing to do with at all.
Early Life
Spielberg had humble beginnings when he was just a boy with a huge imagination and a dream. Steven Spielberg was born on December 18th 1946, in Cincinnati, Ohio. His mother Leah Adherer was a concert pianist and his father Arnold Spielberg was an electrical engineer involved in the development of computers. Steven's childhood was spent in Haddon Heights, New Jersey and Scottsdale, Arizona. It was in Scottsdale, as a teenager, where a young Spielberg would create 8mm short films.
At age 12, he made his first movie when he filmed a train wreck involving his toy Lionel trains. Even back then, Spielberg had the gall to charge 25 cents for the local kids to come and watch his many epics. At the age of 13, Spielberg won an award for his 40-minute film about war called "Escape to Nowhere". At the age of sixteen he made his first feature-length film, "Firelight", which he played at his local cinema. It was a Sci-fi film which would later go on to inspire the classic "Close Encounters of the third kind". Unfortunately, his parents eventually divorced and he moved with his father to Saratoga, California where Steven attended and graduated from Saratoga high school.
After graduation he applied to the University of Southern California School of Theater, Film, and Television but was rejected three times. Instead he attended California State University, Long Beach, where he became part of the Theta Chi Fraternity.
Early Career
His career did not begin until he worked at Universal Studios as an unpaid intern for the editing department. It was during this time that Spielberg directed a twenty-four-minute short film, "Amblin" (a name that he would eventually carry to his production company) which caught the eye of Sidney Shainberg who was the vice president of production for Universal's television division. Spielberg became the youngest director to ever sign a long-term contract with a major studio. He dropped out of college for the opportunity (but later returned in 2002 to complete his BA degree in Film and Electronic Arts, as if he needed the credentials to back up the field experience!)
During his time as a television director he directed episodes of Rod Sterling's Night Gallery, Columbo, and Marcus Welby M.D. These ventures were so successful that he was signed on to shoot four made-for-television films. The first of which was the 1971 classic "Duel". Duel was such a success that he was offered the job of directing the theatrical feature film "The Sugarland Express". The film was met with a lot of positive feedback.
Success
It was not until 1975 when Spielberg's career sky-rocketed with the success of "Jaws". In 1975 Jaws became the first real blockbuster film after over 67% of Americans went to see it. At that time, he rejected offers to make Jaws 2, King Kong, and Superman. Instead, Steven followed Jaws up with "Close Encounters of the Third Kind" starring Richard Dreyfus (who Spielberg considers his alter ego). In 1981 he teamed up with long time friend and fellow filmmaker George Lucas to create Raiders of the Lost Ark, the first installment in the Indiana Jones series, which was an even bigger hit.
A year later, Spielberg went back to the science fiction genre when he directed E.T., the Extra-Terrestrial, a film about a young boy and the friendly alien he befriends. E.T. went on to become the top-grossing film of all time, and was nominated for nine Oscars. Between 1982 and 1985, Spielberg produced three incredibly high grossing and acclaimed films: Poltergeist (he also co-wrote the screenplay), The Twilight Zone, and The Goonies, for which he also wrote the story the screenplay was based on and executive produced the film.
Next up, Spielberg directed the Raiders prequel Indiana Jones and the Temple of Doom, again teaming up with George Lucas and Harrison Ford. This movie, along with the Spielberg-produced Gremlins, led to the creation of the PG-13 rating. The movie was a huge 1984 blockbuster. 1985 saw Spielberg's release of an adaptation of Alice Walker's Pulitzer Prize-winning novel, The Color Purple, starring Whoopi Goldberg and Oprah Winfrey. The film helped catapult Spielberg into the dramatic genre, with Roger Ebert announcing it the best film of the year and later entering it into his Great Films archive. The movie was nominated for eleven Oscars.  In 1987, Spielberg shot Empire of the Sun, the first American film in Shanghai since the 1930s. While it didn't garner substantial box office wins, it was critically acclaimed and nominated for several Academy Awards.
After two forays into more serious dramatic films, Spielberg then directed the third Indiana Jones film, 1989's Indiana Jones and the Last Crusade.
Steven's career would continue to create more massive hits such as 1991's Hook starring Robin Williams, AI Artificial Intelligence, Minority Report, and Jurassic Park, a legendary film that needs no introduction or explanation. He also executive produced the entire Men in Black franchise. He continued his dramatic work throughout the 2010s with movies like War Horse, Bridge of Spies, Lincoln, and The Post.
In addition to the box office acclaim he has also seen critical acclaim and awards. Spielberg has won three Academy Awards, two of them for directing (1993's Schindler's List and 1998's Saving Private Ryan, both of which are consistently found on lists of the greatest films of all time,) and one for Best Picture (Schindler's List). His films are consistently nominated for Best Picture and Best Director.
Apart from his extensive and genius film career, Spielberg has long been involved in video games production: collaborating, directing, designing, and screenwriting.
Steven Spielberg continues to make, direct, produce, and breathe films.
Personal Life
In 1985, Spielberg and his first wife actress Amy Irving had their son Max Samuel Spielberg together. The couple would divorce in 1989 after 3 and a half years of marriage. They cited competing stresses of their careers as a main cause of their falling out. Their divorce was reportedly the third most costly celebrity divorce in history at that time.
He got remarried on October 12, 1991 to actress Kate Capshaw, whom he had met when she was cast in Indiana Jones and the Temple of Doom. Capshaw converted to Spielberg's religion, Judaism. The two live in four different locations around the world (Pacific Palisades, Ca, New York City, Naples Florida, and the East Hamptons) with their seven children.
Real Estate
Steven and Kate own at least $200 million worth of real estate. For many years they owned a 1.4-acre slice of Malibu's most-coveted beachfront. They bought the first of the parcels that became their final property, back in 1989 for $3.375 million. They expanded their footprint in 2002, purchasing the lot next door for $3.2 million. They sold the property, which has 150 feet of ocean frontage, in 2015 for $26 million.
Their longtime primary residence, which they still own today, is an incredible 5-acre multi-home compound in the Pacific Palisades. Not far from their home, they also own an equestrian facility.
On the east coast they own a 6,000 square-foot New York City apartment that directly overlooks Central Park West.
Out in East Hampton, they own a 10-acre estate that is partially oceanfront and partially on a cove. The Spielberg compound encompasses 7.5 acres. In 2013, a nearby 5.5 acre property was put on the market for $75 million by a woman named Courtney Ross. Courtney is the widow of Steve Ross, the one-time Chairman of Warner Communications and longtime mentor of, Steven Spielberg. Spielberg would later describe Ross as "very much what I wish my father was". Schindler's List is dedicated to Steve Ross.
Courtney sold her property for $50 million after a year on the market, perhaps not coincidentally, to Spielberg's Dreamworks co-founder David Geffen. Geffen sold the estate two years later for $67 million. Again, the Spielberg-Capshaw property is at least two acres larger than the former Ross/Geffen property.
The Spielbergs own several other Hamptons properties and a home in Naples, Florida. Steven has also financed several homes for his children around Los Angeles.
Hobbies
Spielberg is an avid boating enthusiast. He purchased a mega-yacht (282 foot) called the Seven Seas in 2013. He paid $182 million dollars for it. He later put it up for sale and upgraded to a new 300-foot yacht that cost him a whopping $250 million dollars.
He's also, if you can believe it, a collector of old film memorabilia. He owns brag-worthy trinkets like a balsa Rosebud Sled from the set of Citizen Kane and Orson Welles's own directorial copy of the script for 1938's The War of the Worlds. He purchases Academy Award statuettes (for example, the awards that Bette Davis won in the 1930s) being sold on the open market and donates them to the Academy of Motion Picture Arts and Sciences in order to keep them preserved and prevent commercial exploitation. Spielberg also owns many works by American painter Normal Rockwell. His own personal collection of 57 Rockwell paintings (along with fellow collector George Lucas's own works) were displayed at the Smithsonian in an exhibition titled Telling Stories from July 2-January 2 2011.
Although we can't imagine where he finds the time, Spielberg is also a film buff who watches several films on any given weekend.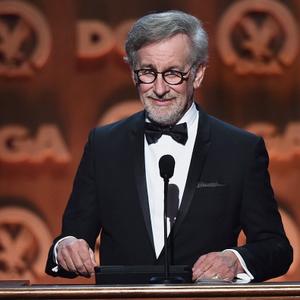 Steven Spielberg
| | |
| --- | --- |
| Net Worth: | $8 Billion |
| Salary: | $150 Million |
| Date of Birth: | Dec 18, 1946 (75 years old) |
| Gender: | Male |
| Height: | 5 ft 7 in (1.715 m) |
| Profession: | Film Producer, Film director, Screenwriter, Entrepreneur, Television producer, Actor, Film Editor, Television Director, Businessperson |
| Nationality: | United States of America |
Steven Spielberg Earnings
War Horse

$20,000,000

Jurassic Park III

$72,000,000

Schindler's List

Asked to not be paid

Jurassic Park

$250,000,000

% of gross

Raiders of the Lost Ark

$1,500,000

% of gross
All net worths are calculated using data drawn from public sources. When provided, we also incorporate private tips and feedback received from the celebrities or their representatives. While we work diligently to ensure that our numbers are as accurate as possible, unless otherwise indicated they are only estimates. We welcome all corrections and feedback using the button below.