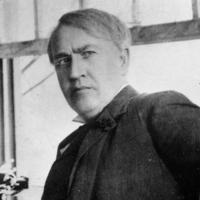 | | |
| --- | --- |
| Net Worth: | $170 Million |
| Date of Birth: | Feb 11, 1847 - Oct 18, 1931 (84 years old) |
| Place of Birth: | Milan |
| Gender: | Male |
| Height: | 5 ft 10 in (1.78 m) |
| Profession: | Inventor, Entrepreneur, Scientist, Businessperson, Film Producer, Film director |
| Nationality: | United States of America |
Thomas Edison Net Worth: Thomas Edison was an American inventor, author, and entrepreneur who had a net worth of $12 million at the time of his death on October 31st, 1931. The modern, inflation-adjusted, equivalent of his net worth is $170 million. Though, it should be noted that at various points in his life Thomas experienced extreme financial hardship. He was nearly bankrupt on a number of occasions during periods where his expenditures on inventions vastly outpaced the income from previous inventions. At one point automotive tycoon Henry Ford was forced to write off a $750,000 debt owed by Edison.
The Edison Electric Light Company was eventually merged to form what we know today as General Electric. He was forced out of the company prior to it becoming GE. Had Edison not been forced out and not sold off his entire stake in the company to pay for another venture, he would have owned around $30 million worth of GE at the time of his death. That stake would have been worth the modern equivalent of $500 million.
He is known for inventing the first commercially usable lighting system, the phonograph and moving picture camera. He held over 1,000 patents. In 1878 he founded the Edison Electric Light Company. In 1892, financier J.P. Morgan forced Edison from the company and merged with a rival to form General Electric.
Early Life: Thomas Alva Edison was born on February 11th, 1847 in Milan, Ohio. When he was a child, the family moved to Port Huron, Michigan. His mother was a schoolteacher and taught him how to read, write, and do arithmetic. He was interested in the nature of how things work at an early age and often conducted experiments at home. At the age of twelve, he developed hearing problems due to a case of scarlet fever. As he grew older, he saw his hearing issues as a positive attribute because it allowed him to focus better.
In addition to being intellectually curious, Edison displayed an entrepreneurial spirit while he was an adolescent. He began selling candy, newspapers, and vegetables on trains when he was thirteen years old and was soon making $50 in profit each week.
At some point during this time, Thomas saved a child from being killed by a runaway train. The boy's grateful father, a station agent, took Thomas under his wing. Thomas learned telegraphy and Morse code. He had a natural gift for telegraphy and soon landed a job working for Western Union in Boston.
When he was only twenty-two, he got his first patent for an electric vote recorder. In 1869 he moved to New York City to further pursue inventing.
Early Career: For a time shortly after moving to New York City, Thomas was flat broke. He soon landed a job working for the Gold Indicator Company, fixing and engineering its stock ticker machine. His salary was $300 per month.
His second patent was for an improved version of the stock ticker machine. He sold the machine to Western Union for $40,000, an enormous sum at the time. The machine would go on to generate around $500,000 in sales and royalties to Edison.
Thomas took his windfalls and developed industrial research labs scattered around New Jersey, notably in the towns of Menlo Park, Newark and West Orange. He continued to work in and expand the labs. The West Orange lab occupied two large city blocks. Edison reportedly spent $180,000 constructing the West Orange lab and then budgeted $80,000 per year for expenses. He hired a large staff to help him conduct his experiments and make inventions. All of the lab's inventions were credited to Edison, and although some staff may have had a larger role in the development of the inventions, they worked under his direction and instruction.
Only a year after his lab was established, he invented the phonograph or record player, which garnered him widespread attention. The technology was so novel that the public referred to him as the Wizard of Menlo Park, and soon he was famous nationwide. Although the first record player was rudimentary, it was unlike anything people had seen, and Edison was praised as a genius. He did obtain a patent for the invention, but he did little to improve upon it. Advancements in the technology were primarily made by Alexander Graham Bell in the next decade.
In the early 1900s, Edison's company was generating over $1 million per year in phonograph sales. Revenue would eventually exceed $20 million, the modern equivalent of $260 million.
Edison's phonographic recording of an employee sneezing was the first motion picture to be copyrighted in the United States.
Electric Light: Edison began working on an invention for a source of light that could replace gas and oil lamps for indoor use in 1878, and he formed the Edison Electric Light Company with the financial backing of influential members of society such as J. P. Morgan and the Vanderbilt family. However, it is a misconception that Edison invented the light bulb. The light bulb was invented in 1840 by British scientist Warren de la Rue, but his light bulb and those developed by other scientists afterwards were too inefficient or expensive to be commercially useful. Edison's light bulb used a carbon filament that allowed it to stay lit for over 1,200 hours, and he gave a public demonstration of it on December 31st, 1879. The first commercial use of his light bulb was in a new steamship owned by The Oregon Railroad and Navigation Company. The first building to be outfitted with Edison's lighting was the Mahen Theatre in the Czech Republic. The problem of developing an efficient electric light was one that many inventors at the time were working on, and there was litigation over the validity of several inventor's patents, including Edison's. His was originally ruled to be invalid and based on the work of inventor William E. Sawyer, but in 1889, a judge reversed the decision due to Edison's improvements.
In the late 1890s, Edison operated a number of electricity-related companies in addition to Edison Electric, for example, Edison Lamp Company.
In 1889 J.P. Morgan provided Edison with financing to form one consolidated holding company which they called Edison General Electric.
By 1890 the Edison General Electric had accumulated a burdensome $3.5 million worth of debt as a result of what is called the "war of currents". Edison, a proponent of his "direct current" (DC) system of delivering electricity, was staunchly against Nikola Tesla's "Alternating Current" (AC) system. Tesla had licensed his much more powerful system to Westinghouse.
In 1891, J.P. Morgan pushed Edison out of the company he had founded, cleared the firm's debts and a year later merged with a rival called Thomson-Houston. Edison's name was chopped off the company, resulting in today's General Electric.
By the late 1890s General Electric was paying Westinghouse an annual fee to share Nikola Tesla's AC patent which Westinghouse had acquired for a lump sum of $216,000. So in the end, Edison's company ultimately did switch to AC.
Other Work: Along with a commercially viable light bulb, Edison formed an electric utility company called The Edison Illuminating Company and patented a system for distribution of electricity. He invented the fluoroscope, a medical device used to take radiographs, which allow doctors to see inside a person's body. Although Edison himself was frightened by X-rays and had little interest in the invention after it was completed, the fundamental design of his fluoroscope remains in use today. After commercial electric lighting, his second-best known patent was for the motion picture camera. He was granted the patent in 1891, but it's recognized that his assistant at the time, William Kennedy Dickson, was responsible for most of the development of the technology.
In the early 1920s Edison used $100,000 of his own money to establish the Edison Portland Cement Company. Edison cement built the original Yankee Stadium.
Later in life Edison launched a venture to produce rubber domestically. The venture was ultimately unsuccessful.
Personal Life: In 1871, Edison married Mary Stillwell who was sixteen years old and worked at his lab. They had three children together. After thirteen years of marriage in 1884, she died of a possible morphine overdose. Two years later, Edison married twenty-year-old Mina Miller, and they also had three children together.
In 1886, Edison paid $125,000 for a home in West Orange, New Jersey.
One of his children, Thomas Alva Edison Jr., wanted to be an inventor but lacked the skills. He became problematic for his father when he began peddling snake oil products and engaging in fraudulent business practices. The situation became so bad that Edison Sr. took his son to court in order to prevent him from tarnishing the Edison brand, and his son agreed in exchange for a weekly allowance of the modern equivalent of $1,019. Edison died from complications of diabetes on October 18th, 1931, and he is buried behind his home in West Orange, New Jersey.
All net worths are calculated using data drawn from public sources. When provided, we also incorporate private tips and feedback received from the celebrities or their representatives. While we work diligently to ensure that our numbers are as accurate as possible, unless otherwise indicated they are only estimates. We welcome all corrections and feedback using the button below.