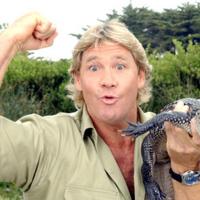 | | |
| --- | --- |
| Net Worth: | $10 Million |
| Date of Birth: | Feb 22, 1962 - Sep 4, 2006 (44 years old) |
| Place of Birth: | Essendon |
| Gender: | Male |
| Height: | 5 ft 10 in (1.8 m) |
| Profession: | Presenter, Zoologist, Naturalist, Actor, Conservationist, TV Personality, Voice Actor |
| Nationality: | Australia |
What Was Steve Irwin's Net Worth?
Steve Irwin was an Australian wildlife expert, conservationist, and television personality who had a net worth of $10 million at the time of his death in 2006. Known by his fans as "The Crocodile Hunter," Irwin gained a global following with his gripping wildlife television shows. He was especially knowledgeable about crocodiles and other reptiles, having grown up around them as a child.
He became a worldwide phenomenon with the success of his TV series "The Crocodile Hunter," which debuted in 1996 and ran until 2007. Along with his wife Terri, Steve later went on to host shows like "Croc Files," "The Crocodile Hunter Diaries," and "New Breed Vets." Outside of his television exploits, Irwin co-owned and operated the Australia Zoo with his wife. The zoo was initially founded by Steve's parents.
In 2006, Irwin died in an accident while filming in Australia's Great Barrier Reef. Whale swimming, he was pierced in the chest by a short-tail stingray. The wound killed him, and news of his passing was met by grieving fans around the world. A number of organizations and high-profile celebrities paid tribute to Irwin, and various zoos, parks, and streets now carry his name. His wife and two children continue to operate the Australia Zoo.
Early Life
Stephen Robert Irwin was born on February 22nd of 1962 in Upper Ferntree Gully, Victoria, Australia. He was raised by Robert "Bob" Irwin, a well-known Australian naturalist and zookeeper who founded the Queensland Reptile and Fauna Park. In 1970, Steve moved with his family to Queensland, where he attended secondary school. His father helped him learn about reptiles from an early age, and he quickly became involved in his father's zoo in a number of different ways, including animal feeding and maintenance of enclosures. At the age of six, he was given a 12-foot scrub python as a pet. By nine, he was an experienced crocodile handler and wrestled his first croc under his father's supervision. In 1991, he took over the management of the park and renamed it the Australia Zoo.
Relationships
Steve Irwin first met Terri Raines in 1991 while she was visiting the Australia Zoo. The relationship has been described as "love at first sight," and they were engaged within four months. In 1992, they were married, and in 1998 they welcomed their first child into the world. In 2003, they had another child together. Irwin stated on numerous occasions that he wanted to be remembered primarily as a "good dad."
Career
Terri and Steve decided to film their honeymoon, which they spent trapping crocodiles together. This became the first episode of "The Crocodile Hunter," and it was filmed by John Stainton. The series debuted on Australian TV in 1996, and it was later brought over to North America in 1997. It became very successful, reaching 500 million viewers worldwide. The driving force behind the series was Steve's personality and his strong Australian accent. Irwin's signature catchphrase was "Crikey!," and it was repeated by many fans around the world. Steve was even praised by legendary natural historian David Attenborough, who lauded Irwin for introducing young people to the natural world.
"The Crocodile Hunter" eventually ended with a three-hour series finale that featured the Himalayas, the Yangtze River, Borneo, and Kruger National Park. Steve then starred in documentaries such as "Croc Files," "The Crocodile Hunter Diaries," and "New Breed Vets." Outside of these commitments, he appeared in various commercials and was a guest on a number of talk shows. He also continued to make improvements to the Australia Zoo. He also appeared in a few movies, such as "Dr. Dolittle 2." His only starring role was in "The Crocodile Hunter: Collision Course," which received mixed reviews. In addition, Irwin was widely praised for his role as a conservationist. He often urged people to take part in considerate tourism and avoid buying products like turtle shells or shark-fin soup.
Passing
In September of 2006, Steve Irwin was pierced in the chest by a stingray barb while filming in the Great Barrier Reef. The stinger pierced his thoracic wall and his heart, causing serious trauma and almost instantaneous death. The animal that struck Steve was a short-tail stingray, and these animals are capable of inflicting lethal wounds, especially if the stinger comes in contact with a vital organ. The stingers also contain a neurotoxin that restricts smooth muscle contraction and slows blood circulation. However, Steve Irwin likely did not experience any of the venom's effects, as his death was caused by the physical puncturing of his heart rather than any neurotoxic effects.
It's worth pointing out that Steve Irwin was incredibly unfortunate to be pierced not only in the heart, but also by an animal that is not known to be aggressive. Irwin's death is believed to be the only fatal stingray attack caught on camera, and it remains the most famous example of a fatal stingray attack.
Controversies
Irwin was seen as a slightly controversial figure in many circles. Various critics have accused Steve of disturbing wildlife, and he was known to handle animals in a slightly rough manner at times, and he was once accused of disturbing whales, seals, and penguins while in Antarctica. He also received considerable criticism after feeding a crocodile while holding his one-month-old son in his arms. Some even accused him of child abuse due to the incident, which led to Steve apologizing in public.
All net worths are calculated using data drawn from public sources. When provided, we also incorporate private tips and feedback received from the celebrities or their representatives. While we work diligently to ensure that our numbers are as accurate as possible, unless otherwise indicated they are only estimates. We welcome all corrections and feedback using the button below.