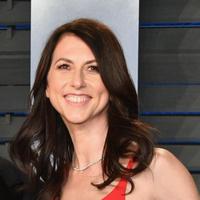 MacKenzie Scott Net Worth
| | |
| --- | --- |
| Net Worth: | $32 Billion |
| Date of Birth: | Apr 7, 1970 (52 years old) |
| Place of Birth: | San Francisco, California, U.S. |
| Gender: | Female |
| Profession: | Novelist |
What is MacKenzie Scott's net worth?
MacKenzie Scott, formerly known as MacKenzie Bezos, is an American novelist, philanthropist and activist. As of this writing MacKenzie Scott has a net worth of $32 billion. Her fortune would be much higher, but in 2020 alone she donated $6 billion to charity. She plans to donate the vast majority of her fortune during her lifetime and as of this writing has donated more than $12 billion to hundreds of charities around the world. More info on her philanthropy later in this article.
On July 13, 2020, with Amazon breaking $3,300 a share, MacKenzie became the richest woman in the world for the first time. She actually did not hold on to the title for the full day. By the end of the trading day, Amazon had sunk down several percentages, giving the crown back to Francoise Bettencourt-Meyers. Several months later MacKenzie began donating billions of dollars to charity which made it much more difficult for her to maintain position as the richest woman in the world.
She is known for being the wife of Amazon founder Jeff Bezos from 1993 to 2019. Jeff and MacKenzie have four children together. Jeff has been a billionaire for over two decades and he has been the richest person on the planet since 2018.
Key Facts
Married Jeff Bezos the year before he founded Amazon
Drove the car across country as Jeff wrote Amazon's business plan
Jeff and MacKenzie were married from 1993 to 2019
Received 20 million shares of Amazon in their divorce
Signed "The Giving Pledge" immediately after receiving the settlement
Net worth increased $25 billion in 2020
Was the richest woman in the world at times in 2020
Donated at least $6 billion to charity in 2020
Early Life
MacKenzie Scott Tuttle was born in San Francisco, California in April 1970. She grew up across the Golden Gate Bridge in Marin County. Her family also had a home in San Francisco's Pacific Heights neighborhood. Her father Jason Baker Tuttle ran a financial investment company.
For high school MacKenzie attended the Hotchkiss School in Lakeville, Connecticut. During her junior year, her parents filed for bankruptcy after her father became the subject of a Securities and Exchange Commission probe. Her parents moved to Florida where her father unsuccessfully attempted to jump-start a new financial career. Her father was eventually barred from launching a new financial firm. The Florida judge pointed to the family's previous lavish spending in the rejection.
After high school MacKenzie attend Princeton University where she studied English. She graduated in 1992. While at Princeton she studied under famed author Toni Morrison in a creative writing class. Morrison would later describe MacKenzie as "one of the best students I've ever had."
Meeting Jeff Bezos
After graduating from Princeton MacKenzie moved to New York with the dream of becoming a novelist. To supplement her lifestyle until that dream came true, she got a job at the hedge fund D.E. Shaw as an administrative assistant. One of people she assisted in this capacity was company Senior Vice President and fellow Princeton alum, Jeff Bezos. Their offices shared a wall.
She eventually graduated to working as a research associate directly under Bezos.
Jeff and MacKenzie met in 1992, dated for just three months before becoming engaged. They married in 1993. She was 23, he was 29.
Amazon
Around the time of their marriage, Jeff became fascinated with the newly forming "world wide web". According to legend, Jeff knew an online "e-commerce" store could be successful, and he settled on an online bookstore because books don't go bad and don't need to be tried on or even touched before purchase.
MacKenzie was critical in encouraging Jeff to pursue his ambitions. In 1994 they mutually decided to quit their cozy jobs and lives in NYC and move to Seattle so he could pursue his internet dreams. MacKenzie drove the Volvo as they crossed the United States, with Jeff in the passenger seat spitballing ideas and writing his e-commerce business plan on a laptop.
Jeff and MacKenzie brainstormed a list of dozens of products that could be sold online. Eventually Jeff settled on books.
Initially he named the business Cadabra. He later chose the name Amazon, a reference to the Amazon River in South America.
Amazon was founded from their Seattle garage on July 5, 1994. Jeff used a $300,000 angel investment from his parents to get off the ground. MacKenzie served as Amazon's bookkeeper and secretary.
During this time she also took night classes at the University of Washington in fiction writing. It took another decade but MacKenzie did eventually release her own fictional novel titled "The Testing of Luther Albright". The book reportedly sold fewer than 2,000 copies. In 2013 she released a second book, this one was titled "Traps".
Becoming Billionaires
On May 15, 1997, Amazon had an initial public offering. After adjusting backwards for stock splits, Amazon ended its first day of trading at $2 a share. Today a single share of Amazon goes for more than $3,000.
FYI, had you invested $10,000 in Amazon at the IPO, today you would have over $15 million.
At the time of the company's IPO, Jeff owned 20% of Amazon. Over the years he regularly sold off chunks of equity to create liquidity. As of this writing Jeff's share sales have generated $70 billion in liquid cash. Before their divorce settlement he owned 16% of Amazon.
Jeff first hit billionaire status in June 1998. At the peak of the dotcom bubble he was worth $10 billion. After the bubble burst, his net worth retreated back to $2 billion.
In June 2015 his net worth hit $50 billion for the first time. In January 2018 it topped $100 billion for the first time. In July 2018 it topped $150 billion. In recent years his net worth has fluctuated between $150 and $200 billion.
On July 13, 2020, Amazon shares broke $3,300 for the first time very briefly. At any price above $3,255 MacKenzie's net worth would make her the richest woman in the world. So On July 13, 2020, MacKenzie Bezos officially became the richest woman in the world for the first time.
MacKenzie Bezos Divorce Settlement
On January 9, 2019, Jeff and MacKenzie Bezos announced that they were divorcing after 25 years of marriage. As we stated previously, they married in 1993, one year BEFORE Jeff founded the company that would one day make him the richest person on the planet.
At the time of their divorce announcement, Jeff had a net worth of $136 billion. By all accounts, MacKenzie could have been entitled to half of all of Jeff's assets since they were all acquired during their marriage. If that was true, MacKenzie could have been given as much as $70 billion worth of stock and various other assets.
Final Settlement
On April 4, 2019, MacKenzie announced over Twitter that she and Jeff had finalized their divorce and that she had been given just under 20 million shares in Amazon, roughly 4% of the company's outstanding shares. At the time of transfer those shares were worth $35.6 billion. Jeff kept 75% of their former holdings, roughly 60 million shares. A significant concession was that MacKenzie agreed to allow Jeff to retain all voting rights over her shares. So, in essence she gets all the value without any of the voting power.
Richest Woman In The World
Heading into 2020, MacKenzie was the fifth richest woman in the world. Here's a list of the richest women in the world as of January 1, 2020:
#1: Francoise Bettencourt-Meyers – $62 billion (L'Oreal heiress)
#2: Julia Flesher Koch – $60 billion (David Koch's widow – Koch oil)
#3: Alice Walton – $53 billion (Walmart founder Sam Walton's daughter)
#4: Jacqueline Mars – $42 billion (Mars candy)
#5: MacKenzie Bezos – $37 billion
As it turned out, 2020 was a very fortunate year for Jeff and MacKenzie Bezos.
After the world screeched to a halt in reaction to the Coronavirus pandemic, Amazon shares soared. People around the world were largely stuck at home ordering packages, watching Prime video and babbling desperately to Alexa.
As Amazon's stock price increased from $1,900 on January 1st to over $3,000 six months later, Jeff and MacKenzie's respective net worths soared. MacKenzie's net worth topped $64 billion on July 10, 2020. On August 26 when AMZN topped $3,440, MacKenzie's net worth hit $67 billion. Here's a list of the richest women in the world on that same day:
After the market closed on August 26, 2020, here's how that very same list stacked up:
#1: MacKenzie Bezos – $67 billion
#2: Francoise Bettencourt-Meyers – $66 billion
#3: Alice Walton – $56 billion
#4: Julia Flesher Koch – $52 billion
#5: Jacqueline Mars – $37 billion
Philanthropy
On July 28, 2020 MacKenzie posted an article to the blogging platform Medium in which she made two major announcements:
#1) That she was formally changing her name from MacKenzie Bezos to MacKenzie Scott. "Scott" is not her maiden first name, it's her maiden middle name and it comes from one of her grandfathers.
#2) The second announcement was that MacKenzie had donated $1.7 billion to 116 charities. Just a few months later, on December 15, 2020, MacKenzie announced she had donated $4.2 billion to 384 organizations. MacKenzie stated that her intention is:
"To give the majority of my wealth back to society that helped generate it, to do it thoughtfully, to get started soon, and to keep at it until the safe is empty." – MacKenzie Scott
By the middle of 2022 she had given away $12 billion.
Second Marriage
In March 2021 MacKenzie revealed she had recently married a high school science teacher named Dan Jewett. Dan teaches at the exclusive Lakeside School, which counts Bill Gates and Paul Allen as alumni.
She revealed the news in a post on her Giving Pledge page noting that her new husband signed on to her commitment. Through a statement released by an Amazon spokesman, Jeff Bezos congratulated the couple: "Dan is such a great guy, and I am happy and excited for both of them."
MacKenzie even updated her Amazon author bio to say she "lives in Seattle with her four kids and her husband, Dan."
In September 2022, a King County, Washington court filing showed that MacKenzie had filed for divorce from Dan.
Real Estate
In 2007 Jeff and MacKenzie paid $24 million for a home in Beverly Hills, California. In 2017 they paid $13 million for the property immediately next door for a total combined $37 million. MacKenzie received this house as part of their divorce settlement. In August 2022 a charity called the California Community Foundation announced that MacKenzie had donated the home to the organization. At the time of the donation, the home's estimated value was $55 million according to the foundation. In 2021 MacKenzie donated $20 million to the organization.
In 2019 MacKenzie paid $37.5 million for a 3.2-acre waterfront property in Medina, Washington.
All net worths are calculated using data drawn from public sources. When provided, we also incorporate private tips and feedback received from the celebrities or their representatives. While we work diligently to ensure that our numbers are as accurate as possible, unless otherwise indicated they are only estimates. We welcome all corrections and feedback using the button below.