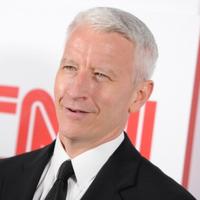 Anderson Cooper Net Worth
| | |
| --- | --- |
| Net Worth: | $50 Million |
| Salary: | $12 Million |
| Date of Birth: | Jun 3, 1967 (55 years old) |
| Place of Birth: | New York City |
| Gender: | Male |
| Height: | 5 ft 10 in (1.78 m) |
| Profession: | Model, Journalist, Author, Film Producer, Presenter, Television producer |
| Nationality: | United States of America |
What is Anderson Cooper's Net Worth
Anderson Cooper is an American television personality, journalist and author who has a net worth of $50 million. Anderson Cooper was born into a successful family of artists.  His father, Wyatt Emery Cooper, was an award-winning author, his mother, Gloria Vanderbilt, was a successful artist, designer, writer, and heiress.  He graduated from Yale University, and spent time in Kenya, Vietnam, and studying to become a CIA Agent, before he decided to shift his focus to journalism.  His first journalism-related job was as a fact checker for Channel One, a news channel for junior high and high school aged viewers.  While working for Channel One, he made a fake press pass and went to Myanmar to shoot footage of the Burmese student uprising.  He was able to sell his story to Channel One, and thus began his reporting career.  After traveling to multiple war-torn countries to report on the violence, he realized he had lost perspective, and shifted his focus to broadcast journalism.
He worked on ABC as a correspondent, and then co-host of "World News Tonight".  He also hosted "The Mole" for two seasons, before returning to broadcast news.  In 2003, he became the anchor of his own news program, "Anderson Cooper 360°", and he went from being, that "cute anchor/host guy", to being one of the most popular news correspondents in the US.  He was suddenly everywhere, appearing on "60 Minutes", expanding his own show to two hours, and serving as a correspondent for CNN.  He is now the anchor of "Anderson Cooper 360°".
Family Wealth
We previously listed a significantly higher estimate for Anderson's net worth based on a presumption about his mother's wealth that turned out to be false. In his 2021 book, "Vanderbilt: The Rise and Fall of an American Dynasty," Anderson claimed that there was no meaningful Vanderbilt family fortune left at the end of his mother's life. She was the last direct descendant to carry Cornelius Vanderbilt's last name. Cornelius was one of the wealthiest Americans in the world thanks to a shipping, railroad and real estate empire. When Cornelius died in 1877, he had an inflation-adjusted net worth of $185 billion, which is enough to make him one of the wealthiest people of all time.His son William Henry doubled the family fortune. Unfortunately, Vanderbilts from that point on primarily spent their money in increasingly profligate ways to the point where in the early 1970s at a family reunion of 120 Vanderbilt descendants, not one was a millionaire.
Salary
As the host of the CNN news show "Anderson Cooper 360," he earns an annual salary of $12 million.
Early Life and Career Beginnings
Anderson Hays Cooper was born on June 3, 1967, in Manhattan, New York City. His father, Wyatt Emory Cooper, was a writer. His mother, Gloria Vanderbilt, was an artist, fashion designer and heiress. Gloria was the great-great-great-grandson of shipping and railroad magnate Cornelius Vanderbilt.
Anderson's maternal grandfather died when his mother was just one year old. He was the last male heir of the Vanderbilt fortune and left his entire estate, $5 million in 1925 to his daughter. That's the same as around $70 million after adjusting for inflation. Gloria's mother and aunt fought over her custody, and allegedly over control of the trust fund. Her aunt, the founder of the Whitney museum, ultimately won custody. As an adult, Gloria would go on to have enormous success as an artist and fashion designer.
Prior to becoming a news anchor, Cooper was a model for Calvin Klein, Ralph Lauren and Macy's from the ages 10 to 13. He went to Yale University where he studied Political Science and International Relations. During college, Cooper spent two summers as an intern at the CIA. Tragedy stuck when his father died suddenly in 1978. 10 years later, his older brother committed suicide. This event spurred his interest in journalism. After Anderson graduated from Yale University, he lived in Vietnam for a year, studying the Vietnamese language at the University of Hanoi. He then worked as a fact checker for the news agency Channel One, and periodically sold home-made news segments to the channel. Cooper filmed reports of Vietnamese life and culture, and eventually moved on to filming stories in various war-torn regions including Bosnia, Somalia, and Rwanda that aired on Channel One.
Journalism Career
Cooper became a correspondent for ABC News in 1995, and then co-anchor on ABC's "World News Now" program on September 21, 1999. In 2000, Cooper decided he needed a change from the hectic news schedule and became host of "The Mole" for two seasons before returning to broadcasting. In 2001 he joined CNN, anchoring alongside Paula Zahn on "American Morning." In 2002 he became CNN's weekend prime-time anchor. His own show, "Anderson Cooper 360," began in 2003. Cooper signed a multi-year deal with CNN in early 2007 that would allow him to continue as a contributor to the CBS News program "60 Minutes" while still working as a CNN anchor and correspondent. The deal also reportedly doubled his salary from $2 million annually to $4 million.
As a journalist, Cooper has won numerous awards for his coverage of various events and issues. These include an Emmy Award in 1997 for his coverage of Princess Diana's funeral; a Peabody Award in 2005 for his coverage of Hurricane Katrina; a National Headliner Award in 2005 for his coverage on the 2004 Indian Ocean earthquake and tsunami; two Emmys in 2011 for his coverage of Haiti; and also the GLAAD Media Award in 2013.
Writing and Other Pursuits
Cooper has authored a variety of articles as a freelance writer, including in publications such as Details magazine. His memoir "Dispatches from the Edge" was published in May 2006 by HarperCollins, and topped The New York Times Best Seller list in June that year. In 2017, Cooper also co-authored "The Rainbow Comes and Goes: A Mother and Son on Life, Love, and Loss" with his mother Gloria Vanderbilt.
After interviewing Andy Cohen about his then-latest book, "The Andy Cohen Diaries," in 2015, the two came up with the idea for a two-man conversational stage show, "AC2." The duo opened their national tour in Boston, followed by Miami Beach, Chicago and Atlanta. They went on to tour to over 50 cities.
In September 2010, Warner Bros. and Telepictures signed Cooper on to host a nationally syndicated talk show, "Anderson Live." Cooper negotiated and signed a new multi-year contract with CNN in order to be able to continue to host "Ander Cooper 360" on CNN. "Anderson Live" premiered on September 12, 2011, but only ran for two seasons after it failed to achieve high ratings. Cooper has previous experience hosting talk shows; he previously filled in as co-host of "Live with Regis and Kelly" in 2007 when Regis Philbin had to undergo triple-bypass heart surgery, and has since periodically served as guest co-host on the show when one of the hosts is unavailable.
Personal Life
Cooper is openly gay, and was actually the first openly gay person to moderate a presidential debate in the general election when he moderated the second presidential election debate between Hillary Clinton and Donald Trump in 2016. Apple CEO Tim Cook also turned to Cooper for advice before making the decision to publicly come out as gay.
Cooper's mother died in June 2019. A few weeks after her death it was revealed that she had left the majority of her estate to her son.
Real Estate
Anderson Cooper owns a beach house in the Brazilian town of Trancoso, as well as a renovated former firehouse in New York's Greenwich Village. Built in 1906 and found in Greenwich Village, Anderson Cooper paid $4.3 million in January 2010 for his former fire house. The firehouse is four floors high or turn-of-the-century brick and covers 8,240 square feet. The exterior originally was painted completely with dark red paint, but has been stripped down. Now you can see original stone and brick and terra cotta details. After the upper floors, he has the ground level stripped down as well. With the 100 year old paint job gone, the classic brick building looks brand new.
Interior shots are not available at the moment, but the building was filled with brass fire poles, spiral staircases and huge overhead wood beams. Cooper wants to keep many of the classic details and even add to them. The home gym he is building is going to be styled after the original early 1900s fireman's gym, with climbing ropes and bar weights with the big balls at the ends.
Anderson Cooper Earnings
Anderson Cooper 360°

$10,000,000/year
All net worths are calculated using data drawn from public sources. When provided, we also incorporate private tips and feedback received from the celebrities or their representatives. While we work diligently to ensure that our numbers are as accurate as possible, unless otherwise indicated they are only estimates. We welcome all corrections and feedback using the button below.