Alex Jones Net Worth
What is Alex Jones' net worth and salary?
Alex Jones is an American far-right political extremist and conspiracy theorist who has a net worth of $40 million. At his August 2022 defamation trial Jones claimed his net worth was no more than $5 million. At that same trial a financial forensic expert estimated that Jones and his companies were worth $135 – $270 million. At this trial it was revealed that between 2015 and 2022, Jones' primary company Infowars averaged $53.2 million in gross revenue. More details about Alex Jones' income and wealth in a moment.
Alex Jones is best known for being the host of "The Alex Jones Show," a nationally syndicated radio talk show that he hosts out of Austin, Texas. He has written books and sold hundreds of millions of dollars worth of products through his website. His products range from "brain pills" to diet supplements to survivalist gear.
Earnings and Income
Over his career operating Infowars, Jones has undoubtedly earned tens of millions of dollars, perhaps as much as $100 million. Infowars is operated through an LLC called Free Speech Systems. According to Free Speech System's July 2022 bankruptcy filing, Jones' holding company paid $62 million in "member draws" in 2021 and 2022. The same filing also claimed that Alex Jones is the only member of the LLC. In other words, one could presume that those $62 million worth of draws went to Jones personally. He would likely have to set aside roughly half for taxes, leaving him with around $30 million in net income.
According to other court filings, between 2018 and 2021 alone, Alex drew $18 million in dividends and income from Free Speech Systems LLC. Another court filing reportedly showed that in 2019 Jones' conglomerate of companies generated $76 million in gross revenue, much of it coming from merchandise sales.
After his lawyers accidentally leaked Jones' entire text history, we learned that during the 2018 CPAC conference Infowars grossed $800,000 on a single DAY.
Separate court filings showed that Alex has spent $15 million on legal expenses in recent years. During those legal proceedings, Alex has claimed that $2.5 million judgment would wipe him out financially, implying his total net worth was no more than roughly $2 million, which doesn't exactly line up with his earnings history.
Infowars and other Bankruptcies
In November 2021 Jones and his companies were found liable for defamation in a lawsuit brought by several families that were victims of the 2012 Sandy Hook Elementary shooting.
In April 2022, three companies that had formerly been linked to Jones filed for Chapter 11 bankruptcy protection. At the time of the filing the three businesses claimed to have incurred $10 million in legal costs fighting his Sandy Hook defamation cases. Furthermore, a trust was also set up to serve as a vehicle to compensate people suing the various companies and Jones transferred his equity in the LLCs to this trust. According to court filings, Alex contributed $750,000 personally to the trust to cover legal work related to the Chapter 11 filings and planned to contribute an additional $2 million worth of cash at some point.
Defamation Damages
On August 3, 2022 a jury in Austin, Texas ordered Alex to pay $4.1 million in compensatory damages to the Sandy Hook family that won a previous defamation trial.
On August 5, 2022, the same Austin jury ordered Alex to pay an additional $45 million in punitive damages for a total of just under $50 million in total damages.
Early Life
Jones was born on February 11th, 1974 in Dallas, Texas, and was raised in the suburb of Rockwell. He was later raised in Austin. His father is a dentist and his mother is a homemaker. He graduated from Anderson High School in Austin in 1993. He then attended Austin Community College but dropped out.
Radio Career
He began his career in Austin working on a live call-in public access TV program and switched to radio in 1996, hosting a show named "The Final Edition" on KJFK. Ron Paul was a frequent guest on his show while he was running for Congress. In 1999, he tied with Shannon Burke for that year's poll of "Best Austin Talk Show Host", voted by the readers of the Austin Chronicle. He was fired later that year from KJFK for refusing to broaden his topics and because his views made it difficult for the station to sell ads. Jones then began to broadcast his show via the web from his home.
In 2000, Jones was a Republican candidate for a State Representative in the Texas House District 48. He claimed to be running in order to "be a watchdog from the inside", but he withdrew from the race after a few weeks. In 2001, Jones's radio show was syndicated on about 100 stations. After the 9/11 attacks, Jones began to spout a conspiracy theory that the Bush administration was behind the attack and that it was an inside job. Several stations then dropped him as he became the face of the 9/11 "truther" cause. "The Alex Jones Show" is syndicated nationally by the Genesis Communications Network to more than 100 A.M. and F.M. stations in the U.S. In 2010, it attracted around 2 million listeners each week.
Other Ventures
Alex produced his first film "America: Destroyed by Design" in 1998 and has since gone on to release roughly 20 additional documentary films. He has also released two books, 2002's "9-11: Descent Into Tyranny" and 2008's "The Answer to 1984 Is 1776".
Jones is the publisher and director of the InfoWars website, which receives around 10 million monthly visits. The website has been described as a fake news website and has been accused of spreading harmful conspiracy theories. At its peak, the site reportedly generated more than $20 million per year in revenue.
German magazine Der Spiegel uncovered in 2017 that two-thirds of Jones' income derives from sales of a range of his own products, which are marketed through the InfoWars website and advertising spots on his show. They include supplements, toothpaste, bulletproof vests, and other merchandise. On a 2017 segment of "Last Week Tonight," John Oliver stated that Jones spends nearly a quarter of his on-air time promoting products sold on his website, many of which purport solutions to medical and economical problems claimed to be caused by the conspiracy theories he promotes on his show.
His antics continued during the COVID-19 pandemic, and he was issued a cease and desist from the Attorney General of New York on March 12, 2020 after he claimed with no evidence that the products he sold were an effective treatment for COVID-19. The FDA got involved in April 2020 and Jones was warned that the government could seize and fine him for continuing to sell the products.
Views and Controversies
Jones is known for his extremely controversial beliefs about subjects ranging from the Oklahoma City bombing, the moon landing, 9/11, Sandy Hook, Obama, Hillary Clinton, white genocide, and anti-vaccination. Jones believes many acts of terror were "inside jobs", meaning the US government was involved. He believes that climate change is a hoax made up by the World Bank to control the global economy through a carbon tax. In February 2018, Jones was accused by former employees of sexual harassment, anti-black racism, and antisemitic behavior.
In July 2018, YouTube removed InfoWars videos citing child endangerment and hate speech. Later that year, Stitcher Radio removed all of his podcasts, citing harassment, and on August 3, FaceBook, Apple, YouTube, and Spotify removed all content created by Jones and InfoWars for policy violations. YouTube removed any channels associated with InfoWars including the Alex Jones Channel. Later that week, Vimeo removed all of Jones' videos due to discriminatory and hateful content. His accounts were also removed from Pinterest, Mailchimp, and LinedIn. The next month, Jones was permanently banned from Twitter and Periscope after using the platforms to berate CNN reporter Olver Darcy. The InfoWars app was also removed from the Apple App Store and Google Play. Jones was banned from using PayPal for his business transactions. In May 2019, Jones was banned from using Facebook and Instagram.
Personal Life
Alex was married to Kelly Jones from 2007-2015. They have three children. In 2017, Kelly Jones sought sole custody of their children due to her ex-husband's bizarre behavior, claiming that he was not a stable person and felt concerned for their children's well-being. His attorney tried to pass his behavior off as describing him to be "playing a character" much like a "performance artist." Jones has long denied playing a character on his show. Kelly was awarded full custody and Jones maintains visitation rights.
In March 2020, Jones was arrested and charged with drunk driving in Texas. The Travis County jail in Austin confirmed that he was charged with a DWI, a class B misdemeanor. He was booked but released four hours later on a "personal recognizance bond."
Real Estate
Alex lives in a mansion located within a gated community in Austin, Texas. The home is worth $2 – $2.5 million.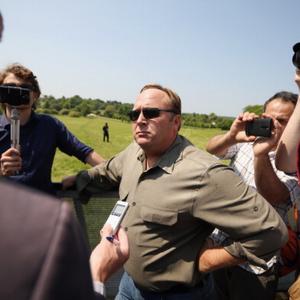 Alex Jones
| | |
| --- | --- |
| Net Worth: | $40 Million |
| Date of Birth: | Feb 11, 1974 (48 years old) |
| Gender: | Male |
| Height: | 5 ft 10 in (1.78 m) |
| Profession: | Actor, Film director, Film Producer, Radio personality |
| Nationality: | United States of America |
All net worths are calculated using data drawn from public sources. When provided, we also incorporate private tips and feedback received from the celebrities or their representatives. While we work diligently to ensure that our numbers are as accurate as possible, unless otherwise indicated they are only estimates. We welcome all corrections and feedback using the button below.