What was Olivia De Havilland's net worth?
Olivia De Havilland was a British-American actress who had a net worth of $50 million at the time of her death. Olivia De Havilland died on July 25, 2020 at the age of 104. Though she was typecast early in her career in roles of innocent looking young women, she would later be nominated for five Academy Awards playing profound and powerful roles. She won two of those nominations, both for Best Actress, for 1946's "To Each His Own" and 1949's "The Heiress".
Category:

Net Worth:

$50 Million

Date of Birth:

Jul 1, 1916 - Jul 25, 2020 (104 years old)

Place of Birth:

Tokyo

Gender:

Female

Height:

5 ft 2 in (1.6 m)

Profession:

Actor

Nationality:

United Kingdom
💰

Compare Olivia de Havilland's Net Worth
Early Life
Oliva was born on July 1, 1916 to British parents in Tokyo. Her father Walter was working as an English professor at the Imperial University of Tokyo at the time.
Olivia's younger sister Joan de Beauvoir de Havilland, would later become the internationally known actress, Joan Fontaine. Their first cousin on their father's side, Geoffrey, founded the de Havilland aircraft company.
During their time in Tokyo, both daughters suffered a variety of illnesses. Their health was such a concern that their mother eventually persuaded their father to bring the family back to England where they might receive better medical care. The family sailed from Tokyo to England by way of San Francisco, California. While staying in California to help Olivia recover tonsillitis, Joan developed pneumonia. At this point Olivia's mother decided she would stay in California. Their father meanwhile abandoned the family and decided to return to Tokyo, where he moved in with the family's former housekeeper. They would eventually marry.
Olivia, Joan and their mother settled in Saratoga, California, 50 miles south of San Francisco where the girls excelled in the arts at school.
In 1925, their mother re-married a man named George Milan Fontaine. Hence, Joan Fontaine.
Acting Career
Throughout high school Olivia appeared in a number of school plays. After graduating she earned a scholarship to attend Mills College in Oakland. Before enrolling, she landed a role as the understudy in a production of Shakespeare's "A Midsummer Night's Dream". Two of the play's lead actors eventually dropped out and Olivia found herself traveling with the company, playing the role of Hermia. After a performance in Los Angeles, Warner Brother's announced it was planning to produce film version of the play, and asked Olivia to continue playing Hermia.
At this point she signed a seven-year $200/week contract with the studio. That would be the same as earning $3,900 per week or $202,000 per year in today's dollars. Olivia would go on to appear in 20 Warner Brothers films under this first contract. Had she stayed with the contract, over the seven years she could have earned the equivalent of $1.42 million in today's dollars. For reasons we explain momentarily, Olivia famously did not stay with the contract.
The film version of "A Midsummer Night's Dream" performed moderately at the box office but Olivia's performance received universal praise. A career was launched.
In 1935 she was cast opposite Australian actor Errol Flynn in the movie "Captain Blood". Due to immense critical and commercial success of the film, Errol and Olivia would go on to appear in seven more films together, including"The Adventures of Robin Hood", "The Charge of the Light Brigade", "Dodge City" and "They Died with Their Boots".
She also appeared in a series of romantic comedy films throughout the late 1930's.
Gone with the Wind
Olivia is perhaps best-remembered for her role in the iconic 1939 movie "Gone with the Wind". The role led to an Academy Award nomination for Best Supporting Actress. She lost the award to her co-star Hattie McDaniel.
After the critical success for her portrayal in Gone with the Wind, Olivia hoped to take on meatier roles. Warner Brothers mostly rebuffed this desire, with the exception of 1941's "Hold Back the Dawn". Her work led to another Oscar nomination. This time she lost to her sister Joan who won for the movie "Suspicion". To this day, Joan and Olivia are the only sisters to win Best Actress Academy Awards.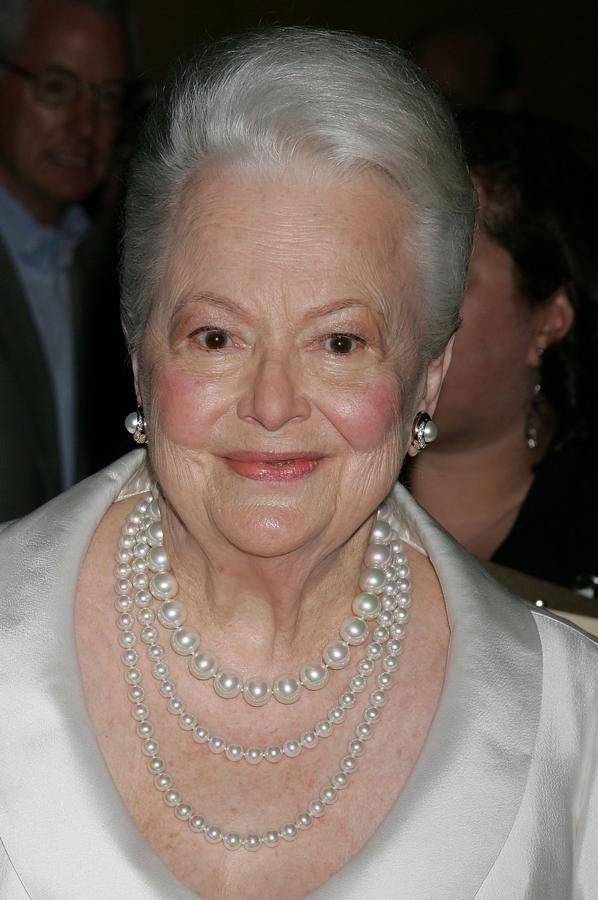 (Photo by David Livingston/Getty Images)
Studio Fight
All actors today owe Olivia some gratitude due to her eventually fight with Warner Brothers over what she determined was an unfair contract.
She continued to request more serious roles – something other than a pretty face who barely needed to act in the film. She soon began demanding that Warner Brothers put up or shut up. She even started to refuse to take on roles. This led to several contract suspensions with Warner Brothers, including one that lasted six months through the original expiration of the seven-year deal. Olivia believed she was free, Warner Brothers disagreed, insisting they were owed six additional months of her work.
An unthinkable move at the time, Olivia decided to sue Warner Brothers. The case dragged on for over a year and a half and eventually worked its way up to the California Supreme Court. A true David vs Goliath battle. Incredibly, the court sided with Olivia. The result was a law – now known as the de Havilland decision – that a studio could not arbitrarily extend the duration of a contract.
After the battle was over, Olivia returned to acting with a force. She appeared in picture after picture, receiving continual acclaim and heavier roles.
Later Years
She won her second Oscar for 1949's "The Heiress".
Olivia left Hollywood for Paris in the 1950s. She continued acting in films and on stage. She mostly retired after the 1960s, appearing in periodic small roles on film and television.
In Paris she lived in a five-story town house, never missing Hollywood. She wrote a book about her life in Paris.
She was married twice and had two children, one of whom died in 1991 at the age of 42.