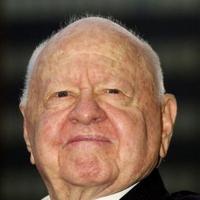 | | |
| --- | --- |
| Net Worth: | $20 Thousand |
| Date of Birth: | Sep 23, 1920 - Apr 6, 2014 (93 years old) |
| Place of Birth: | Brooklyn |
| Gender: | Male |
| Height: | 5 ft 1 in (1.57 m) |
| Profession: | Actor, Comedian, Film Producer, Film director, Soldier, Radio personality, Voice Actor, Television producer |
| Nationality: | United States of America |
What was Mickey Rooney's net worth and salary?
Mickey Rooney was a film and stage actor, comedian, and radio entertainer who had a net worth of $20 thousand at the time of his death in 2014. Mickey Rooney appeared in over 300 films across a nine-decade career. He started as a child actor in vaudeville, and as a teenager began starring as the popular character Andy Hardy in a series of films for MGM. The top box-office draw between 1939 and 1941, Rooney's film credits included "Boys Town," "Babes in Arms," "Young Tom Edison," and "Strike Up the Band," as well as later acclaimed roles in movies such as "National Velvet" and "The Black Stallion." Mickey carved out an incredibly successful career that brought dozens more awards including an Academy Award and an Emmy.
He was married eight times and had 11 children. Mickey died on April 6, 2014 at the age of 93. In the days following Mickey's death, it was revealed that his total estate was only valued at $18,000. In his later years, Mickey was a vocal advocate fighting elder abuse, specifically with regards to their finances. Before he died, Mickey was forced to sue his own stepson for grossly mismanaging his estate and losing millions of dollars.
Highest Paid Actor
At the peak of his career in the late 1930s, Mickey was the biggest and highest-paid star in Hollywood, easily earning $150,000 per year. That's the same as earning $2.5 million per year today. In 1949 he struck what was a then-unprecedented five-film deal with MGM that paid $25,00 per movie. That's the same as earning around $275,000 per movie today.
Financial Problems
Unfortunately he struggled financially throughout his life thanks to bad investments, and eight marriages. He declared bankruptcy twice and at the time of his death, his total estate was valued at $18,000. At the time of his death he owed large medical bills and back taxes.
Early Life and Career Beginnings
Mickey Rooney was born as Ninnian Joseph Yule Jr. in 1920 in Brooklyn, New York. He was the only child of father Joe Yule, a Scottish vaudevillian, and Nellie W. Carter, a former chorus girl from Kansas City, Missouri. When Rooney was four, his parent separated; subsequently, he moved with his mother to Hollywood. At age six, he made his movie debut in the short film "Not to be Trusted." Later, in the early 30s, he landed small roles in films including "The Beast of the City" and "The Life of Jimmy Dolan." Rooney attended the Hollywood Professional School, and later enrolled at Fairfax High School.
Rooney's first major starring role was as Mickey McGuire in a series of short films. From 1927 to 1936, the young actor starred in 78 of the shorts. During this time, Rooney also appeared in films such as "Fast Companions," "My Pal, the King," "The Big Cage," "The Chief," "Love Birds," "Blind Date," and "Reckless." In 1935, he garnered special attention for portraying Puck in the Warner Bros. adaptation of Shakespeare's "A Midsummer Night's Dream," a role he had previously performed on stage.
Andy Hardy and Hollywood Fame
Rooney found his most lucrative role yet in 1937, when he was chosen to play the girl-crazy teenager Andy Hardy in the MGM comedy "A Family Affair." The film, starring Lionel Barrymore, was a surprise success, leading to 13 additional Andy Hardy movies from 1937 to 1946. Also in 1937, Rooney starred in his first film with his future song-and-dance screen partner Judy Garland: the musical comedy "Thoroughbreds Don't Cry." Becoming close friends, the two appeared together in three Andy Hardy movies, as well as a string of popular musicals. One of those musicals, 1939's "Babes in Arms," landed Rooney an Oscar nomination for Best Actor; at 19 years of age, he became the second youngest nominee ever in that category.
As a dramatic screen actor, Rooney's breakthrough was in the 1938 biographical drama "Boys Town," starring Spencer Tracy. Rooney, along with a 17-year-old Deann Durbin, received a special Juvenile Academy Award for his performance in the film. Due to the popularity of his movies, Rooney became the biggest box-office star between 1939 and 1941. Later, in 1943, he received another Oscar nomination for his performance in "The Human Comedy," and drew acclaim for his part in 1944's "National Velvet," starring alongside a young Elizabeth Taylor.
World War II and Professional Lull
In the summer of 1944, Rooney was drafted into the military, and served almost two years entertaining troops across the United States and Europe. For his entertaining, he was awarded the Bronze Star Medal, and received a host of other medals for his military service.
Rooney struggled to recapture his previous screen success upon returning to civilian life. As an adult, he could no longer play teenage characters, but his short height (5′ 2″) also made it difficult for him to stack up to Hollywood's popular leading men. The few films he made during this time included "Killer McCoy," "Summer Holiday," and "Words and Music," his final film with Judy Garland. Meanwhile, he briefly starred on the CBS radio program "Shorty Bell," and reprised his role of Andy Hardy on a radio version of "The Hardy Family."
Continued Television, Film, and Stage Career
Rooney bounced back in 1954, when he co-created and appeared on his first television series, "The Mickey Rooney Show." Throughout the 50s, he was in such films as "The Bridges at Toko-Ri," "Operation Mad Ball," "Baby Face Nelson," and "The Bold and the Brave," which earned Rooney his third competitive Oscar nomination. In the 1960s, the actor had prominent roles in the classic films "Breakfast at Tiffany's" and "It's a Mad, Mad, Mad, Mad World," and made appearances on such popular television shows as "Wagon Train," "Arrest and Trial," "Burke's Law," "Combat!," and "The Jean Arthur Show." He also guest-starred on the CBS adventure series "The Investigators," and gave a one-man performance on an episode of "The Twilight Zone." In 1964, he launched his sitcom "Mickey," which ran on ABC for 17 episodes.
By the late 1970s and 80s, Rooney had found another successful phase of his career. In 1979, the actor made his Broadway debut in the musical "Sugar Babies," which won rave reviews from critics. Along with costar and former MGM actress Ann Miller, Rooney performed the show over 1,200 times in New York, and then took it on tour for five years. "Sugar Babies" earned Rooney both Tony and Drama Desk Award nominations for Best Actor. Also in 1979, Rooney appeared as a jockey in the film "The Black Stallion"; the role garnered him his fourth and final Oscar nomination. More awards success arrived in 1981, when Rooney starred in the made-for-television film "Bill." For his performance, he won both Emmy and Golden Globe Awards. In 1983, Rooney received an honorary Academy Award for his lifetime achievements.
1990s, 2000s, and Final Years
In 1991, Rooney penned his memoir "Life is Too Short." Despite his great successes, he was struggling with financial problems related to gambling and opportunistic relatives, and declared bankruptcy for the second time in 1996. Still, he continued to perform, appearing on stage in "The Will Rogers Follies," "Lend Me a Tenor," "Crazy for You," and "The Wizard of Oz," and in films such as "Revenge of the Red Baron" and "Babe: Pig in the City."
From 2005 to 2011, Rooney toured the country with his wife in a musical revue entitled "Let's Put on a Show." In 2006, the actor appeared in the fantasy comedy "Night at the Museum." He made a cameo in the 2011 film "The Muppets," and in 2014, reprised his role from "Night at the Museum" in that film's second sequel, "Night at the Museum: Secret of the Tomb."
Personal Life
Rooney was married eight times. His first marriage was in 1942, to actress Ava Gardner; they divorced the following year. In 1944, Rooney wed Betty Jane Phillips, who he had met while stationed in Alabama. They had two sons, and divorced after the end of World War II. Next, Rooney wed actress Martha Vickers in 1949. With one son, they divorced in 1951. The fourth marriage, to actress Elaine Mahnken, lasted from 1952 to 1958. Then, Rooney wed actress and model Barbara Ann Thomason. In 1966, while Rooney was shooting the film "Ambush Bay" in the Philippines, Thomason was murdered by stuntman Milos Milos, with whom she had been having an affair. Milos Milos subsequently killed himself. Following this, Rooney wed Thomason's best friend, Marge Lane, in a marriage that only lasted 100 days. He was subsequently betrothed to Carolyn Hockett from 1969 to 1975. Finally, in 1978 he wed his eighth wife, Jan Chamberlin. Although they separated in 2012, their marriage lasted until Rooney's passing in 2014. Overall, Rooney had nine children, two stepchildren, 19 grandchildren, and many more great-grandchildren.
Mickey Rooney Earnings
Night at the Museum

$250,000

Babe: Pig in the City

$175,000

How to Stuff a Wild Bikini

$5,000

Mickey

$5,000/episode

The Secret Invasion

$50,000

Arrest and Trial: Funny Man with a Monkey (#1.15)

$10,000

It's a Mad Mad Mad Mad World

$100,000

Breakfast at Tiffany's

$25,000

Andy Hardy Comes Home

$35,000

Baby Face Nelson

$35,000

Playhouse 90: The Comedian (#1.20)

$10,000

The Mickey Rooney Show

$3,500/week

Drive a Crooked Road

$75,000

A Slight Case of Larceny

$75,000

All Ashore

$75,000

Sound Off

$75,000

Quicksand

$25,000

The Big Wheel

$25,000

National Velvet

$2,500/week

Andy Hardy's Blonde Trouble

$2,500/week

Girl Crazy

$68,000

Thousands Cheer

$2,500/week

The Human Comedy

$2,500/week

Andy Hardy's Double Life

$2,500/week

A Yank at Eton

$2,500

The Courtship of Andy Hardy

$2,500/week

Babes in Arms

$23,000

Out West with the Hardys

$5,000

Stablemates

$5,000

Boys Town

$5,000

Love Finds Andy Hardy

$5,000

Lord Jeff

$5,000

Hold That Kiss

$5,000

Judge Hardy's Children

$5,000

Love Is a Headache

$5,000

You're Only Young Once

$5,000

Thoroughbreds Don't Cry

$500/week

Live, Love and Learn

$500/week

Hoosier Schoolboy

$500/week

Slave Ship

$500/week

Captains Courageous

$500/week

The Devil Is a Sissy

$500/week

Little Lord Fauntleroy

$500/week

Ah, Wilderness!

$500/week

A Midsummer Night's Dream

$500/week

Mickey the Detective

$250/week

Mickey's Rivals

$250/week

Mickey's Movies

$250/week

Mickey's Triumph

$250/week

Mickey's Wild West

$250/week

Mickey's Nine

$250/week

Mickey's Parade

$250/week

Mickey's Battle

$250/week

Mickey's Eleven

$250/week

Mickey's Pals

$250/week

Mickey's Circus

$250/week

Not to Be Trusted

$200
All net worths are calculated using data drawn from public sources. When provided, we also incorporate private tips and feedback received from the celebrities or their representatives. While we work diligently to ensure that our numbers are as accurate as possible, unless otherwise indicated they are only estimates. We welcome all corrections and feedback using the button below.