Larry Hagman Net Worth
What was Larry Hagman's Net Worth and Salary?
Larry Hagman was an American film and television actor best who had a net worth of $30 million at the time of his death in 2012. Larry Hagman was best known for playing the diabolical oil baron J. R. Ewing in the 1980s television series "Dallas." Earlier in his career, Larry gained recognition for playing Major Anthony Nelson on the sitcom "I Dream of Jeannie." Hagman also appeared in many films during his career, including "Fail Safe," "Harry and Tonto," and "Primary Colors."
Early Life and Education
Larry Hagman was born on September 21, 1931 in Fort Worth, Texas to Mary Martin and district attorney Benjamin Hagman. His mother became a Broadway actress and star of musical comedy following his birth. When Hagman was five, his parents divorced; he went on to live with his maternal grandmother Juanita. Eventually, his mother remarried to Richard Halliday and had a daughter named Heller. For his education, Hagman went to the Black-Foxe Military Institute in California, followed by a brief enrollment at Woodstock Country School in Vermont.
After his grandmother passed away, Hagman went to New York City to live with his mother. In 1946, he returned to Texas and went to Weatherford High School. Following his graduation, Hagman enrolled at Bard College in New York, where he majored in drama and dance. However, he dropped out after a year.
Career Beginnings
Hagman launched his professional acting career on the stage in 1950, performing in productions at the Woodstock Playhouse in New York. He subsequently performed in several tent show musicals with St. John Terrell's Music Circus in Florida and New Jersey. In 1951, Hagman appeared alongside his mother in a London production of "South Pacific." The next year, he was drafted by the US Air Force. Hagman was stationed in London during his service, and spent most of his time entertaining American troops. Following his departure from the Air Force in 1956, he returned to New York and appeared in the off-Broadway play "Once Around the Block." Hagman next appeared in the off-Broadway play "Career." In 1958, he made his Broadway debut in "Comes a Day." Hagman went on to perform in the Broadway plays "God and Kate Murphy," "The Nervous Set," "The Warm Peninsula," and "The Beauty Part."
Television Career
Hagman made his television debut in 1957 in an episode of the crime drama "Decoy." Following this, he appeared on the short-lived adventure series "Harbormaster," and made a few appearances on another adventure series, "Sea Hunt." In 1961, Hagman joined the cast of the daytime soap opera "The Edge of Night," playing the character Ed Gibson. He subsequently appeared in episodes of the legal drama "The Defenders." Hagman landed his biggest television role yet in 1965, when he began playing Anthony Nelson on the NBC sitcom "I Dream of Jeannie." The popular show ran for five seasons through 1970. After the series ended, Hagman starred on another NBC sitcom, "The Good Life," from 1971 to 1972. He subsequently starred on the short-lived ABC sitcom "Here We Go Again" in 1973. During the decade, Hagman also appeared in a number of television films, including "A Howling in the Woods," "Getting Away from it All," "No Place to Run," "Hurricane," and "Intimate Strangers."
In 1978, Hagman began his most famous role: scheming oil baron J. R. Ewing on the primetime soap opera "Dallas." A huge hit, the series ran for 14 seasons through 1991. In one of the show's most iconic moments, which occurred during a cliffhanger season finale in 1980, J. R. was shot by an unknown culprit, resulting in the ubiquitous global catchphrase "Who shot J. R.?" For his work on the show, Hagman earned two Emmy Award nominations for Outstanding Lead Actor in a Drama Series, as well as four Golden Globe nominations. In the early 80s, he reprised his role as J. R. on the "Dallas" spinoff series "Knots Landing." Hagman went on to reprise the role again in the "Dallas" television films "The Early Years," "J. R. Returns," and "War of the Ewings," and later on the TNT revival of "Dallas" in 2012. Among his other notable credits, Hagman starred on the short-lived series "Orleans" and appeared in the seventh season of "Desperate Housewives."
Dallas Salary
In 1980, at the absolute peak of the success of "Dallas," Larry Hagman had been earning $15,000 per episode to star as J.R. Ewing. That's the same as $50,000 per episode today and was considered somewhat of a fortune back in 1980, for a television salaries. In November 1980, a mind-boggling 83 million viewers tuned-in to watch the show's third season finale "Who Done It." This still stands as the second-most non-Super Bowl television broadcast of all time behind the M*A*S*H* finale.
Sensing his popularity and power, ahead of the fourth season Larry famously instructed his agents to break his contract and demand a new salary per episode rate. The rate they demanded? $100,000 per episode. That's equal to around $350,000 today after adjusting for inflation. It was simply other-worldly at the time. Network executives thought Larry's agents were insane, especially after the showed up wearing Stetson caps and cowboy boots – at Larry's insistence. The network resisted strongly at first and even threatened to find a way to write Hagman off the show. The gimmick they floated was that when the show returned they would have a new actor playing J.R., by explaining that after the shooting he needed plastic surgery on the face to hide the scars.
In the end the network folded. Not only did Larry get $100,000 per episode, his salary would eventually top off at $250,000 per episode. Furthermore, he ALSO negotiated a cut of J.R. Ewing merchandise royalties.
Years later when reflecting on other mega stars of shows such as "Seinfeld" and "Friends" pulling similar stunts, Hagman stated:
"In essence I broke my contract. And whether that's morally good or not, I don't know. I think all the kids on Friends should kick in 10 percent to ol' Lar' for starting a trend!"
Out of dozens of "Dallas" actors, Larry Hagman was the only one who appeared in all 357 of the show's episodes. And why wouldn't he want to appear in as many as possible, he was earning a bloody fortune!
Film Career
Hagman made his big-screen debut in 1964 with appearances in three films: the war drama "The Cavern," the comedy "Ensign Pulver," and the Cold War thriller "Fail Safe." The following year, he was in Otto Preminger's epic war film "In Harm's Way," and the year after that was in Sidney Lumet's "The Group." In the 70s, Hagman's credits included "Up in the Cellar," "Harry and Tonto," "Stardust," "The Big Bus," "The Eagle Has Landed," "Checkered Flag or Crash," and "Superman." He also directed "Beware! The Blob," a sequel to the science-fiction horror classic "The Blob." Among Hagman's later film credits are "S.O.B.," "Nixon," "Primary Colors," and "I Get That a Lot."
Ojai Estate and Other Homes
Larry and his wife Maj owned two primary properties in California; a Santa Monica condo and an estate in Ojai.
In January 2013, Larry's estate sold the Santa Monica luxury condo for $5 million.
In the 1980s, Larry and his wife Maj took their children to camp in a town called Ojai, about an hour and a half outside of Los Angeles, just south of Montecito. They fell in love with the area and soon bought a 43-acre property high up in the mountains overlooking the town below. In 1987 they began construction on what became an astounding estate. The finished project, which wasn't completed until 1991, featured 17,500 square foot home with a helicopter pad, infinity pool that winds through the home, indoor lap pool, orchards and more. At a cost of $750,000, Larry installed a solar system that allowed his electrical bill to drop from $30,000 per year to $13. Larry listed his Ojai estate for sale in 2009 for $11 million. It was ultimately sold in 2013 for $6.5 million. The estate was actually acquired by the Church of Scientology which now operates a drug treatment facility called Narconon, Ojai at the property.
Below is a drone video of the current property from 2016. Note that the video uploaded chose the Dallas theme as background music, in a nice little subtle nod:
Personal Life and Death
In 1954, Hagman wed Maj Axelsson, with whom he had a daughter named Heidi and a son named Preston. The family lived for a long time in Malibu, California before moving to a 43-acre estate in Ojai. In 2008, Hagman's wife was diagnosed with Alzheimer's; she passed away in 2016.
A longtime heavy drinker, Hagman suffered from cirrhosis of the liver in the early 90s, and was later diagnosed with liver cancer. In 1995, he underwent a successful liver transplant that saved his life. Later, in 2011, Hagman announced that he had throat cancer. After it was successfully treated, he was diagnosed with myeloid leukemia. Hagman passed away from complications of the disease in 2012 at the age of 81.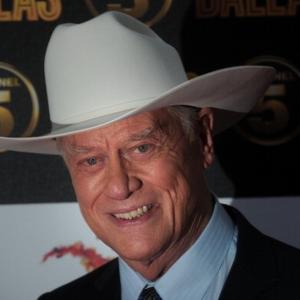 Larry Hagman
| | |
| --- | --- |
| Net Worth: | $30 Million |
| Salary: | $250 Thousand Per Episode |
| Date of Birth: | Sep 21, 1931 - Nov 23, 2012 (81 years old) |
| Gender: | Male |
| Height: | 6 ft (1.85 m) |
| Profession: | Actor, Television producer, Television Director, Voice Actor, Film Producer |
| Nationality: | United States of America |
All net worths are calculated using data drawn from public sources. When provided, we also incorporate private tips and feedback received from the celebrities or their representatives. While we work diligently to ensure that our numbers are as accurate as possible, unless otherwise indicated they are only estimates. We welcome all corrections and feedback using the button below.