Judy Garland Net Worth
Judy Garland Net Worth and Salary: Judy Garland was an American actress, singer, and vaudevillian who had a net worth of $40 thousand at the time of her death – the equivalent of $300,000 in today's dollars after adjusting for inflation. At her peak, Judy Garland was one of the successful actresses in the world, and she was also an accomplished singer. Garland came from an era when actresses were expected to know how to sing and dance, and she was one of the few who was able to carry out all of these tasks with equal proficiency.
As a result of her achievements, Judy won a number of awards and honors. These included an Academic Juvenile Award, a Golden Globe Award, a Special Tony Award, a Grammy Award, and many other accolades. She began her career as a teenager, and her introduction to the entertainment world came at a cost. Throughout the years, Garland suffered from feelings of low self-worth, and she battled substance abuse from a very early age. Financial issues also plagued the legendary actress, and this resulted in her extremely low net worth at the time of her passing.
Early Life: Frances Ethel Gumm was born on June 10th of 1922 in Grand Rapids, Minnesota. Raised by parents who were both vaudevillians, Frances displayed a passion for song and dance at a very young age. She and her siblings often performed together during this early period. Eventually, the Gumm family relocated to Lancaster, California after her father's supposed homosexual leanings became common knowledge in their hometown. Frances' proximity to Hollywood created a host of new opportunities for the aspiring young actress.
Career: By 1928, the Gumm Sisters had started performing together in various television segments. Eventually, the group changed their name to the "Garland Sisters," and it was never clearly revealed why they chose this name – although a number of theories later arose. Judy Garland was singled out by songwriter Burton Lane, and he organized an audition for her with Metro-Goldwyn-Mayer Studios. After performing a song during the audition, Garland was given a contract.
Unfortunately, the film studio had no idea what to do with Garland. At 13, she was at the awkward "in-between" stage between child and adult roles. She was also blatantly reminded that she was an "ugly duckling," and that she did not possess the same physical beauty as contemporaries like Ava Gardner and Elizabeth Taylor.
Despite this, Garland was a talented actress and singer, and she represented a massive source of income for MGM. She was thrown into a rigorous schedule, appearing in films like "Loves Finds Andy Hardy," "Babes in Arms," "Andy Hardy Meets Debutante," and "Life Begins for Andy Hardy." During this period, Garland was prescribed amphetamines to keep her awake for prolonged shoots. When it came time for her to go to sleep, she was given barbiturates. This was later denied by MGM.
One thing that remains undeniably clear is that the studio was never satisfied with Judy's weight. She was constantly put on diets and forced to eat only soup and plates of lettuce. All of this fueled Judy's sense of self-doubt, and this feeling would only become more warped and self-destructive in the years to come.
A major breakthrough came in 1939 when Judy Garland was cast in the lead role for "The Wizard of Oz." This became one of her most defining roles, and she became famous for singing the iconic song "Over the Rainbow." After this achievement, Garland transitioned to adult roles and started her first real relationship with Artie Shaw. She then married David Rose, but their marriage ended in divorce by 1944. During the relationship, Garland had an abortion. Another abortion would follow in 1943.
After more adult roles, Garland finished up her MGM contract with a number of notable movies. The first was "The Pirate" in 1948, during which Garland had a nervous breakdown and attempted suicide for the first time. After the commercially-successful film "Easter Parade," Garland started taking a variety of drugs, including sleeping pills and morphine. A true downward spiral began, and Garland's acting performance began to falter. She was frequently fired from films, and sometimes she simply stopped showing up to set. In 1950, MGM suspended her contract, seemingly prompting Garland to attempt suicide once again. By the end of the year, she was released from her contract.
Despite her personal struggles, Judy experienced success in the theatrical world towards the end of her career. A genuine comeback started, and Garland returned to her vaudeville roots. During this period, she also started to perform alongside her daughter, Liza Minnelli. By the mid-1950s, Garland had returned to Hollywood with "A Star is Born." She was expected to win an Academy Award for this performance, but it was given to Grace Kelly instead in what has been described as one of the film industry's biggest robberies.
During the 60s and beyond, Garland began appearing more on television, and she was even given her own TV show. When this show was canceled, she returned to stage work and performed once again with her daughter Liza, who was now 18. A number of unfavorable divorces during this period and mounting financial difficulties caused Garland to become increasingly desperate. By the end of the 60s, it was clear that she was on a bad path.
Passing: On June 22nd of 1969, Garland was found dead in a bathroom by her final husband Mickey Deans. She was 47 years old. Judy's health had been rapidly deteriorating while she was performing her last few concerts in London and Copenhagen, and her death was later determined to be the result of a barbiturate overdose. Although suicide was ruled out, Garland had taken an incredibly large dosage of the drug over a prolonged period of time.
The autopsy also determined that Garland would have soon died anyway from cirrhosis, a massive deterioration of liver function, although later examinations discredited this claim. Another doctor suggested that Judy had an eating disorder, and that this also contributed to her death in some way.
Financial Problems: Despite earning millions of dollars during the peak of her career, Judy experienced severe financial problems that left her in dire straits by the end of her life. Decades of financial mismanagement combined with her generosity to friends and family, leaving her in so much debt that many of the philanthropic requests in her will could not be fulfilled.
Just a few years before her death, Judy discovered she owed the IRS $500,000. That's around $4 million in today's dollars. This was the result of embezzlement and mismanagement by her agents, Freddie Fields and David Begelman. The IRS placed a tax lien on her home in Brentwood, Los Angeles, and began garnishing royalties from her Capital Records recording contract and other business ventures. Judy ultimately was forced to sell the home at a steep discount, resulting in a period where she bounced around from hotel to hotel, frequently leaving a large unpaid bill.
In 1967, Judy earned more than $200,000 from a 27-night engagement at New York's Palace Theater. She earned 75% of the show's profits. Unfortunately, the IRS seized the majority of these earnings. After Judy's passing, her daughter Liza Minnelli raised the money required to pay off the estate's debts. Over 500 of her personal items were auctioned off, raising $250,000 (roughly $1 million in today's money). Frank Sinatra also personally contributed funds to clear the debts.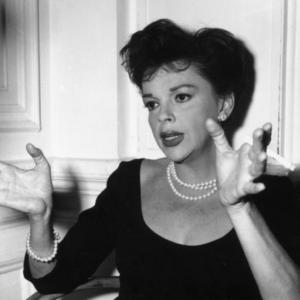 Judy Garland
| | |
| --- | --- |
| Net Worth: | $40 Thousand |
| Date of Birth: | Jun 10, 1922 - Jun 22, 1969 (47 years old) |
| Gender: | Female |
| Height: | 4 ft 11 in (1.51 m) |
| Profession: | Singer, Actor, Vaudeville Performer |
| Nationality: | United States of America |
| Last Updated: | 2020 |
All net worths are calculated using data drawn from public sources. When provided, we also incorporate private tips and feedback received from the celebrities or their representatives. While we work diligently to ensure that our numbers are as accurate as possible, unless otherwise indicated they are only estimates. We welcome all corrections and feedback using the button below.