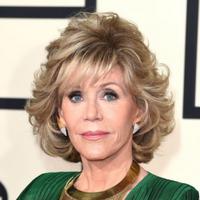 | | |
| --- | --- |
| Net Worth: | $200 Million |
| Date of Birth: | Dec 21, 1937 (84 years old) |
| Place of Birth: | New York City |
| Gender: | Female |
| Height: | 5 ft 8 in (1.73 m) |
| Profession: | Actor, Writer, Model, Activist, Television producer, Film Producer |
| Nationality: | United States of America |
What is Jane Fonda's Net Worth?
Jane Fonda is an actress, writer, political activist, former model, and fitness expert who has a net worth of $200 million. As an actress, she has won two Academy Awards, an Emmy Award, and seven Golden Globe Awards, among other recognitions and accolades. Outside of her acting career, Jane Fonda is a renowned political and social activist. She is also famous for being the former wife of media tycoon Ted Turner. Jane Fonda and Ted Turner were married for twenty years between 1991 and 2001. As a divorce settlement, Jane reportedly received a $100 million settlement from Turner that included cash, stock and real estate assets. More on this settlement later in the article below.
Early Life
Jane Seymour Fonda was born in New York City on December 21, 1937. Her father, Henry Fonda, was a popular American actor, and her mother, Frances Ford Brokaw, was a Canadian-born socialite. Her mother committed suicide while receiving treatment at Craig House psychiatric hospital. Fonda received her education at Greenwich Academy in Connecticut, and the Emma Willard School and Vassar College in New York.
Modeling

Fonda first entered the world of entertainment as a model, and even appeared on the cover of Vogue Magazine twice. She then turned her attention to acting after she appeared alongside her father in a charity performance of the play "The Country Girl".
Acting Career
During her early film career in the 1960s, Fonda starred in several movies, and averaged almost two films a year. These include "Tall Story" (1960), "Walk on the Wild Side" (1962), "Cat Ballou" (1965), "The Chase" (1966), and "Barbarella" (1968). In particular, "Cat Ballou" is often pinpointed as her breakout role that launched her into major stardom. The film received five Oscar nominations, and was one of the top performing films at the box office that year. Furthermore, "Barbarella" is commonly identified as the film that cemented Fonda's status as a sex symbol.
The 1970s are the most critically acclaimed period for Fonda during her career as an actress. Notable films of hers from this time include the murder mystery "Klute" (1971), for which she won her first Academy Award for Best Actress; "Tout Va Bien" (1972); "A Doll's House" (1973); "Fun With Dick and Jane" (1977); "Julia" (1977); "Coming Home" (1978), for which she won her second Academy Award for Best Actress; and "The China Syndrome" (1979), for which she won a BAFTA Award for Best Actress.
In 1980, Fonda starred alongside Lily Tomlin and Dolly Parton in the wildly successful "9 to 5", which was the second highest-grossing release of the year. In 1981, she fulfilled a long-standing dream to star alongside her late father, Henry Fonda, when she appeared with him in the film "On Golden Pond", which turned out to be a healing experience for both of them, as their relationship had long been under a heavy strain. They also became the first father-daughter duo to get nominated for Oscars for the same film; Jane was nominated for Best Supporting Actress and Henry actually won his first Oscar ever for Best Actor. Other notable films Fonda has starred in during the 1980s include "The Dollmaker" (1984) and "The Morning After" (1986).
Fonda announced her retirement from acting in 1991, and the drama "Stanley & Iris" (1990) was her last film for 15 years. She returned to acting in 2005 with the film "Monster-in-Law", opposite Jennifer Lopez. She then starred alongside Felicity Huffman and Lindsay Lohan in the drama "Georgia Rule" (2007). Furthermore, in 2009 Fonda appeared in her first Broadway show since 1963, in a production of Moisés Kaufman's "33 Variations". She filmed the drama "All Together" (2011) entirely in French, and also appeared in films like "Peace, Love and Misunderstanding" (2011), "The Butler" (2013), "Better Living Through Chemistry" (2014), and "This is Where I Leave You" (2014). She has appeared in the television series "The Newsroom", "The Simpsons", and the Netflix series "Grace and Frankie".
Fitness Ventures
After a foot injury she suffered while filming "The China Syndrome", Fonda was unable to take her regular ballet classes. She turned to aerobics to maintain her fitness, and exercised under the tutelage of Leni Cazden. "The Leni Workout" was rebranded as the "Jane Fonda Workout", which helped spark a fitness craze in the eighties. Her book "Jane Fonda's Workout Book" was released in 1981, and it was followed by her exercise video "Jane Fonda's Workout", which went on to sell over a million copies. In total up until 1995, she released 23 workout videos, 5 workout books, and 13 audio programs. She returned to fitness in 2010 with two new DVD videos targeted towards an older audience.
Political Activism
Fonda is perhaps best known (infamously) for her controversial stand against the Vietnam War in the '60s and for her support of the Black Panthers (a black revolutionary socialist organization) in the early '70s. In 1972, Fonda visited Hanoi (capital of Vietnam) and was notoriously photographed seated on an anti-aircraft battery—outraging Americans and earning her the derogatory title 'Hanoi Jane.' She has since expressed regret over some of her comments and actions, although she does not regret her trip to North Vietnam.
Personal Life
Jane Fonda has been married three times, and all three marriages ended in divorce. Her first marriage was to French film director Roger Vadim, from 1965 to 1973. Together, they have one daughter, Vanessa Vadim. In January 1973, a mere three days after finalizing her divorce from Vadim, Fonda married the activist Tom Hayden. They had one son together, Troy O'Donovan Garity, and unofficially adopted the teenager Mary Luana Williams, whose parents were Black Panthers. Fonda and Hayden divorced in 1990. Her third marriage was to CNN founder Ted Turner, and it lasted from 1991 to 2001. Additionally, she was in a long-term relationship with record producer Richard Perry from 2009 to 2017.
Ted Turner Divorce Settlement
Ted reportedly paid Jane over $100 million in liquid assets alone (cash, stock), including stock in his company right before it merged with AOL at the peak of the dotcom bubble. She also received several valuable real estate assets such as a 2,500 acre ranch. And while that may seem like a big deal, a single 2,500 acre ranch is a tiny speck in Ted Turner's portfolio. As of this writing, Ted is the second largest landowner in the United States with roughly two million acres of personal and ranch land. He owns enough land to be able to ride a horse from Canada to Mexico without leaving his own property.
Real Estate
Jane Fonda owns a number of homes and impressive properties around the world. She owns Forked Lightening Ranch, a 2,000 plus acre property near Pecos, New Mexico, and a loft in Atlanta, Georgia. Fonda's New Mexico ranch features a 4,700 square feet main house, with 3 bedrooms, and 3 bathrooms. Fonda's entrance hall leads to a main living area, high ceilings, concrete floors and large windows. The living area features a fireplace and tall bookshelves. The kitchen has granite counter tops, white and stainless steel cabinetry, and double ovens. A curving staircase leads to an upper landing where the master bedroom has a fireplace with glass surround, dressing room, and circular skylight.
In January 2018 Jane listed a home in Beverly Hills for sale for $13 million, ultimately accepting $8.5 million in 2018. She paid $7.3 million for the property in 2012.
In 2017 she paid $5.45 million for a town home in LA's Century City.
Jane Fonda Earnings
Nine to Five

$2,000,000

% of profit

The Electric Horseman

$1,000,000

California Suite

$500,000

Julia

$500,000

Fun with Dick and Jane

$100,000

Steelyard Blues

$100,000
All net worths are calculated using data drawn from public sources. When provided, we also incorporate private tips and feedback received from the celebrities or their representatives. While we work diligently to ensure that our numbers are as accurate as possible, unless otherwise indicated they are only estimates. We welcome all corrections and feedback using the button below.