Ernest Borgnine Net Worth
What was Ernest Borgnine's Net Worth?
Ernest Borgnine was an American film and television actor who had a net worth of $15 million at the time of his death in 2012. Ernest Borgnine had a career spanning more than six decades. He is known for his performances in such films as "From Here to Eternity," "Bad Day at Black Rock," "The Wild Bunch," and "Marty," the lattermost of which earned him the Academy Award for Best Actor. Borgnine also appeared extensively on television, with notable credits including "McHale's Navy" and "Airwolf." He was married five times and had four children. He was awarded with the Screen Actors Guild Life Achievement Award in 2011. Borgnine passed away due to kidney failure on July 8, 2012 at 95 years old.
Early Life
Ernest Borgnine was born as Ermes Effron Borgnino on January 24, 1917 in Hamden, Connecticut to Italian immigrants Camillo and Anna. When he was two years of age, his parents separated; they eventually reconciled in 1923, after which the family moved to New Haven. Borgnine had a younger sister named Evelyn. He went to James Hillhouse High School, where he participated in sports.
Military Service
Following his high school graduation, Borgnine enlisted in the US Navy. He served aboard the USS Lamberton and was honorably discharged in 1941. The year after that, Borgnine reenlisted when Pearl Harbor was attacked. In the war, he served aboard the antisubmarine warfare ship the USS Sylph, and was again honorably discharged.
Career Beginnings
After being discharged from the Navy, Borgnine returned to his parents' Connecticut home. He took a job at a local factory, but was unhappy with the work. Borgnine's mother suggested that he pursue something more glamorous, and told him that his personality would be an ideal fit for the stage. As a result, Borgnine went to study acting at the Randall School of Drama. He subsequently moved to Virginia and joined the Barter Theatre. In 1947, he made his theatrical debut in the play "State of the Union." Borgnine was next in a production of "The Glass Menagerie." He went on to make his Broadway debut in 1949, playing a nurse in "Harvey."
Film Career in the 50s
Borgnine first appeared on the big screen in 1951. That year, he was in three films: the adventure film "China Corsair" and the films noir "The Whistle at Eaton Falls" and "The Mob." Borgnine was in three more films in 1953, including "Treasure of the Golden Condor" and "The Stranger Wore a Gun." His breakthrough, however, came in the Oscar Best Picture winner "From Here to Eternity," in which he played the sadistic Staff Sergeant James R. "Fatso" Judson. Due to this memorable part, Borgnine went on to play further villains in such films as "Johnny Guitar," "Vera Cruz," and "Bad Day at Black Rock." Following this, he portrayed a completely different kind of character in the 1955 romantic drama "Marty." Starring as the titular timid, good-hearted New York butcher, Borgnine won the Academy Award for Best Actor; the film also took home the award for Best Picture. Borgnine subsequently appeared in such films as "Run for Cover," "The Last Command," "The Square Jungle," "Jubal," "The Catered Affair," "Three Brave Men," "The Vikings," "Torpedo Run," and "The Rabbit Trap."
Further Film Career
Throughout the 60s, 70s, and 80s, Borgnine's film career continued to thrive. His notable credits in the 60s include "Pay or Die," "Black City," "Barabbas," "The Flight of the Phoenix," "The Oscar," "The Dirty Dozen," "Ice Station Zebra," and "The Wild Bunch." In the 70s, Borgnine appeared in such films as "Willard," "The Trackers," "The Poseidon Adventure," "Hustle," "Shoot," "Crossed Swords," "Convoy," and "The Black Hole." Among his credits in the 80s are "Super Fuzz," "High Risk," "Escape from New York," "Young Warriors," "Spike of Bensonhurst," and "Laser Mission."
Borgnine continued to work fairly prolifically on the big screen in his later years. In the 90s, he was in "Any Man's Death," "Gattaca," "BASEketball," "Mel," and "Abilene," among other titles. Borgnine's credits in the 2000s include "Hoover," "11'09″01 September 11," "The Long Ride Home," "Strange Wilderness," "Red," "Another Harvest Moon," and "Night Club." Borgnine gave his final film performance in 2012, starring as retired DJ and actor Rex Page in the Western film "The Man Who Shook the Hand of Vicente Fernandez."
Television Career
In 1951, the same year he debuted on the big screen, Borgnine appeared on television for the first time in a few episodes of "Captain Video and His Video Rangers." He subsequently landed roles in episodes of numerous shows, such as "The Lone Wolf," "Navy Log," "Wagon Train," and "Laramie." Borgnine had his breakthrough television role from 1962 to 1966, when he starred as Lieutenant Commander Quinton McHale on the ABC sitcom "McHale's Navy." Later, from 1976 to 1977, he had another starring role on the short-lived crime series "Future Cop." During this time, Borgnine starred in the television film "Fire!" In 1979, he earned an Emmy Award nomination for his performance in another television film, an adaptation of "All Quiet on the Western Front." Borgnine had his next main role on a regular series from 1984 to 1986, starring as Dominic Santini on the action military drama "Airwolf."
As in his film career, Borgnine remained prolific on television through the end of his life. Among his notable credits, he appeared in multiple television film sequels of "The Dirty Dozen." From 1995 to 1997, he had a main role on the NBC sitcom "The Single Guy." Borgnine had another notable role on the animated series "SpongeBob SquarePants," voicing the character Mermaid Man from 1999 through 2012. He was in many television films in the 2000s, including "A Grandpa for Christmas," "The Wishing Well," and "Love's Christmas Journey." In 2009, Borgnine received an Emmy nomination for his guest role in the final season of the medical series "ER."
Personal Life and Death
Borgnine was married a total of five times. His first marriage was to Rhoda Kemins in 1949; they had a daughter named Nancee before divorcing in 1958. The next year, Borgnine wed actress Katy Jurado, whom he eventually divorced in 1963. His subsequent marriage, to singer Ethel Merman, was his shortest one, lasting only 42 days from 1964 to 1965. Borgnine was wed to his fourth wife, Donna Rancourt, from 1965 to 1972; the couple had a son named Christopher and two daughters named Diana and Sharon. Finally, in 1973, Borgnine married businesswoman Tova Traesnaes, with whom he was with until his passing from kidney failure in 2012 at the age of 95.
Real Estate
For many years Tova Borgnine and Ernest Borgnine divided their time between Beverly Hills, California and West Chester Pennsylvania, home of QVC. Tova was a QVC entrepreneur for many years.
Not long after his death, Tova put their longtime Beverly Hills homes on the market for $3.4 million. Ernest had owned the home for over six decades. In February 2013, next door neighbor Jason Bateman and his wife Amanda Anka bought the property for $3 million.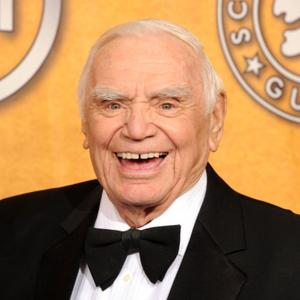 Ernest Borgnine
| | |
| --- | --- |
| Net Worth: | $15 Million |
| Date of Birth: | Jan 24, 1917 - Jul 8, 2012 (95 years old) |
| Gender: | Male |
| Height: | 5 ft 8 in (1.75 m) |
| Profession: | Actor, Voice Actor, Military Officer |
| Nationality: | United States of America |
Ernest Borgnine Earnings
Marty

$5,000

From Here to Eternity

$700/week
All net worths are calculated using data drawn from public sources. When provided, we also incorporate private tips and feedback received from the celebrities or their representatives. While we work diligently to ensure that our numbers are as accurate as possible, unless otherwise indicated they are only estimates. We welcome all corrections and feedback using the button below.