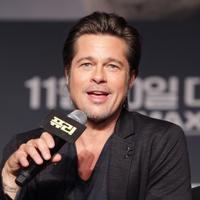 | | |
| --- | --- |
| Net Worth: | $400 Million |
| Date of Birth: | Dec 18, 1963 (59 years old) |
| Place of Birth: | Shawnee |
| Gender: | Male |
| Height: | 5 ft 10 in (1.8 m) |
| Profession: | Actor, Film Producer, Voice Actor, Television producer |
| Nationality: | United States of America |
What is Brad Pitt's net worth and salary?
Brad Pitt is an award-winning film actor and producer who has net worth of $400 million. Brad Pitt is one of the most-famous and highest-paid entertainers in the world, consistently earning a minimum of $20 million for major motion picture releases. He has been nominated for several Academy Awards. He won an Academy Award as a Producer in 2014 when "12 Years a Slave" took home the Best Picture award. He then won a Best Supporting Actor Oscar in 2020 for his role in "Once Upon a Time in Hollywood." Perhaps more importantly to his bottom line net worth, Brad is the co-founder of Plan B Entertainment, which has produced a number of important films including "The Departed," "Moonlight" and "12 Years a Slave," all of which won the Best Picture Academy Award. Many of Brad's own movies have been produced by Plan B, for example "Troy," "Moneyball," "The Assassination of Jesse James by the Coward Robert Ford," "Killing Them Softly," "World War Z," "The Big Short" and "Ad Astra." More info on Plan B later in this article.
Early Life
William Bradley Pitt was born on December 18, 1963 in Shawnee, Oklahoma. Brad and his two younger siblings were raised in Springfield Missouri. He attended the University of Missouri where he majored in journalism with a focus on advertising. At some point in college he caught the acting bug and had the idea to move to Los Angeles. He up and left school just two weeks short of completing his degree and moved to California.
Success
His first film role was a background part in a film called Hunk. He can also be seen in the background of the 1987 Kevin Costner movie No Way Out. After various guest appearances and minor roles, Pitt gained notoriety for his supporting role in Thelma and Louise before going on to star in the Academy-Award winning 1992 film A River Runs Through It. Pitt received tremendous praise for his performance in the highly successful 1995 crime drama Seven, which grossed $327 million worldwide. Pitt received a Golden Globe award as well as an Academy Award nomination for his next film, 12 Monkeys.
Pitt's dedication to his roles has taken him up the Alps, in the boxing ring, and in the depths of startlingly accurate accents. Other noteworthy Pitt films include Oceans Eleven, Troy, Babel, Mr. and Mrs. Smith, Fight Club, World War Z, Moneyball, The Curious Case of Benjamin Button and Once Upon a Time in Hollywood.
Plan B
In November 2001, Brad Pitt co-found Plan B Entertainment with his wife at the time, Jennifer Aniston, super producer Brad Grey and several other executives. Brad bought Jennifer out of the company in the wake of their divorce for an undisclosed amount. In October 2022 it was revealed that Plan B was in the process of selling a 60% stake to French media conglomerate Mediawan. The deal reportedly valued Plan B at $300 million and was paid for with 50% cash and 50% stock in Mediawan. In other words, at the time of the transaction Mediawan paid $180 million, comprised of $90 million in stock and $90 million in cash, to own 60% of Plan B. Assuming Brad previously owned 60% of the company, he either took the full amount for himself and no longer owns any of Plan B, or (more likely) he sold roughly half of his personal shares and shared the windfall with his partners.
As of this writing, Plan B movies have generated $3 billion in global box office revenue on $1 billion in total production budgets. Plan B's most successful movie in terms of worldwide box office revenue is "World War Z" which earned $530 million globally. Its second highest performing movie is "Troy" which earned $483 million.
Notable Plan B movies include:
Troy
Charlie and the Chocolate Factory
The Departed
The Time Traveler's Wife
Eat Pray Love, Moneyball
World War Z
Kick-Ass
12 Years a Slave
Ad Astra
Notable Salaries
In 1991 Brad earned just $6,000 for his bit part in Thelma & Louise. Just two years later he earned $500,000 for Kalifornia. That's the same as just under $1 million after adjusting for inflation. Two years after Kalifornia, he earned a cool $4 million for Se7en. The following year he earned his first $10 million paycheck for Sleepers. He earned another $10 million for Seven Years in Tibet.
By the late 1990s, his base film salary had increased to $17.5 million, which he earned for Meet Joe Black, Fight Club, Spy Game and Troy. He earned $20 million for Mr. & Mrs. Smith and has earned $20 million for most starring roles that he is not producer. He cut his salary in half to $10 million to appear in the Tarantino movies Inglorious Basterds and Once Upon a Time in Hollywood.
In 2001 Brad accepted a lower base salary of $10 million in exchange for a percentage of backend receipts when he co-starred in Ocean's Eleven. When it was all said and done, he ended up earning $30 million from the film.
As a film producer, Pitt has earned untold additional millions. Perhaps more than what he has earned during his career as an actor.
Personal Life
As we mentioned previously, Brad was previously married to actress Jennifer Aniston. They married in 2000 and divorced in 2005. There have always been rumors that they broke up after he began an affair with his Mr. and Mrs. Smith co-star Angelina Jolie. After being in a relationship for nearly a decade Brad and Angelina married in 2014. They divorced in 2019 but officially separated in 2016, however their custody and support battle raged on for many more years.
Pitt and Jolie have six children, a mix of adopted and conceived. After Jolie gave birth to their daughter Shiloh, the couple sold the North American photo rights to People Magazine for $4.1 million and the British rights to Hello! for $3.5 million, for a total payday of $7.6 million. After giving birth to their twins Knox and Vivienne, they again sold the rights to People and Hello! for a total of $15 million. That still stands as the record for most-expensive celebrity photograph of all time.
Philanthropy
Pitt has been actively involved with a number of humanitarian causes throughout his career. He has donated generously to the ONE Campaign, Make It Right Foundation, and global humanitarian aid fund, Jolie-Pitt Foundation, which he co-founded with partner Angelina Jolie. In 2010, Pitt and Jolie donated $1 million to Doctors Without Borders in the wake of Haiti earthquake. Through the Jolie-Pitt Foundation the couple donated tens of millions of dollars to charity. Through the Make It Right Foundation he built 150 affordable homes in New Orleans' Ninth Ward in the response to Hurricane Katrina.
Los Feliz Estate

Brad owns an impressive portfolio of real estate that includes properties around the world that are valued at over $100 million cumulatively.
Since 1994, Brad's longtime primary home in LA has been a veritable compound that he has pieced together over the years through multiple transactions. Located in LA's Los Feliz neighborhood, today the property is actually made up of 5 contiguous parcels that span just under two acres. The property has four homes including a 6,600 square-foot main house, a skateboard park, swimming pool and more. Brad bought his first parcel in the compound in 1994 for $1.7 million. The seller was the actress Cassandra Peterson, who famously portrays the "Elvira" character. Cassandra was convinced the house was haunted. Cassandra said of the home:
"Something weird was going on. Footsteps above my head on the ceiling. Clouds of smoke forming into what looked like a human and then disappearing. A black shadow floating on the bottom of the pool that wouldn't go away. After a priest performed an exorcism in the home and a Native American cleansed the home with sage, it seemed to all go away."
The primary home has 6 bedrooms and 7 bathrooms spread over 7,000 square feet of living space. Here's how the estate looked in 1997 after he had purchased several nearby estates but before he had combined them into a contiguous single property:
Other Real Estate
During his marriage to Jennifer Aniston, the former couple lived in an 11,000 square foot Wallace Neff-designed mansion in Beverly Hills. They bought this property in 2001 for $12.5 million, one year after marrying. They proceeded to perform a complete renovation that took three years. After breaking up and finalizing their divorce, Brad and Jennifer sold the home for $28 million. In March 2020 this home sold for $44.5 million. Here is a video tour of the former Pitt/Aniston Beverly Hills mansion:
In 2000 Brad paid $4 million for a beach house in Santa Barbara.
In late 2006, around the time he was planning the construction of 150 of affordable homes in New Orleans, Pitt spent $3.5 million on a historic mansion in the city's famous French Quarter. Pitt and Jolie listed the home for sale in 2015 for $6.5 million but ultimately took the property off the market after not finding a buyer.
In 2015, Brad bought a villa on the Spanish island of Majorca for $3.7 million,
Chateau Miraval
In 2008, Brad Pitt and Angelina Jolie spent a mouth-water $67 million on a 1,200-acre winery in the south of France called Chateau Miraval. The main house on the property reportedly has 35 rooms, several guest houses and a recording studio. They actually married at the chateau in 2014. This property became a major point of contention during their divorce proceedings and reportedly caused the final settlement to drag on for years. They did eventually reach a settlement that likely involved an agreement that they would either sell the property down the road or allow their children to be the primary heirs.
Brad Pitt Earnings
Inglourious Basterds

$10,000,000

The Assassination of Jesse James by the Coward Robert Ford

$1,000,000

Mr. & Mrs. Smith

$20,000,000

Troy

$17,500,000

Ocean's Eleven

$30,000,000

$10m plus % of backend

Spy Game

$17,500,000

The Mexican

$10,000,000

Fight Club

$17,500,000

Meet Joe Black

$17,500,000

Seven Years in Tibet

$10,000,000

The Devil's Own

$8,000,000

Sleepers

$10,000,000

Se7en

$4,000,000

Kalifornia

$500,000

Thelma & Louise

$6,000

Cutting Class

$12,000

Less Than Zero

$38
All net worths are calculated using data drawn from public sources. When provided, we also incorporate private tips and feedback received from the celebrities or their representatives. While we work diligently to ensure that our numbers are as accurate as possible, unless otherwise indicated they are only estimates. We welcome all corrections and feedback using the button below.