Bernie Madoff Net Worth
Bernie Madoff Net Worth: Bernie Madoff is an American former businessman and former stockbroker, investment advisor and financier who has a net worth of -$17 billion. He is the former non-executive chairman of the NASDAQ stock market and the admitted operator of a Ponzi scheme that is considered the largest financial fraud in U.S. history. As of September 2020, he is serving a 150-year prison term in federal prison for his offenses related to his Ponzi scheme.
Early Life: Bernard Lawrence Madoff was born in Queens, New York City, on April 29, 1938. His father, Ralph Madoff, worked as a plumber and stockbroker, and his mother, Sylvia Muntner, was a homemaker. His family is Jewish, and his grandparents had immigrated to the United States from Poland, Romania, and Austria. He has two siblings, Sondra Weiner and Peter Madoff. He graduated from Far Rockaway High School in 1956, and then went on to attend the University of Alabama. At Alabama, he joined the Tau Chapter of the Sigma Alpha Mu fraternity, however he only remained there for a year before transferring to Hofstra University in Hempstead, New York. He graduated from Hofstra University with a Bachelor of Arts in political science in 1960. He was briefly a law student at Brooklyn Law School, but left to found his own company Bernard L. Madoff Investment Securities LLC on Wall Street.
Early Career: Madoff started his own trading firm, Bernard L. Madoff Investment Securities LLC, in 1960. He began as a penny stock trader, using $5,000 (what is equivalent to roughly $43,000 today) of his own money that he had saved from working odd jobs—he had worked as both a lifeguard and sprinkler installer. He grew the business with help from his father-in-law, Saul Alpern, an accountant. Alpern not only helped refer clients to Madoff, but also gave him a loan of $50,000.
Investment Scandal: On December 10, 2008, Madoff's sons told authorities that their father had confessed to them that the asset management unit of his firm was a massive Ponzi scheme, and they went on to quote Madoff as describing it as "one big lie." The following day, FBI agents arrested Madoff and charged him with securities fraud. The U.S. Securities and Exchange Commission (SEC) had previously conducted investigations into Madoff's business practices, but had not uncovered this massive fraud at that time. Actually, Harry Markopolos, a financial analyst, had attempted to inform the SEC about possible fraudulent activity going on at Madoff's firm. He had calculated that Madoff's numbers were not adding up properly, and suspected that the high gains he was claiming to be able to deliver were in fact false. He documents in his 2010 book, "No One Would Listen" (co-authored with Gaytri Kachroo) his ten-year long effort to get the government, the financial industry, and the press to understand the fraud Madoff was carrying out. Also weary of Madoff were many others working in the trading industry on Wall Street. None of the major firms invested with Madoff.
Madoff's scheme first began unraveling in the first week of December 2008, when he needed to come up with $7 billion dollars to make redemption payments to his investors. His usual mode of operation was to deposit money from investors into his business account, and withdraw money from that same account when they requested redemptions. His issue was that he had only $234 million in his account in late November, which was by far not enough to pay off all of the outstanding redemptions he owed people. According to an FBI report, once Madoff realized that he was not going to be able to pay off everything, in December 2008 he confided in his sons and brother about the Ponzi scheme.
On March 12, 2009, Madoff pleaded guilty to 11 federal felonies and admitted to turning his wealth management business into a massive Ponzi scheme which ultimately defrauded thousands of investors out of billions of dollars. Madoff said he began the Ponzi scheme in the early 1990s; however, federal investigators believe the fraud began as early as the mid-1980s and may have even begun as far back as the 1970s. The amount missing from client accounts, including fabricated gains, was estimated to be approximately $65 billion. On June 29, 2009, Madoff was sentenced to 150 years in prison, the maximum sentence allowed. His scheduled release date is November 14, 2139.
Personal Life: Madoff married Ruth Alpern, his high school classmate from Far Rockaway High School, on November 28, 1959. Before starting the Madoff Charitable Foundation, Alpern worked at Madoff's firm on Wall Street. They had two sons together, Mark and Andrew. Sadly, both of their sons have passed away; Mark committed suicide in 2010, and Andrew passed away in 2014 from cancer. Both sons had worked in the trading section of Madoff's firm. Other family members that worked at the firm include Madoff's younger brother Peter, and niece Shana Madoff. According to Ruth, she and Madoff had attempted to commit suicide together on Christmas Eve 2008. In a settlement with prosecutors following her husband's arrest, Ruth relinquished her claim to $85 million in assets, and was allowed to keep $2.5 million in cash.
Madoff previously owned many properties around the world. These include his primary residence in Manhattan on the Upper East Side, a home in Montauk, New York, and a mansion in Palm Beach, Florida. These, along with many of his other assets, were auctioned off by the United States Marshals Service in September 2009.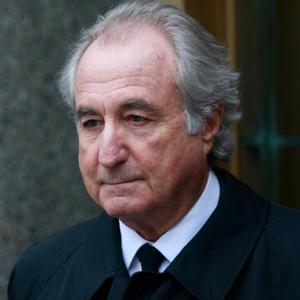 Bernard Madoff
| | |
| --- | --- |
| Net Worth: | -$17 Billion |
| Date of Birth: | Apr 29, 1938 (82 years old) |
| Gender: | Male |
| Profession: | Banker, Confidence artist, Investment broker, Financial adviser, Businessperson, Stockbroker, Financier, Investor |
| Nationality: | United States of America |
| Last Updated: | 2020 |
All net worths are calculated through the combination of a robust methodology and a proprietary algorithm. The results are fact checked and confirmed by a team of editors and industry insiders. We work diligently to ensure that our numbers are the most accurate celebrity net worth data you will find anywhere on the internet.