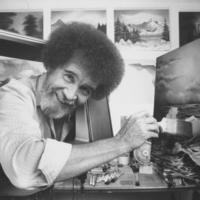 | | |
| --- | --- |
| Net Worth: | $1 Million |
| Date of Birth: | Oct 29, 1942 - Jul 4, 1995 (52 years old) |
| Place of Birth: | Daytona Beach, Florida, U.S. |
| Gender: | Male |
What Was Bob Ross' Net Worth?
Bob Ross was an American painter, art instructor, and television host. At the time of his death in 1995, Bob Ross had a net worth of $1 million. That does not include the value of his name, likeness and collection of artwork. The rights to his name and likeness would later prove to be worth many millions of dollars. Unfortunately his estate has been fought over bitterly in the last decade. More on that later in this article.
Ross created and hosted the PBS television series "The Joy of Painting," which aired from 1983 to 1994 and also aired in Canada, Europe, and Latin America. At the show's peak, it aired on more than 90% of American public television networks and was viewed by millions of people each week. Bob appeared on the show essentially for free, but he used the platform to promote his book and painting kits. In his lifetime, he sold $15-20 million worth of books, video tapes and art kits.
In the 21st century Ross became an internet celebrity and is very popular on YouTube. He was known for his wet-on-wet oil painting technique and his catchphrases such as "happy little trees". He published the book "The Best of the Joy of Painting with Bob Ross" in 1989.  Bob retired after he was diagnosed with lymphoma, and sadly, he passed away in July 1995 at the age of 52. His intellectual property is controlled through the holding company Bob Ross Inc., which has licensed his image for use on t-shirts, Chia Pets, costumes, underwear, soap, puzzles, coloring books, and more. There is also a robust market for his original paintings, some of which have sold for as much as $10,000.
Early Life
Bob Ross was born Robert Norman Ross on October 29, 1942, in Daytona Beach, Florida. His mother, Ollie, worked as a waitress, and his father, Jack, was a carpenter. Bob grew up in Orlando and took care of injured animals during his youth. He had a half-brother named Jim, who he mentioned on "The Joy of Painting." Ross quit school in ninth grade and began working with his father, and while working as a carpenter, he lost part of the index finger on his left hand in a "freak saw accident." Bob enlisted in the U.S. Air Force in 1961 and was assigned the position of medical records technician. He eventually became a master sergeant, and at Alaska's Eielson Air Force Base, he was the first sergeant of the clinic. He enjoyed painting during his breaks, and during his time in the Air Force, he developed the quick wet-on-wet painting technique he became famous for. While serving in the military, Ross was "the guy who makes you scrub the latrine, the guy who makes you make your bed, the guy who screams at you for being late to work," so when he left in 1981, he vowed to no longer raise his voice.
Career
While working part-time as a bartender, Ross discovered German painter Bill Alexander's television show "The Magic of Oil Painting." The series introduced Bob to the wet-on-wet style known as alla prima (which translates to "first attempt") that made it possible to create a painting in just 30 minutes. After Ross mastered that technique, he began painting Alaskan landscapes on novelty gold-mining pans, eventually making more money from his art than from his Air Force career. After moving back to Florida, Bob studied with Alexander and became a tutor and traveling salesman for the Alexander Magic Art Supplies Company. Annette Kowalski, a woman who attended one of Ross' sessions, convinced Bob that he was talented enough to succeed without Alexander, and she, Ross, and Bob's wife, Jane, pooled their money to together to create Bob Ross Inc. "The Joy of Painting" premiered on January 11, 1983, and it went on to air 403 episodes over 31 seasons. Bob created an estimated 30,000 paintings before his death at age 52, and the Bob Ross Workshop and Gallery in New Smyrna Beach, Florida, offers classes on his famous technique for fans who want to become Certified Ross Instructors. Bob Ross Inc. also offers painting classes in cities all over the U.S., and the official website states that "more than 1500 Bob Ross Teachers [hold] local workshops every day." One particularly well-known Certified Ross Instructor is actor David Arquette.
Personal Life
Bob married Vivian Ridge on May 28, 1965, and they welcomed son Steve before divorcing in 1977. Steve occasionally appeared on his father's show, and he is a Certified Ross Instructor. Bob married his second wife, Jane, on April 22, 1977, and they remained married until Jane's death from cancer in 1992. Ross then wed Lynda Brown on April 7, 1995, three months before his death. Bob had many pet squirrels, including Bobette, Peapod, and Peapod Jr., and several of them appeared on "The Joy of Painting."
Death and Legacy
Ross smoked cigarettes for much of his life, and on July 4, 1995, he died of complications from lymphoma, in Orlando, Florida. He was buried next to his parents at Woodlawn Memorial Park, and his plaque is marked "Bob Ross, Television Artist."
The terms of the incorporation of Bob Ross Inc. state that when any partner of the company dies, that person's stock will be equally divided amongst the remaining partners. The deaths of Bob and his second wife, Jane, led to Annette and Walt Kowalski gaining sole ownership of Bob Ross Inc. The Kowalskis reportedly tried to talk Ross into giving them the rights to his estate, but instead he cut them out of the will and left the estate as well as his "name, likeness, voice, and visual, written, or otherwise recorded work" to his son Steve and his half-brother, Jimmie Cox. The Kowalskis filed a lawsuit to try to get Bob's "art, all finished paintings, work copies used in the development of Bob Ross's finished paintings, and all paints, brushes, easels, canvases, and other supplies, materials and tools used by Bob Ross." They later sued for attorney fees, damages, lost profits, and other expenses. In 1997, the lawsuits were settled in the Kowalskis' favor, and after they retired in 2012, their daughter, Joan, took over Bob Ross Inc.
Bob's image has been spoofed on films and TV shows such as "Family Guy" and "Deadpool" as well as the web series "Epic Rap Battles of History." On what would've been Ross' 70th birthday, he was honored with a Google Doodle, and he is the subject of the board game "Bob Ross: The Art of Chill." In 2015, Twitch put on a nine-day "The Joy of Painting" marathon that was watched by 5.6 million viewers, and in 2016, Netflix began streaming "Beauty Is Everywhere," which consists of episodes from seasons 20–22 of "The Joy of Painting." The Kowalskis then launched a Bob Ross YouTube channel, which has more than 4.9 million subscribers as of this writing. In 2019, the Smithsonian National Museum of American History acquired a few of Bob's paintings, a stepladder he used on "The Joy of Painting," and two notebooks he used during the early years of the series. In 2020, "Magic: The Gathering" released a set of cards entitled "Happy Little Gathering" that featured Ross' paintings. In August 2021, the Netflix documentary "Bob Ross: Happy Accidents, Betrayal & Greed" was released, and Bob Ross Inc. subsequently issued a statement calling the documentary "inaccurate and heavily slanted."
All net worths are calculated using data drawn from public sources. When provided, we also incorporate private tips and feedback received from the celebrities or their representatives. While we work diligently to ensure that our numbers are as accurate as possible, unless otherwise indicated they are only estimates. We welcome all corrections and feedback using the button below.