Warren Buffett Net Worth
What is Warren Buffett's net worth?
Warren Buffett is one of the richest people in the world and arguably the best investor of all time. As of this writing, Warren Buffett's net worth is $113 billion.
Warren Buffett is considered by many to be the most famous and successful investor in history. If you had invested $10,000 with Warren Buffett in 1966, today you would have over $160 million! That same $10,000 invested in the S&P would be $140,000.
Warren Buffett has pledged to give away 99% of his net worth to charity before he dies. A large portion of that money will go to Bill Gates' foundation. Buffett's philanthropy has inspired other billionaires to pledge at least 50% of their net worth to charity in their lifetimes as well, a truly remarkable accomplishment.
Early Life
Warren Buffett was born on August 30, 1930, in Omaha, Nebraska. He is the second of three children and the only son of  Leila and Congressman Howard Buffett. Buffett began his education at Rose Hill Elementary School. Buffett developed his interest in business and investing at a young age. When he was 7, he was inspired by a book he borrowed from the library called "One Thousand Ways to Make $1000." Buffett started making his mark and his fortune when he was a pre-teen. When he was 10 years old, he had lunch with someone from the New York Stock Exchange and began setting his goals for his entire life. After that lunch, young Buffett knew that he wanted his life to revolve around money. A year later, when he was 11 years old, he bought his first stock. He had a paper route and used the money from that to buy some Oklahoma farmland. By the time he was a sophomore in high school, he was running a successful pinball machine business and had a net worth of roughly $6,000 – that's equivalent to $60,000 today.
In 1942, his father was elected to the first of four terms in the United States Congress, and after moving with his family to Washington, D.C., Warren attended Alice Deal Junior High School and graduated from Woodrow Wilson High School in 1947, where his senior yearbook picture reads: "likes math; a future stockbroker."
In 1947, Buffett enrolled at the Wharton School of the University of Pennsylvania. Warren studied there for two years and joined the Alpha Sigma Phi fraternity. He then transferred to the University of Nebraska and graduated with a Bachelor of Science in Business Administration. Buffett wanted to attend Harvard Business School but was denied admission. Buffett enrolled at Columbia Business School. He earned a Master of Science in Economics from Columbia in 1951.
Key Facts
Bought his first stock at 11
Was worth was the equivalent of $60,000 by the time he was 16
Still lives in a humble Omaha house he bought in 1956 for $31,500
Net worth first topped $1 million when he was 30
Earned 99% of his net worth after his 50th birthday
Net worth first topped $1 billion when he was 56
Has only ever sent one email
$1,000 invested with Buffett in 1964 would be worth $16 million today
Plans to donate the majority of wealth away to charity by the time he dies
Drinks five cans of Coca-Cola every day
Career
After graduating from Columbia, he went to work as an investment salesman for his family's company, Buffett-Falk & Co. He also taught a course on "Investment Principles" at the University of Nebraska-Omaha and purchased a gas station. The gas station failed, but his business acumen had caught the attention of Benjamin Graham, a well-respected businessman and investor, and one of Buffet's former professors. Buffett left Buffet-Falk & Co. to work as a securities analyst for the Graham-Newman Corp. While Buffett learned a great deal during his four years of working with Graham, he also realized he was more willing to take investment risks than his boss. When Graham retired and shuttered the business, Buffett took the nearly $174,000 (approx. $1.47 million today) he had saved while working for Graham-Newman and started Buffett Partnership Ltd. Over the course of the next three years, he grew his business from three partnerships to six. That number almost doubled over the course of the next two years, and by 1962, he was a bonafide millionaire.
After investing in, and eventually taking over, textile manufacturer Berkshire Hathaway, Buffett began an aggressive series of investments, takeovers, and restructuring moves that saw his assets increase exponentially. He also solidified his reputation as an investor to watch and follow. It seemed that everything he touched turned to gold. He had a knack for purchasing stock in wildly undervalued companies and riding the increase in their fortunes to ever-larger profits. In 1979, his company began trading at $775 and ended the year with shares worth $1310. By the early '80s, he was worth $620 million and had earned the nickname, the "Oracle of Omaha." He purchased stock in a wide range of businesses, including the Washington Post Company, Capital Cities, Salomon Brothers, and most successfully the Coca-Cola Company. By 1990, he was a billionaire, with shares of his company, Berkshire Hathaway, worth $7,175 each.
Warren Buffett is notorious for investing in products he actually uses. For example, he owns Fruit of the Loom because he enjoyed their shirts and underwear. Warren made headlines after his love of a specific brand of suit led him to invest in the Chinese firms Trands Co. He's not the only powerful guy sporting Trands: Former Chinese President Hu Jintao and billionaire Bill Gates are also big fans of the brand. The Oracle of Omaha and CEO of financial powerhouse Berkshire Hathaway also made a video commemorating the apparel company's 30th anniversary in 2015 and took the opportunity to gush about his nine Trands suits. The best part? Even though the cheapest Trands suit costs $880, Buffett hasn't paid a dime for his wardrobe though he claims he has asked for a bill.
Personal Life
In 1949, Buffett had a crush on a young woman named Susan Thompson whose boyfriend had a ukulele. In an attempt to compete, he bought his own ukelele and has been playing it ever since. Buffett and Thompson married in 1952. They had three children, Susie, Howard, and Peter. The couple began living separately in 1977 when Susan moved to San Francisco to pursue a singing career but remained married until her death in July 2004.
In 2006, on his 76th birthday, Buffett married his longtime companion, Astrid Menks, who was then 60 years old—she had lived with him since his wife moved to San Francisco. In fact, Susan arranged for the two to meet before she left Omaha. All three were close and Christmas cards to friends were signed "Warren, Susie, and Astrid."
He is a dedicated, lifelong follower of University of Nebraska football, and attends as many games as his schedule permits.
Warren Buffet doesn't have a computer on his desk. He also uses a flip phone rather than an iPhone or Android. He's also only sent one email in his entire life–to Microsoft's Jeff Raikes.
Buffett is a legendarily unhealthy eater and consumes a ton of Coca-Cola every single day. He has said: "If I eat 2,700 calories a day, a quarter of that is Coca-Cola. I drink at least five 12-ounce servings. I do it every day." Buffett has also been known to eat ice cream for breakfast.
In 2010, together with Bill and Melinda Gates, he formed The Giving Pledge, which asks the world's wealthiest people to dedicate the majority of their wealth to philanthropy
Wealth Details & History
Buffett's fortune comes thanks his 18% ownership interest in Berkshire Hathaway. Between 1965 and 2016, the share price of Berkshire increased on average 20.8%. Buffett owns nearly 300,000 Class A shares and almost 150,000 Class B shares of the company. He also owns more than two million shares of both Wells Fargo and Seritage Growth Properties, nearly 900,000 shares of U.S. Bancorp, and 9,000 more shares of IBM. Even with all of those holdings, his Berkshire Hathaway shares have been calculated to represent over 98 percent of his net worth. He also donates around five percent of that stock to charity each summer.
At age 21, Buffett had $20,000 ($199,175.93 today). He made his first million ($8.1 million today) when he was 30 years old. Five years later, at 35, Buffett had a net worth of $7 million ($53.3 million today). At 39, he had $25 million. At 47, he was worth $67 million. At 56, Buffett was a billionaire, worth $1.4 billion. And then his wealth really began to accumulate. By the time he was 66, Buffett was worth $17 billion. At 72, that had jumped to more than $36 billion. In 2016, Buffett added $12 billion to his already substantial fortune.
99% of Buffett's net worth was made after he turned 50 years old.
Real Estate
Buffett still lives in the modest five-bedroom house he bought in Omaha, Nebraska in 1956 for $31,500. Today, a house can be had in the same neighborhood for around $2 million.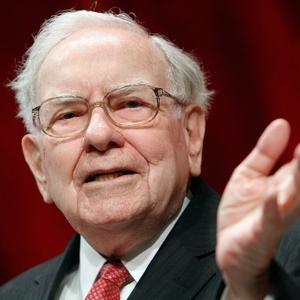 Warren Buffett
| | |
| --- | --- |
| Net Worth: | $113 Billion |
| Date of Birth: | 1930-08-30 |
| Gender: | Male |
| Height: | 5 ft 10 in (1.78 m) |
| Profession: | Investor, Entrepreneur, Businessperson, Financier |
| Nationality: | United States of America |
All net worths are calculated using data drawn from public sources. When provided, we also incorporate private tips and feedback received from the celebrities or their representatives. While we work diligently to ensure that our numbers are as accurate as possible, unless otherwise indicated they are only estimates. We welcome all corrections and feedback using the button below.