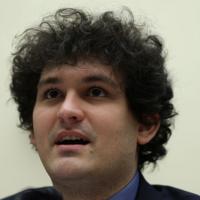 Sam Bankman-Fried Net Worth
| | |
| --- | --- |
| Net Worth: | $0 |
| Date of Birth: | Mar 6, 1992 (30 years old) |
| Place of Birth: | Stanford, California, United States |
| Profession: | Entrepreneur |
| Nationality: | United States |
What is Sam Bankman-Fried's Net Worth?
Sam Bankman-Fried is an American entrepreneur and CEO who has a net worth of $0. Also referred to as "SBF", Sam Bankman-Fried is best known for being the co-founder of the cryptocurrency exchange, FTX. He also founded Alameda Research, a firm that engages in quantitative cryptocurrency trading. Through Alameda Research SBF owns a 7.6% equity stake in the stock trading app Robinhood, which he acquired in May 2022 for $648 million.
At his peak, Sam Bankman-Fried was one of the richest people in cryptocurrency with a net worth that peaked at $25 billion in January 2022 after FTX raised $400 million at a $32 billion valuation. In total FTX raised $2 billion in private venture capital. Sam became a billionaire before his 30th birthday. During his time operating FTX, Bankman-Fried was praised by observers for avoiding many of the legal issues that rival exchanges have faced in the cryptocurrency world.
With all that said, there were concerns along the way that most of Sam's wealth was tied up in tokens and his ownership stake of FTX. Critics described his assets as "of speculative value" and "illiquid." In 2021, a screenshot of his digital wallet reportedly showed $10 billion in digital coins. However, it was also reported that $5 billion in coins were "locked" and not available for conversion. In addition, $4 billion of those coins were issued by FTX.
FTX Bankruptcy
Over the course of several days leading up to November 18, 2022, rumors swirled about FTX's liquidity. The rumors were spurred by one of SBF's rival crypto tycoons, Changpeng Zhao, known as CZ. On November 18, 2022 FTX, appearing to be on the verge of collapse, was forced to sell itself to CZ's company Binance for an undisclosed amount.
On November 11, 2022 FTX filed for bankruptcy and SBF stepped down from the company.
Early Life
Sam Bankman-Fried was born on March 6th of 1992 in Stanford, California. Raised by two professors at Stanford Law School, Sam became interested in utilitarianism at a young age. He also displayed a talent for mathematics and attended summer camps for gifted students during his high school years. After graduating, Sam attended the Massachusetts Institute of Technology and eventually graduated with a degree in physics. During his college years, Bankman-Fried blogged about topics such as sports, politics, and utilitarianism.
FTX
After gaining his physics degree, Bankman-Fried started working for a proprietary trading firm called Jane Street Capital. However, he quickly became dissatisfied with trading international EFTs and moved to Berkeley in 2017 to become the director for the Centre for Effective Altruism. In 2017, he founded Alameda Research, which specializes in quantitative trading.
In 2018, he took advantage of the fact that bitcoin was priced higher in Japan and organized an arbitrage trade to trade more than $25 in bitcoin every single day. In 2018, Sam also moved to Hong Kong, later founding FTX. This cryptocurrency derivatives exchange was officially founded in 2019, and it now owns about 90% of Alameda Research. FTX is now one of the leading exchanges for crypto derivatives trading, and it is "built by traders, for traders." Initially, FTX was relatively obscure, but it soon reached incredible heights over a space of about three years.
In 2021, FTX raised $900 million from companies like Coinbase Ventures and SoftBank, achieving an $18 billion valuation and helping Bankman-Fried become one of the richest people under the age of 30 in known history. This set a new industry record for fundraising, and it meant that FTX's valuation was 18 times higher than it had been about 1.5 years earlier. Sam owned around 60% of FTX.
Following its meteoric rise in 2021, FTX soon established marketing contracts with high-profile brands like Major League Baseball and the Miami Heat. In June 2021 the Miami renamed its home stadium the "FTX Arena" in a 19-year deal (that ended up lasting a bit more than one year). FTX reportedly paid $17.5 million upfront for the naming rights to UC Berkeley's stadium and $10 million for the right to have FTX branding around the Golden State Warriors' arena.
In late-January 2022 FTX raised $400 million at a $32 billion valuation.
As we described earlier, SBF's entire empire exploded into bankruptcy in November 2022.
Robinhood Investment
In May 2022, Sam revealed in an SEC disclosure that he had acquired 7.6% of the stock trading app Robinhood for $648 million.
Binance Takes Out FTX
Binance and FTX started out as friends. Binance was actually an early equity investor in FTX. When FTX eventually grew to be the second largest crypto exchange in the world, behind only Binance, Binance's founder CZ asked SBF to buy out the company's stake for $2 billion. FTX agreed and paid for the transaction in FTT, its proprietary token.
For whatever reason, perhaps sensing an opportunity to kill a competitor, on November 6, 2022, CZ tweeted that he was no longer comfortable with FTX's finances and he was going to dump all $2 billion of Binance's FTT holdings at once. Within a few hours the price of FTT dropped 20% and people began publicly worrying about FTX's liquidity. The price eventually slid as much as 60%. Two days passed and suddenly on November 8, SBF announced on Twitter that FTX had been acquired by Binance as a "strategic transaction." CZ followed up with a tweet in which he said "This afternoon, FTX asked for our help. There is a significant liquidity crunch." Terms were not disclosed.
Philanthropy and Politics

Before the fall, Bankman-Fried famously stated that he planned to give most of his fortune away to charities at some point. He joined organizations such as Giving What We Can, and while it was controlled by Sam, FTX gave 1% of its revenue to charity each year.
Sam has also been prolific when it comes to political donations. He personally donated $5.2 million to Joe Biden's election campaign in 2020. In the run up to the 2022 midterms Sam donated over $40 million to various Democratic candidates. He was the fifth largest source of individual donations in the cycle.
Personal Life
Sam is a vegan who sleeps about four hours each night. Most of the time, he sleeps on a bean bag chair directly next to his computer.
In the wake of the crumbling of FTX, it has been alleged that Sam and Alameda Research CEO Caroline Ellison were in a romantic relationship at times.
All net worths are calculated using data drawn from public sources. When provided, we also incorporate private tips and feedback received from the celebrities or their representatives. While we work diligently to ensure that our numbers are as accurate as possible, unless otherwise indicated they are only estimates. We welcome all corrections and feedback using the button below.