Pablo Escobar Net Worth
What was Pablo Escobar's net worth?
Pablo Escobar was a Colombian born drug kingpin who had a peak net worth of $30 billion dollars during his lifetime. When he was alive, Pablo Escobar ran one of the most infamous and violent drug cartels in history, The Medellin Drug Cartel. At the peak of its power, the Medellin cartel distributed 80% of the world's cocaine market. Along the way, Pablo and his cartel were responsible for thousands, possibly even tens of thousands, of murders. Many of these murders were innocent civilians.
Early Life
Pablo Emilio Escobar Gaviria was born in Rionegro, Colombia, on December 1, 1949. The third of seven children, Escobar was the son of farmer Abel de Jesus Dari Escobar Echeverri and teacher Hilda de Los Dolores Gaviria Berrio. He was raised in Medellin, where he is thought to have started his criminal career as a teen. He allegedly sold gravestones to resell to local muggers as well as selling counterfeit diplomas. Escobar studied at the Unidersidad Autonoma Latinoamericana for a short time but did not finish a degree. In the early seventies, Escobar ramped up his criminal activity with partner Oscar Benel Aguirre, running petty scams and selling contraband from fake cigarettes to fake lottery tickets. He earned $100,000 for kidnapping and holding a Medellin executive for ransom during this period.
Key Facts
Used to write off $500 million per year as "spoilage"
Once burned $2 million to stay warm while on the run
Offered Colombia $10 billion for a full pardon
Had earned $3 billion personally by 1987 which is around $8 billion today
At his peak supplied 80% of the world's cocaine
Smuggled 15 tons of cocaine in the US every day
Criminal Career
1975 was the year Pablo began his massive cocaine operation titled the Medellin Cartel. He owned over two dozen planes, including a Learjet and six helicopters, that he used to smuggle the drugs between Colombia, Panama, and routes across the United States. Escobar would buy cocaine paste in Peru which would then be sent to a laboratory to be refined and subsequently smuggled into plane tires. A pilot could make up to $500,000 USD per flight for smuggling the drugs. By the mid-eighties, the demand for cocaine was high in the United States and the Medellin Cartel was controlling 80 percent of the drug smuggled in; netting around $420 million a  week. The Cartel smuggled in over 15 tons per day.
Escobar himself already had a net worth of $30 billion and was one of the ten richest people on earth. At the height of his criminal career, he was seen as a hero to the people of Medellin, especially the poor, but at this time had begun to be hunted by the U.S. and Colombian governments. He had successfully won over Medellin citizens by putting on a facade of a "superhero": building sports fields and sponsoring children's football teams, constructing houses and distributing money through civic activities. Many citizens helped avoid Pablo avoid arrest by serving as lookouts and lying to the authorities.
Reign of Terror
Pablo's fame eventually turned into a reign of terror for his home country of Colombia. Escobar was elected to Congress of Colombia in 1982, but he could not keep his insane wealth and the reason for it a secret. He was forced to resign two years later, and the judge who revealed his background was later murdered. When he realized his dream of becoming president of Colombia would not come true, Pablo Escobar unleashed fury on his political enemies; he was responsible for the murders of thousands of politicians, journalists, civil servants, and many innocent bystanders.
Prison and Death
After Escobar's cartel assassinated Luis Carlos Galan, a liberal politician and journalist who had run for president on two occasions and was a major threat to the ongoing drug cartels, the government finally made serious moves to capture Escobar. He and the government negotiated a surrender and a deal to stop all criminal activity in exchange for a reduced sentence. Escobar surrendered to authorities in 1991.  By this point, there was no chance he would be extradited to the U.S. for his crimes as it had been prohibited by the new Colombia Constitution of 1991. Escobar was "jailed" in his own private luxury prison named La Catedral. The space was the height of luxury with a football pitch, a bar, Jacuzzi, and even a waterfall. He continued to run the Medellin Cartel from the inside, which prompted the government to move him to a conventional prison in July 1992. Pablo quickly escaped and remained on the run from a small army made up of Colombian drug police, DEA agents, and American special forces soldiers. He was shot and killed on the rooftop of an apartment complex in 1993. About 25,000 people made it to his funeral in Medellin, but Escobar's death was mostly a giant relief to his home country and the world.
Money/Wealth
When Pablo was alive and his cartel was thriving, he employed ten accountants to help launder hundreds of millions of dollars in illicit currency. He reportedly spent $2500 a month just on rubber bands to wrap all the money. That's enough to buy 250,000 rubber bands every month. Because much of the money was being stored in basements and walls, Pablo was supposedly forced to write off $500 million in cash every year due to spoilage. Spoilage could include water damage and fires, but more common was starving rats that ate the money thinking it was food. At one point while Pablo was on the run, he offered to pay off Colombia's entire national debt, totaling more than $10 billion, if they passed a law to make extradition illegal.
Forbes Magazine first peg Pablo's wealth at north of $1 billion in 1987 as part of their inaugural list of international billionaires. In that profile, Pablo's personal earnings to that point were estimated at $3 billion. That's the same as around $8 billion in today's dollars after adjusting for inflation. He made the list of of world's billionaires every year for the next seven years.
In the early 1980s, Pablo paid Panamanian leader/General Manuel Noriega an estimated $350 million to stash billions of dollars in the country's banks. When that relationship soured and Pablo's money was frozen, the cartel reportedly put a $1 million contract out on Noriega's life.
Personal Life
Escobar married 15-year-old Maria Victoria Henao in March 1976, when he was 26 years old. Naturally, the relationship was frowned upon by her family and the pair secretly eloped. They had two children: son Juan Pablo, who later changed his name to Sebastian Marroquin, and daughter Manuela. Pablo is reported to have had multiple affairs throughout the marriage.
Pop Culture
Pablo Escobar's life has spawned many books, films, and TV shows chronicling his career in cocaine. Perhaps most notably, Netflix's Narcos was released in August 2015 and chronicles the hunt for Escobar. Large-budget films such as 2001's Blow, Escobar, and American Made also graced the big screen. Pablo owned four hippos at the time of his death, by 2007 the animals had multiplied to 16. National Geographic produced a documentary about them, titled Cocaine Hippos.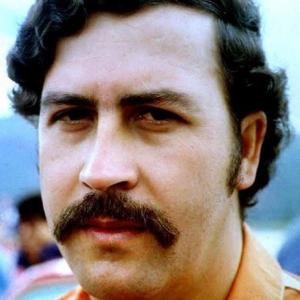 Pablo Escobar
| | |
| --- | --- |
| Net Worth: | $30 Billion |
| Date of Birth: | Dec 1, 1949 - Dec 2, 1993 (44 years old) |
| Gender: | Male |
| Height: | 5 ft 5 in (1.66 m) |
| Profession: | Drug lord |
| Nationality: | Colombia |
All net worths are calculated using data drawn from public sources. When provided, we also incorporate private tips and feedback received from the celebrities or their representatives. While we work diligently to ensure that our numbers are as accurate as possible, unless otherwise indicated they are only estimates. We welcome all corrections and feedback using the button below.