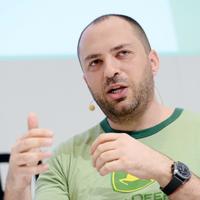 | | |
| --- | --- |
| Net Worth: | $13 Billion |
| Date of Birth: | Feb 24, 1976 (46 years old) |
| Place of Birth: | Kyiv, Ukrainian SSR, Soviet Union |
| Profession: | Businessman, computer engineer |
What is Jan Koum's Net Worth and Salary?
Jan Koum is a Ukrainian-born internet entrepreneur who has a net worth of $13 billion. Jan Koum earned his fortune as the co-founder and former CEO of the popular messaging service WhatsApp. Koum and his co-founder Brian Acton sold WhatsApp to Facebook in February 2014 for $19 billion in cash and stock.
In April 2018 Jan announced his intention to leave Facebook and step down from the company's board of directors. Up to that point he had already converted a little more than $7 billion worth of Facebook shares into cash. At the time of his announcement it was reported that he would be forfeiting around $1 billion worth of shares by departing. In fact, Jan stayed at the company for another five months, vesting a little more than half of that reported $1 billion. When he did finally leave the company, he did indeed leave $450 million worth of shares on the table.
Early Life
Jan Koum was born on February 24th of 1976 in Kyiv, Ukraine, which, at the time, was part of the Soviet Union. He grew up near Kyiv in the city of Fastiv. In 1992, when Jan was 16, he immigrated to Mountain View, California, with his mother and grandmother. A social support program helped the family move into a small, two-bedroom apartment.
Koum's father intended to join the family later, but he ended up never leaving Ukraine. At first, Jan's worked as a cleaner at a local grocery store while his mother worked as a babysitter. Jan and his mother relied on food stamps from a local welfare office to get by.
By the time he turned 18, Koum was fascinated by programming. He entered San Jose State University and worked as a security tester at Ernst & Young, where he met Brian Acton. Jan also joined a group of hackers called w00w00, where he met the future founders of Napster.
Yahoo
In late 1997, Koum was hired as an infrastructure engineer for Yahoo! Shortly after, he quit school to work full-time. Jan became good friends with Brian Acton, who also worked for Yahoo! After nine years of working for the company, the two spent a year traveling around South America together. They applied to work at Facebook together, and they were both rejected.
WhatsApp
In 2009, Koum purchased an iPhone and realized the App Store was on the verge of releasing a whole new app industry. Jan had an idea for an app, so he visited his friend Alex Fishman, and they spoke for hours about Koum's idea. He named the app WhatsApp because of its similar sound to "what's up." One month later, Jan incorporated WhatsApp Inc. in California.
At first, WhatsApp was unpopular. But it began to be used more frequently after Apple gave apps the ability to use push notifications in 2006. Koum made WhatsApp "ping" users when they received a message, and soon after, his friends in the area began using the app in place of SMS. Jan's app began to gain a large user base, and he convinced his friend Brian Acton to join the company. Koum offered Acton co-founder status after Acton brought in $250,000 in seed funding.
In February of 2014, Jan allowed Facebook to acquire WhatsApp for $19 billion. Jan famously took the un-signed paperwork to the same welfare office where he and his mom had to rely on when he was a kid. In the ultimately act of perseverance, Jan signed the acquisition paperwork on the door of the welfare office.
In the first half of 2016, Koum sold more than $2.4 billion worth of Facebook stock.
In 2018, Jan left WhatsApp and stepped down from Facebook's board of directors. At first, people speculated that Koum had forfeited a $1 billion stock when he left Facebook; however, it was later determined he was still technically employed by Facebook and earning $450 million in stock.
Real Estate

Jan has come a long way from the modest home he grew up in back in Ukraine. That home did not have hot water or heat. When he moved to California with his mother, they shared a small two-bedroom apartment. She cleaned houses and he swept floors at the local grocery.
Today Jan owns around $450 million worth of real estate in California alone.
In Northern California Jan owns a $100 million compound in the town of Atherton. To create the compound he spent $57 million over a four year period to acquire 5.6-acres of the most prime and most expensive real estate in the US. He proceeded to raze all the existing structures to make way for his massive custom compound. He reportedly spent $20 million on the site's new structures.
He also still owns his first Atherton home, a 3,700 square foot abode purchased in 2015 for $8.8 million
Down in Malibu, Jan owns around $200 million worth of real estate.
In August 2019, Jan paid $100 million for a 14,400 square-foot home on a clifftop bluff above Malibu's Escondido beach. The seller of this home was entertainment executive Ron Meyer.
In February 2021, Jan paid $87 million for the home next door. The second home spans three-acres and features a single-story main house with five bedrooms, vaulted ceilings, herringbone hardwood flooring, and floor-to-ceiling windows that open onto a vast garden. In addition to the main house, there is a guesthouse, a garden house, and an oceanfront cabana with retractable ceilings, a wet bar, and a built-in barbecue and fire pit. In the 1980s, musician Kenny Rogers owned the home. Kenny installed a "funicular" to the beach (basically a sideways elevator) without a permit. When the town found out, Kenny was forced to pay $2 million in fines. The seller in Jan's case was reality star Sanela Diana Jenkins.
In September 2020 Jan paid $125 million for Jeffrey Katzenberg's Beverly Hills mansion.
Car Collection
Jan's primary home in Atherton has a 10,000 square foot garage. Jan is an avid car collector, especially Ferraris and air-cooled Porsches. In that garage he keeps a collection of cars that includes a Ferrari F12berlinetta, a Ferrari F12tdf and several other Ferraris new and old. He also owns a nearby warehouse where he stores additional models in his car collection.
All net worths are calculated using data drawn from public sources. When provided, we also incorporate private tips and feedback received from the celebrities or their representatives. While we work diligently to ensure that our numbers are as accurate as possible, unless otherwise indicated they are only estimates. We welcome all corrections and feedback using the button below.