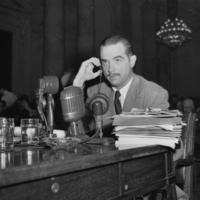 | | |
| --- | --- |
| Net Worth: | $11 Billion |
| Date of Birth: | Dec 24, 1905 - Apr 5, 1976 (70 years old) |
| Place of Birth: | Humble |
| Gender: | Male |
| Height: | 6 ft 3 in (1.92 m) |
| Profession: | Entrepreneur, Engineer, Pilot, Investor, Film Producer, Film director, Philanthropist, Inventor |
| Nationality: | United States of America |
What was Howard Hughes' Net Worth?
Howard Hughes was an American business tycoon, film director and producer, aviator and engineer who had a net worth of $2.5 billion at the time of his death in 1976. After adjusting for inflation, that's equal to $11 billion in today's dollars. Howard Hughes used a fortune he inherited when his father died to launch a career directing and producing of hit films such as "The Outlaw," "Scarface," "Hell's Angels" and "The Racket." The first two films he ever made were "Arabian Nights and "Everybody's Acting". Both were big hits.
Howard Hughes was  known for both his incredible financial success and his later eccentric, reclusive lifestyle.
He founded Hughes Aircraft Company in 1932, the Hughes Helicopters Division in 1947 and Hughes Aerospace Group in 1948. Howard also took over a controlling interest in TWA airlines in 1939. He purchased the airline Air West in 1970 and changed the name to Hughes Airwest.
Hughes personally set many world records as a pilot and aircraft engineer. He built the Hughes H-1 Racer while running Hughes Aircraft, which was donated to the Smithsonian in 1975 and then put on display at the National Air and Space Museum. He was also one of the people who helped design and fund the building of The Boeing 307 Stratoliner and the Lockheed L-049 Constellation.
He also owned hotels, casinos, and numerous other pieces of real estate in Las Vegas. Hughes passed away from kidney failure in 1976 after years of physical and mental deterioration.
Estate Battle
At the time of his death, Howard left behind an estate valued at $2.5 billion. That's the same as $11 billion in today's dollars. Over 400 people came forward to claim part of his will. Several different wills were produced, including one that left $150 million to a gas station attendant in Nevada who supposedly drove a lost and disheveled Howard back to the Desert Inn one night. The Mormon church claimed a large stake in Howard's will. After several angry lawsuits, a judge finally declared that Howard died without a valid will and therefore split his fortune up among 22 cousins.
Legacy
Howard's name and inventions still live on to this day. Upon his death, he donated all of his stock in the Hughes Aircraft to form The Howard Hughes Medical Institute (HHMI) in Chevy Chase, Maryland. In 1985, the HHMI sold all of its stock in Hughes Aircraft to General Motors for a tax-free $5.2 billion in cash and stock. This instantly turned HHMI into one of the largest private foundations in the world. The HHMI is one of the largest non-governmental funding organizations in the world for medical and biological research. Today HHMI's endowment is $17 billion.
Howard Hughes famously suffered from obsessive-compulsive disorder. He had reached a point where he had difficulty making decisions and would lock himself up for days, and months at a time, living on nothing other than chocolate candy and milk. He insisted no one speak to him unless requested, and no one was to look at him. He continued to let himself go and wasn't at all concerned about personal hygiene. All he wanted was to be left alone to watch movie after movie while sitting naked in his chair.
When Howard Hughes passed away, authorities were not initially even sure it was him. Howard's constant drug use and his debilitating state wreaked havoc on his body and appearance. His physical condition was so bad that he only weighed around 90 pounds. An autopsy confirmed that Howard Hughes died of kidney failure. Doctors found five hypodermic needles that had broken off in his arms and legs. He was buried in Houston, Texas at the Glenwood Cemetery.
Early Life
Howard Hughes was born on Christmas Eve in 1905 in Houston, Texas to Howard Sr., a businessman and inventor, and Allene. He demonstrated a passion for science at an early age, building a wireless radio transmitter when he was only 11. At the age of 12, Hughes built a bicycle using pieces of his father's steam engine; at 14, he had his first flying lesson. For his education, he went to the Fessenden School in Massachusetts, and then to the Thacher School in Ojai, California. Hughes went on to take math and aeronautical engineering classes at Caltech.
In 1922, Hughes' mother passed away from an ectopic pregnancy. His father passed away two years later from a heart attack. Following this, Hughes inherited 75% of his family's fortune, and became an emancipated minor.
Hollywood Career
Hughes made his first foray into the motion picture industry in 1926, when he produced the short comedy film "Swell Hogan." However, the film ended up being a disaster, and never saw the light of day. Hughes had better success with the next two films he produced, "Everybody's Acting" and "Two Arabian Knights." He also had a hit with "The Racket," released in 1928. In 1930, Hughes made his directorial debut with the epic war film "Hell's Angels," which he spent millions to make; ultimately, it was unable to make back its budget. He went on to produce the hit films "The Front Page" and "Scarface."
In 1948, Hughes took control of the floundering Hollywood studio RKO. He was unable to bring it back to profitability, with production declining to nine films during his first year. Subsequently, production shut down for six months; paranoid, Hughes demanded investigations of the political affiliations of the studio's remaining employees. Later, in the early 50s, after coming under fire for alleged corporate mismanagement and financial malfeasance by RKO's minority shareholders, Hughes offered to buy out all the other shareholders. He went on to acquire near-total control of RKO, which he soon sold to the General Tire and Rubber Company.
Aviation
A lifelong aerospace and aviation enthusiast, Hughes formed the Hughes Aircraft Company, a division of Hughes Tool Company, in 1932. Both during and after World War II, he turned the company into a defense contractor, starting the Hughes Helicopters division and the Hughes Aerospace Group. Hughes spent the remainder of the 1930s and a large portion of the 1940s setting numerous world airspeed records as a pilot. Notably, he set a new record for the fastest flight around the world, at 91 hours; he and his crew were given the Collier Trophy and Harmon Trophy for their achievement. Hughes also commissioned the H-1 Racer, with which he set another airspeed record. Among his other notable aircraft was the H-4 Hercules, also known as the Spruce Goose, which was the largest flying boat ever made.
As a pilot, Hughes weathered multiple major crashes. The first was in a Thomas-Morse Scout on the set of "Hell's Angels." Later, while setting a new airspeed record over his California test course, he crashed again. Hughes had subsequent accidents in 1943 at Lake Mead and in 1946 in Beverly Hills. The latter accident was almost fatal, with Hughes' XF-11 destroying three homes before bursting into flames. He suffered serious injuries, including cracked ribs, burns, and a collapsed lung. While recovering in the hospital, Hughes designed a new, pain-allaying bed that became the prototype for the modern hospital bed.
Airline Purchases
At the urging of Transcontinental & Western Airlines president Jack Frye, Hughes started to buy a majority share of TWA stock in 1939. About five years later, he had controlling interest in the company, which was eventually renamed Trans World Airlines. Hughes did many historic things while at TWA, including making a record-breaking $18 million order of 40 Lockheed Constellation airliners, among the best-performing commercial aircraft at the time. Additionally, he helped to usher in an era of nonstop transcontinental flights. Hughes ran into trouble, however, when he struggled to come up with cash to pay for his exorbitant orders. He also refused to take the advice of board member Noah Dietrich, creating tension between the two. Hughes was finally forced out of TWA management in 1960 while still owning a majority of the company; six years later, he was forced to sell his shares.
In 1962, Hughes took control of the Boston-based Northeast Airlines. He subsequently sold it to a trustee two years later. In 1970, Hughes acquired the San Francisco-based Air West, rechristening it Hughes Airwest. The company merged into Republic Airlines in 1980, which was subsequently merged into Northwest Airlines and then Delta Air Lines much later.
Real Estate
A major real estate owner, Hughes purchased 1,200 acres in Culver City, 4,480 acres in Tucson, and 25,000 acres just outside of Las Vegas. Later in his life, he expanded his financial empire to encompass hotels, casinos, media outlets, and various other real estate in the Las Vegas area, spending an estimated $300 million to do so. Hughes owned such notable properties as the Desert Inn, the Sands, the Silver Slipper, the Landmark, and the Castaways.
Relationships
Hughes was involved in numerous romantic relationships with famous women, including but not limited to actresses Joan Crawford, Katharine Hepburn, Bette Davis, Gene Tierney, Janet Leigh, Ginger Roger, Olivia de Havilland, Ava Gardner, and Hedy Lamarr. He also married twice, first in 1925 to Ella Botts Rice, whom he divorced in 1929, and later to actress Jean Peters, to whom he was married from 1957 to 1971.
Later Years and Legacy
Throughout his life, Hughes struggled with OCD and unpredictable mood swings. By the late 50s, he started to become reclusive, and at one point, remained in a darkened screening room for over four months without leaving. Following this, Hughes moved into a room at the Beverly Hills Hotel, where he sat watching movies. His condition was compounded by the residual pain of his many aircraft injuries, causing him to develop an addiction to codeine. Hughes continued to stay out of the public eye, transitioning between various hotels in cities including Boston, Freeport, and Vancouver. In 1976, Hughes was reported to have passed away aboard a plane en route to a Houston hospital. A later autopsy revealed kidney failure as the cause of death; he was 70 years of age.
Hughes' legacy is carried on through the Howard Hughes Medical Institute, which he founded in 1953 for the purposes of biomedical research. Meanwhile, Hughes continues to be a popular subject in the media, with numerous films, television programs, books, and songs about his life.
All net worths are calculated using data drawn from public sources. When provided, we also incorporate private tips and feedback received from the celebrities or their representatives. While we work diligently to ensure that our numbers are as accurate as possible, unless otherwise indicated they are only estimates. We welcome all corrections and feedback using the button below.