Category:

Net Worth:

$6 Billion

Date of Birth:

1959 (65 years old)

Place of Birth:

Cincinnati

Gender:

Male

Profession:

Entrepreneur, Businessperson

Nationality:

United States of America
💰

Compare Henry Nicholas' Net Worth
What is Henry Nicholas' Net Worth?
Henry Nicholas is an American businessman and entrepreneur who has a net worth of $6 billion. Henry Nicholas earned his fortune as the co-founder and former co-chairman, President and CEO of semiconductor/software conglomerate, Broadcom Corporation. He is a philanthropist and staunch leader of the victim's rights movement.
Unfortunately Henry is also notable for some personal controversies that include an August 2018 arrest in Las Vegas when a suitcase full of drugs and an unresponsive woman were found in his hotel room, and a Southern California mansion where he allegedly hosted drug and prostitute orgies. More info on these controversies later in this article.
Early life
Henry Thompson Nicholas, III was born in Cincinnati, Ohio. After his parents divorced, he moved with his mother to Santa Monica, California. After high school he enrolled at the U.S. Air Force Academy but dropped out after three years when it became clear that his height – Henry stands is 6 foot 6 – would prevent him from ever being a pilot.
After leaving the Air Force Academy he enrolled at UCLA where he eventually earned a degree in Electrical Engineering. He then went to acquire an MS and Ph.D. in Electrical Engineering from UCLA.
Broadcom
After college, Henry took a job at business conglomerate TRW. It was at TRW where Henry Nicholas met Dr. Henry Samueli, who would become his business partner later in life. Henry's next career stop was PairGen Technologies, where he served as the director of Microelectronics.
It was in 1991 that he left his post at PairGen to co-found Broadcom Corporation with Samueli. They both invested $5,000 to launch the company. The business partners took their semiconductor company public in 1998, and over time it grew into an electronic manufacturing powerhouse. Broadcom reached $1 billion in revenue faster than any US semiconductor company in history.
By 2011, the company's revenues reached $7.4 billion. In 2016 Broadcom was acquired by Avago Technologies for $37 billion.
Philanthropy
Beyond his corporate achievements, Nicholas has distinguished himself through extensive philanthropic efforts. He established the Henry T. Nicholas, III Foundation, which supports education, youth sports, technology, and victims' rights. Notably, Nicholas was instrumental in the passage of Marsy's Law, named after his sister, Marsalee Nicholas, who was tragically murdered in 1983. The law enhances legal rights and protections for victims of crimes. Nicholas' philanthropic initiatives continue to have a profound impact on numerous individuals and communities.
Personal Life
Henry married his first wife Stacey from 1987. They had three children. As we detail in the next section, at some point during their marriage Henry started spending a lot of time at his man cave where he allegedly hosted prostitutes and consumed drugs. In May 2002 Stacey reportedly caught Henry red-handed cheating on her with a prostitute and soon after filed for divorce.
Henry owns at least two private jets, a 1999 Cessna C550 Citation and a 1993 Gulfstream IV.
Controversies
In 2008, he was indicted on charges of securities fraud and drug distribution. These charges stemmed from allegations of improper backdating of stock options at Broadcom and accusations of drug use and distribution. Nicholas pleaded not guilty to these charges, and in 2010, the case was dismissed by a federal judge due to prosecutorial misconduct.
Henry Nicholas famously spent more than $30 million renovating his house in Southern California. The final version of the house featured an underground man cave that some have described as a private sex dungeon. A construction worker who viewed the cave described it as being a parlor with six coaches designed in a far east motif with rugs, sports bar, gym, recording studio, large statues, fully-stocked bar, a back bedroom and a six-person Jacuzzi.
The warehouse lair was soon given the name "The Ponderosa" or "The Pond" as regulars came to call it. Visitors entered through a secret passageway that opened up to a large room decorated in red and gold. Nicholas allegedly supplied visitors with copious amounts of drugs and prostitutes.
When neighbors complained about the construction, Nicholas moved his dungeon to a warehouse nearby.
Not long after his first wife filed for divorce,  government prosecutors filed indicted him on securities fraud. Those charges were eventually dismissed.
In mid-2008 Henry spent a period at a Malibu rehab center that reportedly cost $66,000 per month.
Las Vegas Arrest
In August 2018, Henry Nicholas and a female companion were arrested in Las Vegas after hotel security found an unconscious woman (his companion) in their villa room with a suitcase full of drugs. At around 10pm one night at the Encore hotel, security was called to a help Henry access his room after he had been locked-out. After entering the room, security saw an unresponsive woman with a deflated balloon in her mouth. Paramedics were called and successfully revived the woman. When police arrived they searched two suitcases and discovered the bags were full of drugs. Specifically MDMA, Meth, cocaine AND heroin. Here are their respective mug shots: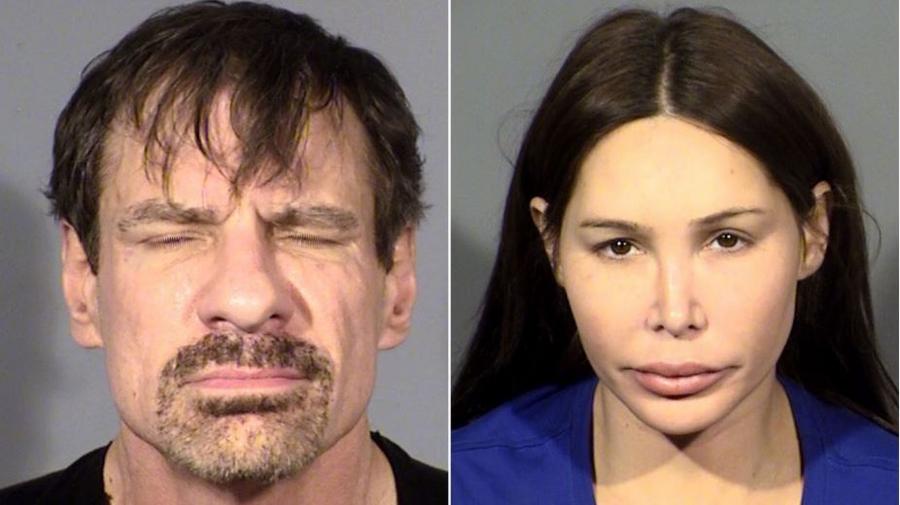 In July 2019 Henry entered an Alford plea to two counts of drug possession to settle the Las Vegas charges. In an Alford plea the defendant maintains their innocence but admits theirs evidence that could prove guilt. As a result of the plea, drug trafficking charges were dropped and Henry agreed to attend drug counseling twice a month for a year, perform 250 hours of community service and donate $500,000 to state-approved drug treatment center.