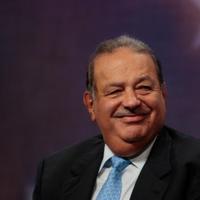 Carlos Slim Helu Net Worth
| | |
| --- | --- |
| Net Worth: | $80 Billion |
| Date of Birth: | Jan 28, 1940 (82 years old) |
| Place of Birth: | Mexico City |
| Gender: | Male |
| Height: | 5 ft 8 in (1.73 m) |
| Profession: | Entrepreneur, Businessperson, Financier |
| Nationality: | Mexico |
What is Carlos Slim Helu's Net Worth?
Carlos Slim Helu is a Mexican businessman who has a net worth of $80 billion. Carlos Slim Helu is the richest person in Mexico and one of the richest people in the world. His businesses largely focus on the telecommunications industry in Mexico, and he is known as one of the richest people in the world.
Early Life
Carlos Slim Helu, often known as Slim, was born in Mexico City on January 28, 1940. His parents, Julian Slim Haddad (born Khalil Salim Haddad Aglamaz) and Linda Helu Atta, were Maronite Christians from Lebanon. As a child growing up, he received many lessons from his father on business-related topics such as finance, management and accounting. His father also taught him practical skills such as how to read financial statements and maintain accurate financial records.
Aged eleven, Slim invested in a government savings bond, which is where he learned about compound interest. He purchase his first stock when he was twelve, and was a shareholder in Mexico's largest bank by the time he was fifteen. As a teenager, he worked for his father's company, earning 200 pesos a week. Eventually, he studied civil engineering at the National Autonomous University of Mexico.
Business Career
Slim's business career began when he took a job as a stock trader in Mexico following his graduation from university. By 1965, his private investments had made profits of $400,000, which he used to start the stock brokerage Inversora Bursatil. With his 1965 purchase of Jarritos del Sur., he began laying the groundwork for what would eventually become the conglomerate Grupo Carso. He founded Inmobilaria Carso in 1966, which was estimated to be worth $40 million at the time.
He continued to focus on expanding his business into numerous industries such as auto parts, aluminum, airlines, chemicals, tobacco, paper and packaging, tires, retail, and hotels, among others. He particularly focused on acquiring companies in the construction, soft drink, printing, real estate, bottling and mining industries. By 1972, he had acquired seven businesses in these categories, and by 1976 he had also acquired a 60% share of cigarette label-printer Galas de Mexico for $1 million. He formed all of these interests under the parent company Grupo Galas in 1980.
Utilizing the strategy of buying at an undervalued price and eventually selling his stake for a profit after it gains value, or just hanging onto it for cash flow in the meantime, Slim was able to invest heavily and buy up large percentages of many businesses during the Mexican economic downturn of 1982-1985. He merged his companies Corporacion Industrial Cardo and Grupo Inbursa into the massive conglomerate Grupo Carso in 1990. He continued to acquire ownership or stakes in companies, most notably making a massive profit when Grupo Carso acquired Telmex from the Mexican government after Mexico privatized its telecom industry in the early 1990s.
Slim shifted his focus to American businesses in the 2000s, when he began purchasing large stakes in several major US retailers such as OfficeMax, Circuit City, and Barnes & Noble. During the 2008 global financial downturn, he also acquired a 6.4% stake (valued at $27 million) in the New York Times Company, increasing his stake to 8% by 2012, and again to 16.8% of the company's Class A shares in 2015. This makes him the largest shareholder in the company.
Slim has a substantial influence over the telecommunications industry in Mexico and much of Latin America. He controls Telefonos De Mexico, TelCel, and America Movil. He has also expanded his telecommunications empire overseas, with a 2014 acquisition of Telekom Austria. In recent years, he has also made a number of investments in various technology-related ventures. For example, Grupo Carso launched the online music service Claro Musica in January 2015, as a Latin American equivalent/competitor to services such as iTunes and Spotify. America Movill also invested $40 million in British mobile phone-based musical identification service Shazam in 2013.
Furthermore, Slim's real estate holding company Inmobiliaria Carso owns over 20 shopping centers, including ten in Mexico City. It also develops, owns and operates numerous residential and commercial properties across Mexico. Not only does Slim invest in real estate, but he is also in the business of managing Mexican prisons, which he began in April 2013, in an effort to expand his investments in his construction-finance company, which also includes other infrastructure assets like toll roads, hydroelectric dams and water treatment plants in its portfolio.
Richest Person In The World
On August 8, 2007 Fortune Magazine reported that Slim had surpassed Bill Gates in total wealth. This marked the first time in 16 years that the wealthiest person in the world had not been from the United States, the Middle East, or Europe and was from an emerging economy. Gates' fortunes eventually climbed back until 2010 when Carlos took over yet again, Between 2010 and 2013 Carlos and Bill trading the top spot on a regular basis.
Personal Life

Slim was married to Soumaya Domit from 1967 until her death in 1999. Together, they had six children: Carlos, Marco Antonio, Patrick, Soumaya, Vanessa, and Johanna. He has not remarried since his wife's passing. His three older sons serve in key positions in the companies controlled by Slim, and are very active in the day-to-day running of the family's business empire.
Real Estate
Slim has resided in the same 6-bedroom home for over forty years, in the Lomas de Chapultepec district of Mexico City. He has many private real estate investments around the world, including around 8 acres of real estate in Beverly Hills, the Duke Seamans mansion in New York City (which he bought for $44 million in 2010), a second mansion in New York City at 10 W. 56th St., and the Marquette Building in Detroit.
Net Worth Details
Slim holds a 57 percent stake in the mobile phone giant America Movil. He also holds large stakes in the banking and insurance company Grupo Financiero Inbursa and holding company Grupo Carso, and other stakes in companies including Minera Frisco and the New York Times. Even though he has transferred stakes to his six children, Slim is the patriarch of the family fortune and gets the credit for their billions. Over the past decade he has earned more than $7 billion in dividends alone.
All net worths are calculated using data drawn from public sources. When provided, we also incorporate private tips and feedback received from the celebrities or their representatives. While we work diligently to ensure that our numbers are as accurate as possible, unless otherwise indicated they are only estimates. We welcome all corrections and feedback using the button below.