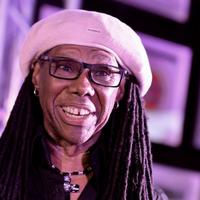 | | |
| --- | --- |
| Net Worth: | $200 Million |
| Date of Birth: | Sep 19, 1952 (70 years old) |
| Place of Birth: | New York City |
| Gender: | Male |
| Profession: | Record producer, Songwriter, Composer, Musician, Guitarist, Businessperson, Film Score Composer, Music Arranger |
| Nationality: | United States of America |
What is Nile Rodgers' Net Worth?
Nile Rodgers is an American producer, songwriter, and singer who has a net worth of $200 million. Nile has made an astounding contribution to the world of music as a performer, writer, and producer. He regularly collaborates with other major artists, and he has worked on various albums that have collectively sold more than 500 million units worldwide. In addition, he is credited on numerous singles that have sold over 75 million units worldwide. In recognition of his achievements, Rodgers has won several awards, including 3 Grammys. In 2017 he was inducted into the Rock and Roll Hall of Fame.
In the 1970s, as a founding member of the band Chic, Nile and bassist Bernard Edwards pumped out hit after hit, notably "Everybody Dance", "Good Times" and "Le Freak". Over the next few decades, their songs would be sampled and covered countless times. They were especially popular to sample in hip hop music, being sampled by the likes of the Notorious B.I.G., Pitbull and even Will Smith.
In the 1980s and 90s Nile transitioned to a producer, working with artists like David Bowie, Michael Bolton, Madonna and Diana Ross. In 1974 he produced Madonna's breakout album "Like a Virgin." In 2013, Nile produced the song "Get Lucky" with Pharrell Williams for Daft Punk. The track sold 9 million copies and earned him three Grammys.
Niles makes more money every year from his back catalogue royalties alone, than most current popular artists earn in an average year of touring and producing brand new music.
Some notable songs written by Nile for other artists include:
"We are Family" by Sister Sledge
"Upside Down" by Diana Ross
"The Reflex" by Duran Duran
"Let's Dance" by David Bowie
Early Life
Nile Gregory Rodgers Jr. was born on September 19th of 1952 in New York City. His mother was only 13 years old when she gave birth, and Nile rarely saw his birth father (a percussionist) before he passed away in 1970. His birth mother eventually remarried, and both partners subsequently became addicted to heroin. As a result of this troubled upbringing, Nile became addicted to drugs at the age of 13.
During his childhood, Rodgers learned how to play a number of musical instruments, including the clarinet and the flute. It wasn't until the age of 16 that he picked up his first guitar, and he quickly started playing with a number of different bands as a teenager. During his teen years, he also became a member of the Black Panthers political movement. His cousin, Robert Mickens, eventually joined the band Kool and the Gang.
Career
Rodgers' career took a major step forward in 1970 when he linked up with Bernard Edwards, a bassist. They formed The Big Apple Band and subsequently worked as a backing band for the vocal group New York City. In 1973, New York City released their one notable hit: "I'm Doin' Fine Now." The success of this single allowed Rodgers and Edwards to tour extensively with New York City, and they performed alongside The Jackson 5. After the success of their big hit faded away, The Big Apple Band and New York City went their separate ways. Edwards and Rodgers then linked up with drummer Tony Thompson and formed a rock group called The Boys.
In 1977, the group changed their name to Chic and developed a unique sound that fused elements of jazz, soul, and funk. Their songs became popular within the disco movement, and one of their first major hits was "Dance, Dance, Dance." Atlantic Records saw the success of this single and promptly offered Chic a record deal. The result was a self-titled album later in 1977. Several top-ten hits on this album helped popularize the disco movement, including "Le Freak," which became a triple-platinum single. Other notable singles from this album included "Good Times," which reached the top spot on the charts.
Because these hits were so successful, Atlantic asked Rodgers and Edwards whether they'd like to produce albums by other artists on their roster. They subsequently chose to produce the album "We Are Family" by Sister Sledge. The album proved to be a massive success, and the single "He's The Greatest Dancer" charted extremely well. However, the disco era came to an end not long afterwards, and suddenly this style of music just wasn't cool anymore. Rodgers and Edwards weren't sure how to proceed as a result, and Rodgers started taking copious amounts of drugs.
However, they continued to work with Atlantic throughout the early 80s, including "Believer," which was Chic's last entry under the record label. Edwards and Rodgers also produced Diana Ross' album "Diana," which featured the hit "I'm Coming Out," and Deborah Harry's album "Koo Koo." Over the next period, Chic's hit song "Good Times" became one of the most sampled singles of all time, with The Sugarhill Gang, Queen, and Blondie all taking cues from the track's famous beat. By the end of this period, Chic broke up and Rodgers released his first solo album, "Adventures in the Land of the Good Groove."
Now that Nile was free from his obligations to Chic, he was able to collaborate with a range of other artists. One of his most notable moments was when he produced the album "Let's Dance" by David Bowie. He also worked with INXS, producing their single "Original Sin." In 1984, he produced Madonna's iconic album "Like a Virgin," which became extremely successful. Duran Duran also enlisted the aid of Rodgers on albums such as "Notorious." In 1985, he worked with artists such as Mick Jagger and Jeff Beck before performing live with Madonna. In addition to recording, he continued to work as a recording artist on tracks like Steve Winwood's "Higher Love" and albums by Cyndi Lauper.
Towards the end of the 80s, Rodgers produced the multi-platinum album "Cosmic Thing" by the B-52s. He then produced Diana Ross' comeback tune "Workin' Overtime" before shifting his focus towards film. He produced soundtracks for films like "Gremlins," "White Nights," and "The Fly," and he also composed his first orchestral score for the Eddie Murphy film "Coming to America." Over the next period, Nile Rodgers continued to act as a producer for a wide range of different artists, and he also reformed Chic. However, Edwards passed away while they were on tour, and Rodgers was forced to continue as a solo artist once again.
As the years went by, Rodgers became well-known for producing a range of music soundtracks, but he also started to produce soundtracks for video games. Nile has worked on video game soundtracks for games like "Halo," "Gears of War," and the "Borderlands" franchise. In 2012, Nile Rodgers made a notable contribution to the Daft Punk album "Memories." The album featured the track "Get Lucky," which was one of Rodgers' biggest hits ever. He later performed the song alongside Daft Punk, Stevie Wonder, and Pharell Williams at the Grammy Awards.
In 2018, Rodgers reformed Chic once again and released the album "It's About Time." Nile expressed mixed feelings upon being inducted into the Rock and Roll Hall of Fame, explaining that he wished Chic had been inducted and not just him alone.
Hipgnosis Songs Fund
In 2018, Nile and Merck Mercuiadis co-founded Hipgnosis Songs Fund, a publicly traded music investment company that owns more than $2.5 billion worth of songs and catalogs.
Real Estate
Nile explained to Hamptons.com that he didn't get paid a penny in 1977 after the release of his first record, due to lawsuits. By the time he did get paid it was a year later and that first paycheck was $8 million (split with his six Chic bandmates). If the band split the check evenly (unlikely since Nile was writing many of the songs), his cut would have been $1.33 million which is the same as around $5.3 million in today's dollars. Nile further explained to Hamptons.com that he spent all of that money on a waterfront home in Westport, Connecticut. Nile places this home for sale in March 2022 for $5.25 million:
Nile also eventually splurged on an apartment in Manhattan's Upper West Side.
All net worths are calculated using data drawn from public sources. When provided, we also incorporate private tips and feedback received from the celebrities or their representatives. While we work diligently to ensure that our numbers are as accurate as possible, unless otherwise indicated they are only estimates. We welcome all corrections and feedback using the button below.