Judge Judy Net Worth
Judge Judy Net Worth and Salary: Judith Sheindlin, better known as Judge Judy, is an American family court judge and television star who has a net worth of $440 million. The Judge Judy show has been nominated 14 consecutive times for a Daytime Emmy Award (without ever winning).
Early Life: Judge Judy was born Judith Susan Blum in Brooklyn, New York. Her married name is Judy Sheindlin. She went to James Madison High School and then attended American University in Washington, DC. After completing her college degree in government at American University, Judge Judy began her law degree at Washington College of Law, where she was the only female in her class of 126 students. She subsequently completed her law degree at New York Law School.
Law Career: After passing the bar examination in 1965, she was immediately hired as a corporate lawyer for a cosmetics firm. Judy was dissatisfied with the job and left after two years to raise her two kids. Starting in 1972, she served as a family court prosecutor for 17 years. She then became a judge in the criminal court and the supervising judge in the family court system in New York. In her role, Judy prosecuted domestic violence and child abuse cases. She was known for her no-nonsense attitude and "tough" style of judging, and was featured in profiles in the Los Angeles Times and on "60 Minutes." She released the book "Don't Pee on My Leg and Tell Me It's Raining" in 1996, and retired soon after, having heard over 20,000 cases.
The Judge Judy Show: After the 60 Minutes special gained her national exposure, Judy was approached about starring in a reality courtroom show that would feature real cases with real rulings. She accepted the offer and on September 16, 1996, she began appearing on her own court show, "Judge Judy," and it has remained the most popular court show on television for the last 15 years. The show finished its 24th season in September 2019. The show regularly attracts 10 million daily viewers. In 2009, "Judge Judy" became the first television series in a decade to obtain more daytime viewers than "The Oprah Winfrey Show." A 2013 poll in "Reader's Digest" revealed that Americans trusted Judge Judy more than the justices of the United States Supreme Court. In 2015, Judge Judy earned a spot in the Guinness World Records for being the longest-serving judge in a courtroom-themed television program. In March 2015, CBS extended Judge Judy's contract for an additional four seasons, set to expire in the 2020-2021 season. Judge Judy revealed on "The Ellen Degeneres Show" in March 2020 that the series would conclude at that time. A new program is in the works, titled Judy Justice, and is set to air in 2022.
Other Media Appearances: Judge Judy has been interviewed on thousands of talk, cable, and news broadcasts during her career. She has appeared on "Entertainment Tonight", "The Wendy Williams Show," "The View," "Larry King Live," "The Tonight Show," "20/20," "Dateline NBC," and more. Judy made a surprise guest appearance on "Saturday Night Live" in October 1998, cutting in during one of Cheri Oteri's parodies of her. In 1999, Judy served as a judge for the Miss America pageant. The Biography Channel aired a documentary on February 21, 2000, about her called "Judge Judy: Sitting in Judgement." It captured her entire life dating back to her childhood. In a two-hour interview for the Archive of American Television in 2013 conducted by Katie Couric, Judge Judy elaborated on previously unheard fun facts of her life story and career. In 2017, Judy created a game show, "IWitness," that ran for six weeks. The show put contestants' observational skills to the test by requiring them to view video clips and compete to see who could recall what they witnessed faster. Later that year, "The National Enquirer" issued Judge Judy a formal apology after a slandering incident where they falsely claimed Judy had cheated on her husband and was suffering from Alzheimer's Disease. In November 2017 Judy appeared on an episode of "Curb Your Enthusiasm" where she parodied her show.
After the success of her first book, Judy went on to publish six more throughout her career.
Personal Life: Judy suffered a mini-stroke in March 2011. She fainted on the set of her show while going over a case. She was released from the hospital the next day.
Judy married Ronald Levy in 1965. They had two children and divorced after 12 years of marriage. In 1977, she married Judge Jerry Sheindlin, who appeared on The People's Court in the later '90s. They divorced in 1990 but remarried one year later. She has three stepchildren with Jerry and 13 grandkids.
Judy is a registered independent and a supporter of same-sex marriage. In 2020, she campaigned alongside Mike Bloomberg for president.
Judge Judy filed a lawsuit in 2014 against personal injury lawyer John Haymond and his firm. She accused Haymond of using her television image without her knowledge or consent, for ads that falsely claimed she endorsed their firm. Ads continued to be produced after she told the firm to stop. The lawsuit filed sought more than $75,000 in damages. It was settled out of court in a resolution that favored Judy, it was reported.
Judge Judy Net Worth History:
2009 – $50 million
2010 – $75 million
2011 – $130 million
2012 – $150 million
2013 – $230 million
2014 – $250 million
2015 – $300 million
2016 – $320 million
2017 – $350 million
2018 – $420 million
2019 – $420 million
Judge Judy Sheindlin Salary
Judy is one of the highest-paid entertainers on the planet. Her syndicated show earns her $47 million per year which makes her the highest-paid person on television. Her salary in 2005 was $15 million per year. She renegotiated that contract in 2010 which resulted in her nearly $50 million annual income. She works roughly 52 days a year which translates to around $900,000 per workday. Between June 2017 and June 2018, Judge Judy made $147 million. The extra $100 million came from a one-time windfall after selling her old episodes back to CBS for syndication. CBS had previously not believed the old episodes were valuable and never negotiated an ownership stake.
How much does Judge Judy make in a year? In a typical year, Judge Judy makes $47 million. There have been some special years where thanks to random windfalls, where she has made nearly $150 million in a single 12-month period. Between June 2018 and June 2019, Judy earned $49 million from her empire.
Judge Judy's Real Estate Portfolio: Judy Sheindlin owns an impressive portfolio of real estate that on its own is likely worth north of $100 million. Her primary residence, for tax purposes, is a $13 million ocean-view home in Naples, Florida. She owns another mansion in Naples that is worth $11 million. Judy and her husband Jerry also own a 9-bedroom mansion in Greenwich, Connecticut that they bought for $13.2 million in 2007. Today this 12.5-acre property is likely worth more than $20 million. They own a 5-bedroom condo in Beverly Hills that set them back $10.7 million in 2013. They own an $8.5 million New York City pied-a-terre. In August 2018 Judy and Jerry spent $9 million to acquire a Newport, Rhode Island mansion.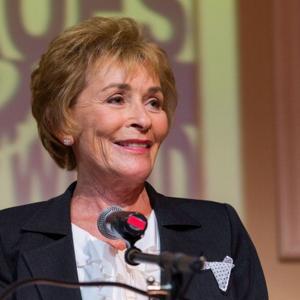 Judith Sheindlin
| | |
| --- | --- |
| Net Worth: | $440 Million |
| Salary: | $47 Million |
| Date of Birth: | Oct 21, 1942 (79 years old) |
| Gender: | Female |
| Height: | 5 ft 1 in (1.55 m) |
| Profession: | Lawyer, Judge, Presenter, Author |
| Nationality: | United States of America |
All net worths are calculated using data drawn from public sources. When provided, we also incorporate private tips and feedback received from the celebrities or their representatives. While we work diligently to ensure that our numbers are as accurate as possible, unless otherwise indicated they are only estimates. We welcome all corrections and feedback using the button below.