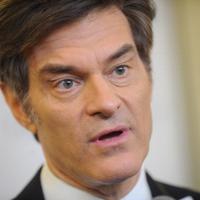 | | |
| --- | --- |
| Net Worth: | $200 Million |
| Salary: | $20 Million |
| Date of Birth: | Jun 11, 1960 (62 years old) |
| Place of Birth: | Cleveland |
| Gender: | Male |
| Height: | 6 ft (1.85 m) |
| Profession: | Physician, Writer, Surgeon, Author, Scientist, Cardiac surgeon, Talk show host, Television producer |
| Nationality: | United States of America |
What is Dr. Mehmet Oz's Net Worth and Salary?
Dr. Mehmet Oz is a Turkish-American cardiothoracic surgeon, author, and television personality who has a net worth of $200 million. In May 2022, Oz submitted a financial disclosure as part of his Pennsylvania Senate campaign. According to his financial disclosure, Dr. Oz and his wife Lisa control assets that are valued between $104 and $422 million.
Dr. Oz is most widely-known for his syndicated TV series, "The Dr. Oz Show," which was launched in 2009 by Oprah Winfrey's Harpo Productions and Sony Pictures. Oz has written several books with Michael F. Roizen, including "YOU: The Owner's Manual: An Insider's Guide to the Body that Will Make You Healthier and Younger" (2005), "YOU: On a Diet: The Owner's Manual for Waist Management" (2006), and "YOU: Having a Baby: The Owner's Manual from Conception to Delivery and More" (2009), and he is also the author of "Healing from the Heart: A Leading Surgeon Combines Eastern and Western Traditions to Create the Medicine of the Future" (1999) and "Food Can Fix It: The Superfood Switch to Fight Fat, Defy Aging, and Eat Your Way Healthy" (2017).
Dr. Oz got his big break in television on "The Oprah Winfrey Show" in 2004 and later appeared on "Larry King Live" as well as other TV programs. The World Economic Forum named Dr. Oz a "Global Leader of Tomorrow" from 1999 to 2004, and he was included on "Time" magazine's "100 Most Influential People" list in 2008.
In November 2021, Dr. Oz announced his intention to run for an open Senate seat in Pennsylvania. That campaign was marked by a number of social media blunders that made Oz look somewhat foolish and out-of-touch. His campaign has also been criticized because Oz has spent much of the last few decades of his life as a permanent resident of New Jersey with vacation homes in Florida. He reportedly did not buy his own property in Pennsylvania until December 2021. More details on Oz's 10 homes in the "Real Estate" section of this article.
Early Life
Mehmet Oz was born Mehmet Cengiz Öz on June 11, 1960, in Cleveland, Ohio. His parents, Suna and Mustafa, emigrated from Turkey, and Mehmet grew up with two sisters, Nazlim and Seval, in a mixed Muslim household (traditional on his father's side, secular on his mother's side). He attended Tower Hill School in Wilmington, Delaware, then earned a degree in biology from Harvard University in 1982. Oz played on Harvard's football team, and he helped the water polo team win an intramural college championship.
In 1986, he earned an MD from the University of Pennsylvania School of Medicine and an MBA from Penn's Wharton School. Mehmet received the Captain's Athletic Award in college, and as a medical student, he was class president and later became student body president.
Mehmet's father spent many years serving as the Medical Center of Delaware's chief of thoracic surgery, and after he passed away in 2019, Oz wrote on social media, "I remember as a child running behind his fast-moving legs while he made hospital rounds…I fell in love with medicine after witnessing my dad do sometimes painful procedures on desperately sick patients who subsequently thanked him for saving their lives."
Career
Dr. Oz founded New York-Presbyterian Hospital's Cardiovascular Institute and Integrative Medicine Program in 1994. In 1996, fellow cardiothoracic surgeon Ottavio Alfieri proposed that only one suture may be needed to close a mitral valve leak, leading Mehmet to come up with the idea to put one staple in using a catheter. This resulted in Oz and his colleagues at Columbia University patenting a device called MitraClip in 1997. In 2010, he co-founded the health and wellness company Sharecare, Inc. with Jeff Arnold, who founded WebMD. In 2001, Mehmet became a professor at Columbia University, teaching in the Department of Surgery, and he is the vice-chairman of the university's College of Physicians & Surgeons. After making numerous appearances on "The Oprah Winfrey Show" for five seasons, Winfrey began producing "The Dr. Oz Show" through her production company. The show premiered on September 14, 2009, and it has aired more than 1,500 episodes as of this writing. In 2011, Mehmet appeared on "Ask Oprah's All-Stars" on OWN, and three years later, the network aired a 10-episode documentary series entitled "Surgeon Oz."
In 2018, Mehmet was appointed to the President's Council on Sports, Fitness, and Nutrition, and in 2020, he was appointed to a second term. In March 2021, Mehmet began a two-week stint as a guest host on "Jeopardy!," leading more than 500 past contestants to sign a letter stating that Dr. Oz shouldn't host a "show that values facts and knowledge" because "he has used his authority as a doctor to push harmful ideas onto the American public, in stark contrast with his oath to first do no harm." Mehmet is the author of several "New York Times" bestsellers, and he has written for "Esquire" and "O, The Oprah Magazine." He received the 2009 National Magazine Award for Personal Service for his article "Retool, Reboot, and Rebuild," and the magazine "Dr. Oz The Good Life" launched in 2014.
Personal Life
Mehmet married Lisa Lemole on June 29, 1985, and they have four children together, Daphne, Arabella, Zoe, and Oliver. Daphne, their eldest daughter, is an author and television host. Mehmet and Lisa founded the non-profit organization HealthCorps, which is dedicated to peer mentoring and health education. Oz is a citizen of both America and Turkey and speaks English and Turkish fluently. He is a practicing Muslim and a proponent of transcendental meditation. In 2010, Mehmet underwent a routine colonoscopy for his show and a pre-cancerous polyp was discovered in his intestine. Of the experience, he stated, "The only thing holding me back from a terrible outcome is the dumb luck that I checked myself out for the show. I would have put this off, like a lot of people. But I bet this saved my life." In 2019, Oz played in the NBA All-Star Celebrity Game in Charlotte, North Carolina, and the All-Star Legends & Celebrity Softball Game in Cleveland, Ohio.
Controversy
In 2014, a team of medical researchers examined Dr. Oz's advice/claims and reported that as much as 60% of said advice had no scientific basis at all.
Awards and Nominations
"The Dr. Oz Show" has earned 19 Daytime Emmy nominations, winning Outstanding Talk Show Host in 2010, 2011, and 2014, Outstanding Informative Talk Show Host in 2016, and Outstanding Talk Show/Informative in 2011, 2012, 2013, 2017, and 2018. He also received a People's Choice Award nomination for Favorite Daytime TV Host in 2016.
Real Estate
During the course of his PA Senate campaign, it was revealed that Dr. Oz and his wife own approximately TEN homes.
New York and New Jersey:
Oz and Lisa's longtime primary home for the last few decades has been a 9,000 square foot home in Cliffside Park, New Jersey. Mehmet and Lisa paid $750,000 the home in 2000. Today the home is worth around $3 million based on recent comparable sales. Separately from Oz, Lisa and her family own the home directly next door to this New Jersey mansion.
Oz's financial disclosure shows the he and Lisa own a condo in New Jersey and two condos in New York City.
Florida:
In 2015, Dr. Oz paid $18 million for a lavish 12,000 square foot oceanfront home in Palm Beach, Florida. Oz and Lisa proceeded to spend a reported $3.4 million on renovations to the home between March 2018 and September 2020. The completed home has 10 bedrooms, 15 bathrooms, a renovated pool, an outdoor spa, a game room and more. The appraised value of the home is $25 million, but according to Zillow the home is worth $50 million today.
When he is not using the home Oz rents it out for as much as $275,000 per month. According to his Senate financial disclosure, this home generates $1-5 million per year in annual income.
Here is a video of the property from 2014 when it was originally listed for $22 million:
In December of 2021, Oz bought three parcels of land in Okeechobee County, Florida for a total of $6.5 million. The land is a cattle farm.
According to his financial disclosure he owns financial stakes in four hotels in Florida. He estimated the combined value of these stakes at $800,000.
Pennsylvania:
As he prepared to campaign for an open Senate seat in Pennsylvania, Oz realized it might help to actually LIVE IN PENNSYLVANIA. Therefore, in 2020 Oz and Lisa moved into Lisa's parents' home in the town of Bryn Athyn, PA. In December 2021 Oz and Lisa paid $3.1 million for a 34-acre property featuring a 7,000 square-foot mansion in the same town. However, he did not move into his new home right away and was not living there during much of his campaign. Right after acquiring the property, Oz and Lisa began a massive renovation.
Turkey:
In his parents' native Turkey, Dr. Oz owns two residential estates and a third property which is currently rented out as a student dormitory.
Maine:
Separately from Oz, Lisa and her family own a mansion in Maine.
All net worths are calculated using data drawn from public sources. When provided, we also incorporate private tips and feedback received from the celebrities or their representatives. While we work diligently to ensure that our numbers are as accurate as possible, unless otherwise indicated they are only estimates. We welcome all corrections and feedback using the button below.