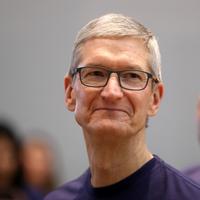 | | |
| --- | --- |
| Net Worth: | $1.5 Billion |
| Date of Birth: | Nov 1, 1960 (62 years old) |
| Place of Birth: | Mobile |
| Gender: | Male |
| Height: | 6 ft 2 in (1.9 m) |
| Profession: | Businessperson |
| Nationality: | United States of America |
What is Tim Cook's Net Worth and Salary?
Tim Cook is an American business executive who is best known for being the CEO of Apple Inc. He joined the company in 1998 and was named CEO 2011. As of this writing, Tim Cook's net worth is $1.5 billion.
Apple's peak market cap under former CEO/founder Steve Jobs was $350 billion. When Tim was appointed CEO in 2011, many questioned how he could out-perform his genius predecessor. Fast forward to the present and Apple's market cap is above $2.4 trillion.
If you had bought $1,000 worth of Apple shares on the day Tim Cook became CEO, a decade later you would have $13,000.
Tim has stated he plans to give most of his fortune away before he dies and has already donated tens of millions to various charities.
Salary and Perks

Prior to being named CEO, when he was Apple's Senior Vice President of Worldwide Operations, Tim's salary was $500,000 per year. When Tim Cook first became CEO of Apple in 2011, his salary was boosted to $900,000 per year. Today Tim earns a base salary of $3.4 million plus an annual bonus of $8 – $12 million.
On top of salary and bonus, Tim is periodically granted large chunks of Apple options which vest over time. His vested shares are counted as income in a given year. So for example in 2019, on top of his salary and bonuses Tim earned $113.5 million worth of vested shares, bringing his total comp for the year to around $125 million. Between 2011, when he was named CEO, and 2020, Tim earned $963.5 million in total compensation from Apple. Outside of normal compensation, in an average year Tim benefits from roughly $500,000 worth of personal security expenses paid for by Apple. He is also required to fly privately for all personal and business travel. Those flight costs come to around $315,000 per year.
How Many Shares of Apple Does Tim Cook Own?
On the day Tim became CEO, he was given a large grant of options that vested in 10 annual increments (he received the first chunk up front, so technically only 9 tranches vested over time). A chunk of his grant was performance-based. Those shares would be granted only if Apple out-performed 2/3 of the S&P 500. He has hit every single performance milestone. He received his ninth grant, roughly 560,000 shares, in August 2020. Roughly half of those shares are set aside to cover an estimated tax debt at their August 2020 price per share. At $450 per share (this was before Apple stock split), the 280,000 shares Tim received were worth $126 million.
Outside of that 560,000 chunk granted in August 2020, Tim already owns 847,969 fully-vested shares of Apple. In February 2020 when Apple shares were trading at $320, this chunk was worth around $280 million. In August 2020 when Apple hit $450 per share, that stake was worth $380 million.
Tim is the company's second-largest individual shareholder. He owns roughly 0.02% of the company. The largest individual shareholder is Board Chairman Arthur Levinson who owns 1.1 million shares. Levinson has served on the Board since 2000. The third largest individual shareholder is Senior VP of Software Engineering, Craig Federighi, who has 412,000 shares as of this writing.
In August 2021 Time received his 10th and final installment of the original compensation plan. At that point in time, the shares he ret
Billionaire Status
Tim Cook officially became a billionaire in August 2020 after earning that ninth (and largest) performance stock grant of 560,000 shares.
Early Life
Timothy Donald Cook was born November 1, 1960 in Mobile, Alabama. His father (Donald) was a shipyard worker and his mother (Geraldine) worked at a pharmacy. He was raised in nearby Robertsdale. Cook attended Robertsdale High School and went on to earn a degree in Industrial Engineering from Auburn University in 1982. In 1988, Cook earned his Master of Business Administration from Fuqua School of Business at Duke University. He graduated in the top ten of his class and was awarded the title of a Fuqua scholar.
Early Career
Straight out of college, Tim Cook was hired by IBM where he moved up the ranks to become the computer corporation's North American Fulfillment Director, managing manufacturing and distribution functions for IBM's Personal Computer Company in both North America and Latin America. Following a 12-year career at IBM, Cook became a chief operating officer (Reseller Division) at Intelligent Electronics. He then served for six months as Vice President of Corporate Materials for Compaq, purchases and managing product inventory.
Apple
Cook's next job, in 1998, would be as Apple's Senior Vice President for worldwide operations, where he would be responsible for managing all sales and operations worldwide, including sales activities, and service and support. Tim joined Apple at a bleak time for the company, before it had developed the iMac, iPod, iPhone, or iPad. It was seeing declining profits and no profit growth. Many friends reportedly tried to dissuade Tim from joining the then-flailing company.
In an attempt to start turning a profit again for the company, Cook closed Apple factories and replaced them with contract manufacturers, and invested in long-term deals like an advance investment in flash memory. Cook's actions during this time generated huge profits, a shift from a recent net loss of $1 billion from their previous fiscal year, and has been credited with keeping Apple's costs under control.  He was also the leader of the company's Macintosh division and developing reseller/supplier relationship strategies. He was promoted to lead operations in January 2007 and served as chief executive in 2009. During this time, Steve Jobs, founder and CEO of Apple, was on a health-related leave of absence. In January 2011, Jobs requested another leave of absence, and during this time Tim was responsible for running operations at Apple day-to-day.
Jobs eventually resigned as CEO, and, in August 2011, Cook was named Apple's new CEO. Steve Jobs passed away just two months later, in October 2011, after a battle with cancer. With the partnership they had created, they had rescued the company from a downward spiral and took it from less than $6 billion in revenue in 1998 to over $100 billion. In April 2012, Cook was included on Time Magazine's list of 100 Most Influential People in the World.
He was awarded one million shares in 2012 by Apple's board of directors. Cook said he planned to donate his entire stock fortune to charity. In May 2014, Apple announced the acquisition of Beats Music and Beats Electronics for $3 billion, its biggest acquisition yet. Apple unveiled the iPhone 6 in the summer of 2015. One year later, the Apple Watch was announced.
Other Ventures
Cook attended a private summit hosted by President Barack Obama in 2013 in regard to surveillance and the internet in the aftermath of the incident involving the National Security Agent and Edward Snowden. Following the terrorist attack in San Bernardino, CA in December 2015, the FBI solicited Apple to assist in unlocking an iPhone used by one of the attackers. The Department of Justice later ordered Apple to create custom firmware for iOS that would allow investigators to unlock any iPhone for gathering evidence. Cook denounced the demands in an open letter as a breach of privacy with that would have "chilling" consequences for public privacy and safety.
Cook was appointed chairman of the advisory board for Tsinghua University's economics school in October 2019. The length of his term will be three years. He has been on the board of directors for Nike, Inc. as well as the National Football Foundation. He owns $3.4 million worth of shares of Nike.
Personal Life
Cook is known for being a solitary, very private person. He was the first Chief Executive at a Fortune 500 company to identify publicly as gay and he did so in 2014 in an editorial for Bloomberg Business. In September 2015, he elaborated on The Late Show with Stephen Colbert on his decision to come out, "Where I valued my privacy significantly, I felt that I was valuing it too far above what I could do for other people, so I wanted to tell everyone my truth." He has stated that he hoped his openness would help inspire the young LGBTQ community not to live in the dark out of fear.
Cook is not married and has no children.
Cook donated to the presidential campaigns of Barack Obama and Hillary Clinton. At one point, Clinton considered Tim as a running mate in her 2016 campaign.
Tim has announced that he plans to give the vast majority of his money away to charity when he dies.
Real Estate
Despite being one of the highest-paid business executives in the world, Tim lives in a surprisingly modest 2,400 square-foot home in Palo Alto, California. He bought the house in 2010, the year before being named CEO, for $1.9 million.
In 2018 Tim paid $10.1 million for a 10,000 square-foot home at the Madison Club, an exclusive gated community in La Quinta, California.
Quote About Money
"I like to be reminded of where I came from, and putting myself in modest surroundings helps me do that. Money is not a motivator for me."
All net worths are calculated using data drawn from public sources. When provided, we also incorporate private tips and feedback received from the celebrities or their representatives. While we work diligently to ensure that our numbers are as accurate as possible, unless otherwise indicated they are only estimates. We welcome all corrections and feedback using the button below.