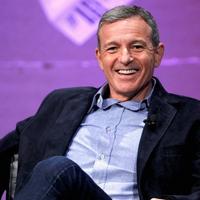 | | |
| --- | --- |
| Net Worth: | $350 Million |
| Salary: | $50 Million |
| Date of Birth: | Feb 10, 1951 (71 years old) |
| Place of Birth: | Oceanside |
| Gender: | Male |
| Profession: | Businessperson |
| Nationality: | United States of America |
What is Robert Iger's Net Worth and Salary?
Robert Iger is an American businessman and CEO who has a net worth of $350 million. During Bob Iger's tenure as CEO, he transformed Disney into a much more successful entertainment company by overseeing the acquisition of rival companies such as LucasFilm, Pixar, and Marvel.
These decisions and many others translated into financial success for the company, as Disney increased in market capitalization value from $48.5 billion to a whopping $257 billion within a space of just 13 years while Iger was CEO. The year Bob Iger took over as CEO, the company generated $2.5 billion in profit. In 2019 – his last full year as CEO – the company generated $10.4 billion in revenue. Disney shares rose 400% between 2005 and 2020 – not including dividends.
Early Life
Robert Allan Iger was born on February 10th of 1951 in New York City. Raised in a Jewish family, Iger was the son of a World War II navy veteran, and his father went into marketing, advertising, and public relations following his military service. After graduating from high school in 1969, Iger attended the Roy H. Park School of Communications at Ithaca College, graduating in 1973. He earned a Bachelor of Science in Television and Radio. He showed an early interest in the broadcasting industry, hosting an Ithaca College television show and working as a weatherman in Ithaca for 5 months. Although Robert Iger initially wanted to become an anchorman for a major news channel, he soon chose a different career path.
ABC

He joined ABC in 1974, initially working as a menial laborer for an extremely low wage. However, he steadily worked his way up the ranks during the next 15 years, becoming the head of ABC Entertainment in 1989. He then became the president of ABC Network Television Group and the vice president of Capital Cities/ABC in 1993. In 1994, he moved up the ranks once again, becoming COO (Chief Operations Officer) of ABC's parent corporation, Capital Cities/ABC.
Walt Disney
In 1996, the Walt Disney Company purchased Capital Cities/ABC, and Robert Iger remained the COO. He eventually became president of the company – a position he held until 1999 when he became the president of the Walt Disney Company. He remained as the chairman of the ABC group. Iger was now working directly under Michael Eisner, the CEO of Disney, when previously Eisner had acted as both the president and the CEO of the company.
Iger would soon end Eisner's reign as CEO by replacing him at the top of the ladder in 2005. Iger was chosen by Roy E. Disney among others within the ranks of Disney who wanted to give the brand a fresh face and explore new opportunities. Roy E. Disney and other board members even went so far as to launch an official "Save Disney" campaign before agreeing on Iger as the next CEO.
Pixar Acquisition
One of Iger's boldest moves as Disney CEO was to announce the acquisition of Pixar a year later in 2006. All in all, the transaction was worth $7.4 billion, and it was a total takeover by Disney. In 2009, Iger made another bold move when he acquired Marvel Entertainment for $4 billion. In 2011, Iger became chairman of the board and also became a member of the board of directors of Apple, Inc. Disney and Apple became closely intertwined after Iger's business dealings.
LucasFilm Acquisition
In 2012, Iger made another stunning acquisition when he purchased LucasFilm from George Lucas for $4 billion. This move gave the Walt Disney Company the rights to the Indiana Jones and Star Wars franchises. Although these acquisitions were obviously costly to Disney, it easily experienced a return on its investment within a few short years. In 2014, Disney had already recouped $4 billion on its acquisition of Marvel. When The Force Awakens released in 2015, it grossed $2 billion at the box office – recouping half of Disney's investment with a single movie.
21st Century Fox
In 2018, Disney made another bold move under Iger's guidance when it completed the acquisition of 21st Century Fox. Although his contract was originally slated to run until 2018, Disney repeatedly extended Iger's reign as CEO. Twice during 2017 Disney extended his contract, eventually reaching an end date of 2021. However, Iger stepped down voluntarily in 2020 – one year short of his contract's end. He had stepped down as a member of the board of directors for Apple one year earlier as well, citing potential conflicts of interest as Apple eyed the entertainment world with Apple TV.
Retirement
Many have speculated that Robert Iger had stepped down as CEO due to the ongoing Coronavirus/COVID-19 situation during this time. These speculations are somewhat substantiated by Iger's decision to forgo his salary just before his resignation, citing the economic concerns brought about by the virus.
Earnings and Salary
At one point, Bob Iger's 1.08 million shares of Disney had a market value of $130 million. In a typical year leading up to his retirement, Bob earned $40 – 50 million in total compensation, including base salary, bonus, and stock grants. In 2015, it was reported that Iger had earned $44.9 million in annual salary. In 2019, Forbes reported that Iger had earned $3 million that year in salary, plus a bonus of $21.8 million. He also earned  $19.6 million through stock awards and options, bringing his total earnings to $47.5 million that year.
Awards
In 2012, Robert Iger won the Ambassador of Humanity Award, and it was presented to him by Steven Spielberg. Additionally, he has won the Milestone Award from the Producer's Guild of America in 2014. In 2019, Iger was named Time magazine's "Businessperson of the Year."
All net worths are calculated using data drawn from public sources. When provided, we also incorporate private tips and feedback received from the celebrities or their representatives. While we work diligently to ensure that our numbers are as accurate as possible, unless otherwise indicated they are only estimates. We welcome all corrections and feedback using the button below.