Mark Zuckerberg Net Worth
What is Mark Zuckerberg's net worth and salary?
Mark Zuckerberg is an American technology entrepreneur and philanthropist who has a net worth of $51 billion. Mark Zuckerberg has spent much of the last decade as one of the richest people on the planet. Out of the top 100 richest people in the world, Mark is the youngest. Out of the top 30, he's the youngest by more than a decade.
Perhaps not surprisingly, The vast majority of Mark's fortune is attributable to his shares in Facebook. Mark currently owns around 400 million total shares of Facebook, broken up into various classes that have different voting privileges. He owns around 12 million Class A shares of Facebook and 365 million of Class B shares, roughly 81% of all the B shares. Through those Class B super voting shares, Mark has 53% voting rights over the company. Technically Mark also controls co-founder Dustin Moskovitz's Class B voting rights, so Mark has around 58% of the company's total voting power.
Wealth Milestones
Mark Zuckerberg's net worth topped $100 billion for the first time on August 7, 2020. On January 1, 2022 his net worth was $126 billion which made him one of the five richest people in the world. Unfortunately, over the next several months Mark's fortunes tumbled as Facebook's stock price dropped 50% from around $340 a share to $170. By late April his net worth stood at $65 billion, down $60 billion from early January. Only one other billionaire in the top 100 lost more money in the same time period. As a result of this wealth evaporation Mark slid from the world's fifth richest person to #19/
Key Facts
Founded thefacebook.com from his Harvard dorm room on February 4, 2004
Dropped out of Harvard in his sophomore year
Turned down $1b cash buyout offer from Yahoo in July 2006 when he was 22 years old
Net worth hit $15b on FB's IPO day in May 2012
Owns roughly 400m shares of FB
Controls 58% of FB equity total voting power
Net worth broke $100b for the first time on August 7, 2020
Has pledged to give away 99% of his wealth in his lifetime
Owns roughly $200m in personal real estate around the US
Paid $43m to acquire the four homes surrounding his home in Palo Alto
Paid $145m for around 840 acres on the Hawaiian island of Kauai
Early Life
Mark Elliot Zuckerberg was born in White Plains, New York on May 14, 1984. His father Edward is a dentist and his mother Karen is a psychiatrist. He has three sisters, Randi, Donna, and Arielle. Mark and his sisters grew up in Dobbs Ferry, New York in Westchester County. When he made his Bar Mitzvah at 12, it was "Star Wars" themed.
In middle school, Zuckerberg began using computers and writing software. His father taught him BASIC Programming in the 1990s, and later hired software developer David Newman to tutor him privately.
Zuckerberg attended Ardsley High School for his freshman and sophomore years. For his junior and senior year, he attended Phillips Exeter Academy where he excelled academically and won prizes in physics, math, astronomy, and classical studies. He was captain of Phillip Exeter Academy's fencing team. While in high school, he took a graduate-level course at Mercy College in BASIC. He also built a software program he called "ZuckNet" that linked all the computers in the Zuckerbergs' home with the ones in his dad's dental practice. It operated much like AOL's Instant Messenger, which debuted the year after Mark built ZuckNet. Zuckerberg also built a music player called the Synapse Media Player in high school. The media player learned the user's listening habits. AOL tried to buy Synapse and hire Zuckerberg. Microsoft also bid several million dollars for Synapse and tried to hire Zuckerberg. He didn't sell and enrolled at Harvard in the fall of 2002.
Harvard
Zuckerberg had a reputation as a programming prodigy by the time he got to Harvard. He studied psychology and computer science. He was a member of Alpha Epsilon Pi fraternity and Kirkland house. Zuckerberg wrote the program CourseMatch his sophomore year. Users could make class selections based on the choices of other students as well as form study groups. Not long after, he created Facemash, which let users select the best-looking person from a group of photos. The site so overwhelmed Harvard's servers the first weekend it was live that the university shut it down.
The following semester, in January 2004, Zuckerberg began writing code for a new website. On February 4, 2004, Zuckerberg launched "Thefacebook," originally located at thefacebook.com, from his Harvard dorm room with fellow classmates Dustin Moskovitz, Chris Hughes, and Eduardo Saverin.
Zuckerberg dropped out of Harvard in his sophomore year in order to work on Facebook. He received an honorary degree in 2017.
Facebook
Zuckerberg, Moskovitz and some friends moved to Palo Alto, California, where they leased a small house that served as an office for Facebook in the spring of 2004.  Over the summer, Zuckerberg met Peter Thiel, who invested in the company. Initially, the group planned to return to Harvard but decided to remain in California. They had already turned down offers by major corporations to buy the company. In April 2009, Zuckerberg sought the advice of former Netscape CFO Peter Currie about financing strategies for Facebook. On July 21, 2010, Zuckerberg reported that the company reached the 500 million-user mark. Of course, today, Facebook is an enormous social network that has made Mark Zuckerberg one of the richest men in the world.
Salary
Mark Zuckerberg's salary is $1 per year. That is not a typo. Many executives like Zuckerberg choose to pay themselves low salaries in order to increase the company's profits as much as possible. When the company maximizes profits it increases the overall value of their stock holdings which is where the executive's true wealth comes from. Executives like Eric Schmidt, Larry Page, and Sergey Brin each earn only $1 per year in salary!
Net Worth Details
Facebook IPO'd on May 18, 2012, at roughly $38 dollars a share. Mark owns 400 million shares of Facebook. That means at the IPO he ended the day with a paper net worth of around $15 billion.
Mark has pledged to give away 99 percent of his wealth during his lifetime. In September 2017 he announced a plan to regularly sell off chunks of his shares to fund his foundation, the CZI (Chan-Zuckerberg Initiative). His 2018 share sales generated $5.3 billion worth of proceeds. In 2019 he sold $1.86 billion worth of Facebook shares.
Legal Issues
Harvard students Divya Narendra, Cameron Winklevoss, Tyler Winklevoss brought a lawsuit against Zuckerberg stating he intentionally made them believe he would help them build their website idea, HarvardConnection.com, a social network that was later renamed ConnectU. Numerous lawsuits followed. The case was settled on June 25, 2008, resulting in a settlement of 1.2 million common shares awarded to them plus payouts of $20 million in cash. If those shares are still owned today, they are worth north of $200 million. At least some portion of those shares were sold by the Winklevoss brothers to fund their investments in Bitcoin. They own so much Bitcoin that in December 2017, their combined crypto assets were worth north of $1 billion.
On April 10 and April 11, 2018, Zuckerberg began testifying before the United States Senate Committee on Commerce, Science, and Transportation regarding the usage of personal data by Facebook in relation to the Facebook–Cambridge Analytica data breach. Zuckerberg called the whole affair a breach of trust between Aleksandr Kogan, Cambridge Analytica, and Facebook.
Personal Life
Zuckerberg stated that he could read and write French, Hebrew, Latin, and ancient Greek when he filled out his college applications.
Zuckerberg met his future wife, fellow student Priscilla Chan, at a fraternity party during his sophomore year at Harvard. They began dating in 2003.
In September 2010, Zuckerberg invited Chan, then a medical student at the University of California, to move into his rented Palo Alto house.  On May 19, 2012, Zuckerberg and Chan married in Zuckerberg's backyard in an event that also celebrated her graduation from medical school. On December 1, 2015, Zuckerberg announced the birth of their daughter, Maxima Chan Zuckerberg ("Max"). They welcomed their second daughter, August, in August 2017.
Zuckerberg and Chan are members of The Giving Pledge and active philanthropists through their foundation, the Chan Zuckerberg Initiative. The couple intends to eventually donate 99% of their Facebook shares to the Initiative.
Real Estate
Zuckerberg and Chan own roughly $200 million worth of real estate and land around the world. Some of their most notable real estate assets include 1,400 acres in Hawaii, several homes in Palo Alto, and a townhouse in San Francisco.
Mark Zuckerberg's main home where he and his family live is a modest 5,000 square foot home in Palo Alto which he purchased in 2011 for $7 million. But he also owns the homes that surround this "modest" home, creating a private compound. In 2012, Zuckerberg began buying up the four surrounding properties to his home. In total he spent $43 million buying up surrounding properties. He then leased the homes back to their previous owners with initial plans to eventually demolish and rebuild them. However, city officials rejected his plan, so he submitted a new plan to renovate two of the homes and rebuild the other two as single-story homes.
In 2013, he paid $10 million for a 5,500 square foot townhouse in San Francisco. The home was built in 1928 and sits on a 9,800 square foot lot with 70 feet of sidewalk frontage. He spent more than $1.6 million renovating the house. Reportedly $65,000 if that was on remodeling the kitchen and one bathroom.
In 2014, Zuckerberg bought two properties in Kauai in Hawaii for $100 million. These properties span 750 acres across an isolated stretch of a Hawaiian beach. In 2017, he purchased another 89 acres nearby for more than $45 million. In January 2022 he bought an additional 100 acres and by this point his footprint in Kauai spanned 1,400 acres.
In 2018, Zuckerberg dropped $59 million on two adjacent private waterfront estates on Lake Tahoe. Between the two properties, Zuckerberg owns 600 feet of Lake Tahoe private waterfront.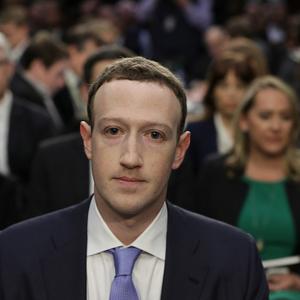 Mark Zuckerberg
| | |
| --- | --- |
| Net Worth: | $51 Billion |
| Salary: | $1 Dollar Per Year |
| Date of Birth: | May 14, 1984 (38 years old) |
| Gender: | Male |
| Height: | 5 ft 8 in (1.75 m) |
| Profession: | Programmer, Entrepreneur, Businessperson |
| Nationality: | United States of America |
All net worths are calculated using data drawn from public sources. When provided, we also incorporate private tips and feedback received from the celebrities or their representatives. While we work diligently to ensure that our numbers are as accurate as possible, unless otherwise indicated they are only estimates. We welcome all corrections and feedback using the button below.