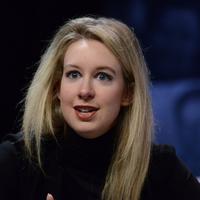 Elizabeth Holmes Net Worth
| | |
| --- | --- |
| Net Worth: | $0 |
| Date of Birth: | Feb, 1984 (38 years old) |
| Place of Birth: | Washington, D.C. |
| Gender: | Female |
| Profession: | Businessperson |
What is Elizabeth Holmes's Net Worth?
Elizabeth Holmes is an American businesswoman who has a net worth of $0. Elizabeth Holmes earned infamy, a temporary paper fortune and a criminal conviction thanks to the now-defunct healthcare technology company, Theranos, which she founded and led. The company rose in valuation when it made claims about having revolutionized blood testing. However, a number of investigations found that the company was allegedly deceiving investors with false advertising and promises. The resulting scandal led to the collapse of Theranos and the indictment of both Holmes and her former boyfriend/chief operating officer Ramesh "Sunny" Balwani.
At the company's peak valuation of $9 billion, Elizabeth's paper net worth of $4.5 billion. That was enough to earn Elizabeth the title of the world's youngest self-made billionaire. The scandal soon forced her to resign from Theranos and relinquish a large amount of equity in a company that eventually became worthless. At a court appearance in Arizona years later, Elizabeth claimed to be unable to afford a lawyer and requested to be provided counsel.
Investors including the Walton family, the Devos family, Henry Kissinger and Rupert Murdoch invested $945 million into Theranos at various funding stages.
On January 3, 2022, Elizabeth Holmes was found guilty on four counts of wire fraud.
On November 18, 2022, Elizabeth was sentenced to 135 months in prison, which is a little over 11 years.
Early Life and Education
Elizabeth Holmes was born in 1984 in Washington, DC. Her mother, Noel, worked as a Congressional committee staffer, while her father, Christian, was a vice president at the energy company Enron. Following that company's fraud scandal and subsequent bankruptcy, he held executive positions at various government agencies. As a youth, Holmes went to St. John's School in Houston, Texas, where she was involved in computer programming. She was also tutored at home in Mandarin Chinese, and attended Stanford University's Mandarin program over the summer. Holmes went on to enroll at Stanford as a chemical engineering major while working as a student researcher and lab assistant. Following her freshman year, she worked in a laboratory at the Genome Institute of Singapore, where she tested blood samples for SARS-CoV-1. In 2003, Holmes filed her first patent application for a wearable drug-delivery patch; the next year, she dropped out of Stanford to pursue her career in healthcare technology.
Founding of Theranos
In Palo Alto, California in 2003, Holmes founded the company Real-Time Cures, which was intended to democratize the healthcare system. Harboring a fear of needles, she sought to find a way to perform blood tests by drawing only small amounts of blood. Holmes soon renamed her company Theranos, and was introduced to venture capitalists through her former Stanford advisor Channing Robertson. A fan of Steve Jobs, Holmes was known to copy the Apple founder's style, often wearing black turtleneck sweaters and speaking in a baritone voice.
By the end of 2004, Holmes had raised around $6 million in venture capital to fund her company; by the end of 2010, the company had amassed over $92 million. For a while, Holmes ran Theranos without a company website or any press releases. Eventually, in September of 2013, the company partnered with Walgreens to create in-store blood sample collection centers. Media attention around Theranos exploded the next year, with Holmes appearing on the covers of numerous magazines.
World's Youngest Self-Made Billionaire
At Theranos' peak valuation of $9 billion, Elizabeth was anointed the world's youngest self-made billionaire. At that point she still maintained 50% of the company's equity shares, giving her a peak paper net worth of $4.5 billion.
Downfall of Theranos
After receiving a tip from a medical expert who was skeptical of Theranos' blood-testing device, the Wall Street Journal's John Carreyrou launched a secret investigation into the company. Eventually learning of this, Holmes started a campaign to stop Carreyrou, and made numerous financial and legal threats against WSJ. Despite this, Carreyrou published his findings in October of 2015, revealing that Theranos was giving inaccurate testing results through commercial machines made by other manufacturers. In January of 2016, the Centers for Medicare and Medicaid Services uncovered irregularities at a Theranos laboratory in Newark, California; by July, CMS officially banned Holmes from owning or operating a clinical blood-testing laboratory for two years.
Further accusations came out against Theranos and Holmes in 2017, when the State of Arizona filed suit against the company for misrepresenting facts about its blood tests. In response, nearly the entirety of Theranos shareholders decided to dismiss any litigation in exchange for shares of preferred stock. In March of 2018, the SEC charged Holmes and former Theranos president Ramesh Balwani with fraud for taking over $700 million of investors' money to advertise a false product. Moreover, it was found that the company had lied about its technology being used by the US Department of Defense, and had also lied about its revenue stream. In her settlement, Holmes was to surrender voting control of Theranos, and was banned for ten years from holding an officer position at a public company. Theranos formally dissolved in September of 2018.
Theranos Losses
We would later learn during Elizabeth's criminal trial that Theranos was hemorrhaging money year after year. In 2010 the company lost $16.2 million. In 2011 the company lost $27.7 million. In 2012, $57 million. In 2013 the company lost $92 million, an average of $2 million every week. Theranos ended 2014 with debts totaling $376 million. In 2014 the company earned just $14,000 in total revenue.
Criminal Indictments
In June of 2018, Holmes and Balwani were indicted by a federal grand jury on nine counts of wire fraud and two counts of conspiracy to commit wire fraud. Following delays due to the COVID pandemic and Holmes's pregnancy, the criminal trial U.S. v. Holmes, et al. began in August of 2021, prosecuted by the United States Attorney for the Northern District of California. She was convicted on four counts and faces up to 20 years in prison, plus a fine and restitution for each fraud and conspiracy count.
In November 2022 Elizabeth was sentenced to 135 months in prison for her crimes.
Personal Life
Around the time Holmes dropped out of Stanford in 2003, she entered into a relationship with tech entrepreneur Ramesh "Sunny" Balwani, a Pakistani immigrant 19 years her senior. The two moved in together in 2005. After providing Holmes with business advice behind the scenes for a number of years, Balwani officially joined Theranos as chief operating officer in 2009. He later left the company during the fraud investigations in 2016. Three years later, Holmes married hotel heir William Evans. During her 2021 criminal trial it was revealed that the young family was renting a house located on a legendary $135 million estate in the Silicon Valley suburb of Woodside.
Media Legacy
Because of her spectacular downfall, Holmes has influenced a number of media projects. In 2018, John Carreyrou published his book "Bad Blood: Secrets and Lies in a Silicon Valley Startup," about Holmes and Theranos; before the book was even published, film rights were purchased by Legendary Pictures. The next year, HBO premiered the documentary "The Inventor: Out for Blood in Silicon Valley," and Hulu announced the creation of "The Dropout," a series based on the eponymous podcast about Holmes.
All net worths are calculated using data drawn from public sources. When provided, we also incorporate private tips and feedback received from the celebrities or their representatives. While we work diligently to ensure that our numbers are as accurate as possible, unless otherwise indicated they are only estimates. We welcome all corrections and feedback using the button below.