Todd Chrisley Net Worth
What is Todd Chrisley's net worth and Salary?
Todd Chrisley is an American businessman and reality television personality who has a net worth of $1.5 million. Todd Chrisley became famous thanks to the USA Network reality series, "Chrisley Knows Best." The show follows Mr. Chrisley and his family as they go about their daily lives. A spin-off show focusing on Todd's children Chase and Savannah called "Growing Up Chrisley," premiered on April 2, 2019.
Early Life
Todd Chrisley was born on April 6, 1969, in Georgia and grew up in Westminster, South Carolina.
Chrisley Asset Management
Todd Chrisley is the owner of Chrisley Asset Management, a firm that, according to court documents, has been struggling for a number of years, even as Mr. Chrisley and family continued to live a very lavish lifestyle. A lifestyle that includes owning a 30,000-square-foot mansion and spending $300,000 per year on clothes.
Chrisley Asset Management would later play a starring role in Todd and Julie's legal troubles.
August 2019 Arrest
On August 14, 2019, Todd and Julie Chrisley were arrested in Atlanta on a multi-count indictment. The initial charges included tax evasion, wire fraud, bank fraud, and conspiracy. According to the indictment, between approximately 2007 and 2012, Todd and Julie allegedly used Chrisley Asset Management to seek bank loans which would be used to buy and sell foreclosed properties. Prosecutors alleged that the couple provided false information to secure these bank loans. That false information allegedly drastically inflated the couple's net worth.
According to the indictment, Todd and Julie:
"Conspired to submit false materials, such as fabricated bank statements and false personal financial statements, to financial institutions to obtain millions of dollars in loans, much of which they used for their own personal benefit."
As one example, the indictment claims that in November 2007 Todd and Julie showed a bank a fabricated financial statement. From the indictment:
"When the bank employee requested account statements, Co-conspirator A [an employee apparently working for the Chrisleys] sent Todd Chrisley and Julie Chrisley a fabricated bank statement showing that Todd and Julie Chrisley had $776,509.52 on deposit at Merrill Lynch.
In response, Todd Chrisley told his co-conspirator, 'you are a f****** genious [sic]!!! Just make it show 4 mil+"
In reality, the couple did not have a Merrill Lynch bank account at that time. When they did have one a year later, it never contained more than $17,000.
Furthermore, Todd and Julie also allegedly dodged federal tax bills. Their accountant was also indicted.
Todd and Julie claimed in a social media post that the illegal acts were performed by a former "trusted employee" who stole from the family and carried out the crimes without their knowledge. They were forced to appear in court and post $100,000 in unsecured appearance bonds. They were also ordered to restrict their travel to Atlanta and California only if they are taping their TV show.
In February 2022 a new indictment was filed. In addition to the previously-mentioned charges of submitting fake documents when applying for loans, the indictment further accused the couple of using a film production company to hide $2 million worth of unpaid taxes owed to the IRS. That $2 million tax bill was allegedly related to earnings from their TV show which the couple allegedly hid in a production company they controlled called 7C's Productions.
In this updated indictment, Todd and Julie were both charged with one count of conspiracy to commit bank fraud, one count of conspiracy to defraud the United States, one count of tax fraud and FIVE counts of bank fraud. They have pleaded not guilty.
Their Federal criminal trial began in May 2022.
Bankruptcy Case
Todd Chrisley is currently involved in a $45 million bankruptcy case involving a real estate empire that apparently went very sour. In a recent court proceeding, a trustee in the bankruptcy case claims that Todd hid millions of dollars worth of assets in his wife's name. Chrisley's lawyer denies these allegations. Chrisley originally filed for bankruptcy in 2012 when he claimed to have $4.2 million in assets and $50 million worth of debt. In the same filing, Todd claimed to only have $100 in cash and $55 in his checking account.  Chrisley Asset Management filed for corporate bankruptcy in 2013. His mortgage on the Atlanta mansion totaled $12 million and Todd reported nearly $600,000 in IRS late fees, debts, and penalties. Fortunately for Todd, his wife is reportedly wealthy on her own.
Chrisley Knows Best
"Chrisley Knows Best" premiered in 2014 with an eight-episode first season. Todd instantly became infamous for his luxurious lifestyle based on materialism. Viewers were fascinated with his reckless and out of control spending. Todd and his wife have huge wardrobes of expensive designer clothes. They drive very expensive cars. They live in a mansion in Atlanta that spans 30,000 square feet. Chrisley is also fond of reminding people that his neighbors in his ultra-exclusive gated neighborhood are Usher and MLB player Chipper Jones.
Todd is known to be controlling and he has strict rules for raising his children. He closely monitors their usage of the internet and text messaging to keep them out of trouble, and also has tracking devices in their vehicles. In the first episode of "Chrisley Knows Best," Todd disabled his son Chase's car with a wheel clamp and steering-wheel lock after he snuck out to attend a high school football game.
In another memorable episode, Chrisley threw his son's laptop into the swimming pool. Why? He wanted to teach him a lesson. And lest you think these actions are exaggerated for the television cameras, Chrisley will disabuse you of this notion. In more than one interview, he has stressed that "Chrisley Knows Best" is an accurate presentation of his family's life.
As of this writing there have been more than 180 episodes of the show across nine seasons and counting" The show is broadcast in the U.S. as well as in Canada, the U.K., Australia, and Asia. The show has led to a spinoff series featuring Chase and Savannah Chrisley's move from Nashville to Los Angeles called "Growing Up Chrisley."
On camera, Chrisley is all about his expensive lifestyle, especially his wardrobe of designer clothes. However, interestingly, in a bankruptcy filing, Chrisley claimed that his clothes were only worth $650.
In 2016, Chrisley released the country single, "Infinite Love," with Sara Evans. The song peaked at #19 on the Billboard Country Digital Singles chart.
In August 2017, USA Network announced that it had ordered a half-hour after-show called According to Chrisley. The talk show was hosted by Todd Chrisley and featured Todd "tackling the truth about marriage, parenting, sex, and relationships." Each episode also features a member of the Chrisley family, as well as a celebrity guest. The show premiered on September 12, 2017 and was canceled after one season.
Personal Life
Todd Chrisley was married to Teresa Terry until 1996. They have two children, Lindsie and Kyle. The same year he divorced Teresa, he married former beauty pageant queen Julie Hughes, now known as Julie Chrisley. They have three children, Savannah, Chase, and Grayson. Julie is the daughter of a Baptist minister, Todd's business partner, and best friend.
Todd Chrisley is a germophobe and tries to avoid things like dirt and animals.
Real Estate
In 2015, Chrisley moved his family to Nashville, where there are no state income taxes, and bought a home for $1.6 million. In June 2019, the Chrisleys spent $3.4 million on a home just outside of Nashville. A mere two months later, amid their alleged financial crimes, they put the home on the market for $4.7 million.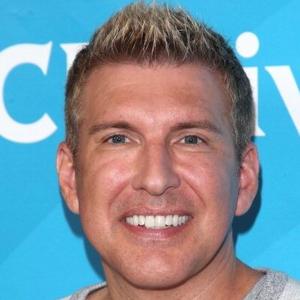 Todd Chrisley
| | |
| --- | --- |
| Net Worth: | $1.5 Million |
| Date of Birth: | Apr 6, 1969 (53 years old) |
| Gender: | Male |
| Profession: | Businessperson |
| Nationality: | United States of America |
All net worths are calculated using data drawn from public sources. When provided, we also incorporate private tips and feedback received from the celebrities or their representatives. While we work diligently to ensure that our numbers are as accurate as possible, unless otherwise indicated they are only estimates. We welcome all corrections and feedback using the button below.