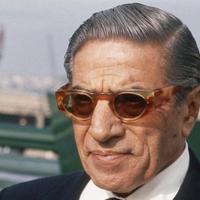 Aristotle Onassis Net Worth
| | |
| --- | --- |
| Net Worth: | $500 Million |
| Date of Birth: | Jan 20, 1906 - Mar 15, 1975 (69 years old) |
| Place of Birth: | Karataş, Izmir |
| Gender: | Male |
| Profession: | Business magnate |
| Nationality: | Greece |
What was Aristotle Onassis's Net Worth?
Aristotle Onassis was a Greek-Argentine shipping magnate who had a net worth of $500 million at the time of his death in 1975, That's the same as $2.3 billion after adjusting for inflation today. Aristotle Onassis put together the largest privately-owned shipping fleet in the world. He reached a new level of public recognition in the late 60s when he married Jacqueline Kennedy, the widow of US President John F. Kennedy. Among his other career highlights, Onassis founded the Greek airline company Olympic Airways. Aristotle Onassis passed away on March 15, 1975 at 69 years old of respiratory failure.
Today, Aristotle's granddaughter Athina Onassis is the sole heir to his shipping empire. Athina's mother Christina Onassis was the daughter of Aristotle. Christina died of a heart attack in 1988. At that point the 7-year-old Athina inherited a billion dollar fortune.
Early Life
Aristotle Onassis was born on January 20, 1906 in Karataş in what was then Smyrna, Ottoman Empire. His parents were Penelope and Socrates. He had a sister named Artemis and two half-sisters from his father's second marriage named Kalliroi and Merope. Due to his father's success as a shipping entrepreneur, Onassis went to prestigious schools, including the Evangelical Greek School. He graduated at the age of 16 with fluency in Greek, Turkish, English, and Spanish. Things took a turn for the worse during the Greco-Turkish War, when the Onassis family's property holdings were lost in the takeover of Smyrna by Turkey. Following the massive fire in the city in 1922, Onassis and his family fled to Greece as refugees.
Argentine Emigre
Via a stateless persons passport, Onassis settled in Buenos Aires, Argentina in 1923. There, he landed a job as a telephone operator while studying commerce and port-duty administration. Later, Onassis founded an Argentine import-export company, through which he became successful by importing English-Turkish tobacco. In 1929, he became an Argentine citizen. Onassis went on to establish his first shipping trading company, Astilleros Onassis. He soon expanded his business globally and moved to New York City.
Shipping Empire
Continuing to develop his shipping empire, Onassis eventually amassed a fleet of over 70 vessels, including tankers and freighters. The fleet flew mostly Liberian and Panamanian flags, sailing tax-free at low operating costs. Due in large part to Onassis's general disregard for standard international shipping practices, he made huge profits.
Business in Monaco
He also used front companies, through which he famously acquired the company Société des Bains de Mer de Monaco; its assets included the Monte Carlo Casino and the Hôtel de Paris, as well as a third of Monaco's acreage. Although Onassis initially got along with Monaco's leader, Prince Rainier III, their relationship fell apart amid France's boycott of the country and their increasingly conflicting visions of what Monaco should be. Onassis eventually sold his holdings in SBM to the state of Monaco before leaving the country.
Saudi Arabia and FBI Investigation
During the oil boom in the 50s, Onassis attempted to set up a tanker transport deal with the king of Saudi Arabia. This took the US government by surprise, as the Arabian-American Oil Company had a monopoly on Saudi oil, and the deal would have effectively ended that control. Ultimately, the US government called off the arrangement; moreover, it launched an FBI investigation into potential fraud by Onassis. He ended up being charged with violating a citizenship provision of shipping laws. Consequently, Onassis entered a guilty plea and paid $7 million.
Whaling Venture
In the 50s, Onassis found commercial success whaling off the South American coast. However, as in his shipping endeavors, he mostly disregarded international seafaring laws. In 1954, the Peruvian government claimed that Onassis's fleet was whaling within 200 miles of the country's coast without permission. In response, it sent naval vessels and aircraft to intercept the fleet. Onassis's whaling venture ended after being sold to Japan's Kyokuyo Hogei Kaisha Whaling Company for $8.5 million.
Olympic Airways
Onassis began one of his most lucrative businesses in 1957, when he founded the Greek airline company Olympic Airways. During his tenure as head of the company, he made major investments in cutting-edge technology and training programs. In his last year with Olympic in 1974, the company had a workforce of 7,356 and transported 2.5 million passengers. Onassis was one of only two men in the world at the time, alongside Howard Hughes, to own a private airline company.
Other Endeavors
Among his other major business endeavors, Onassis launched the investment program Project Omega, which was intended to develop formidable industrial infrastructure in Greece. To gain assistance with the project, Onassis enlisted Greek military junta dictator Georgios Papadopoulos. Overall, Project Omega was highly controversial due to dissent from influential figures within the junta.
Onassis invested in a number of other companies and properties over the years. He owned gold-processing plants in Argentina and Uruguay, a chemical company in Iran, and the companies Olympic Maritime and Olympic Tourist. Onassis also owned various apartments, a French castle, a Manhattan high-rise, and the Greek island of Skorpios.
Relationships
Onassis married his first wife, Tina Livanos, in 1946. Twenty-three years his junior, she was the daughter of shipping magnate Stavros G. Livanos and his wife Arietta Zafrikakis. Onassis and Livanos had two children named Alexander and Christina. Their relationship slowly deteriorated over the years until they became separated by the mid-50s. They eventually divorced in 1960 after Livanos discovered Onassis in bed with one of her friends. At the time, Onassis was also having an affair with opera singer Maria Callas.
Onassis's most high-profile relationship was with Jacqueline Kennedy, the widow of US President John F. Kennedy. The couple married amid great publicity in 1968 on Onassis's private island of Skorpios. They lived in six different residences during their marriage, including apartments in New York City and Paris, homes in New Jersey and Athens, and Onassis's yacht Christina O.
Death and Legacy
In 1975, two years after his son Alexander was killed in a plane crash, Onassis passed away in France from respiratory failure. He was 69 years of age. His legacy continues through his charitable foundation, the Alexander S. Onassis Foundation, named in honor of his son.
All net worths are calculated using data drawn from public sources. When provided, we also incorporate private tips and feedback received from the celebrities or their representatives. While we work diligently to ensure that our numbers are as accurate as possible, unless otherwise indicated they are only estimates. We welcome all corrections and feedback using the button below.