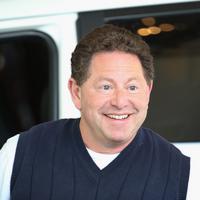 | | |
| --- | --- |
| Net Worth: | $600 Million |
| Salary: | $30 Million |
| Date of Birth: | 1963 (59 years old) |
| Place of Birth: | Long Island |
| Gender: | Male |
| Profession: | Businessperson |
| Nationality: | United States of America |
What is Bobby Kotick's Net worth and Salary?
Robert "Bobby" Kotick is an American businessman who has a net worth of $600 million. Kotick is famous for being the CEO of Activision Blizzard. He first became CEO of Activision in 1991 and later orchestrated the company's merger with Blizzard in 2008. Activision is the second-largest publicly traded video game company by market cap. It's popular games include "World of Warcraft," "Call of Duty," and "Candy Crush." The company employees more than 10,000 people worldwide.
Under Kotick's leadership, in the decade between 2010 and 2020, Activision's market cap rose from $14 billion to over $54 billion. In January 2022 Microsoft announced it was buying Activision for $75 billion. At Microsoft's acquisition price of $95 per share, Bobby's roughly 4 million shares were worth $380 million. In the decade before the sale was announced, Bobby sold around $450 million shares. He has also periodically been one of the highest-paid CEOs in the world. In 2020 he earned $154 million in total compensation.
Outside of his involvement in the video games industry, Bobby serves on a number of company boards, the majority of which have been tech companies. He was once the director of Yahoo! and currently serves as a non-executive director of The Coca-Cola company. In addition, he once served on the board of the Tony Hawk Foundation.
Early Life
Robert A. Kotick was born in 1963. He was raised in New York and became interested in business and entrepreneurship at an early age. He created his first business cards while he was still in junior high, and when he reached high school he was already running his own business. After graduating from high school, he studied art history at the University of Michigan.
Career
Kotick's career got started in the early 80s while he was still a student at the University of Michigan. He started a tech company with a friend in their dorm room, and together they created software for the Apple II. After the duo received a $300,000 investment in their software company, Steve Jobs heard about them and paid Kotick and his friend a visit. Jobs advised them both to drop out and focus on software, and they did just that.
After a number of lackluster attempts to break into the video game industry, Bobby finally succeeded in purchasing a 25% stake in Mediagenic, the company that would later become known as Activision. By 1991, he was CEO of the newly-established company and he led them to an accelerated rate of growth. Activision later became famous for the incredibly successful "Call of Duty" video game franchise.
In 2006, Kotick oversaw a merger with a number of video game development companies such as Blizzard Entertainment and Sierra Entertainment. After the merger, Bobby became the CEO of the new company, which was called Activision Blizzard. Since the merger, Blizzard has become known for video game series such as "Diablo," "World of Warcraft," and "Overwatch."
During the latter part of the 2010s, Kotick focused more on esports and established the Overwatch League. In 2017, it was announced that Bobby Kotick had become the longest-serving head of any publicly-traded tech company. Bobby's recent expansion efforts include the production of video games based on Activision Blizzard's most popular video games.
Salary
In 2020, it was revealed that Bobby Kotick took home approximately $40 million for the previous year (2019). This includes a base salary of $30.1 million (down from $31 million in the previous year), plus added bonuses, perks, and stock options.
In 2021, it was revealed that Bobby earned $154 million in total compensation in 2020. That made him one of the highest-paid CEOs of a public company for the year.
In October 2021, in the wake of a series of sexual harassment and assault allegations at the company, Bobby voluntarily requested his salary be reduced to $62,500.
Stock Holdings and Sales
According to company filings, in the two decades between January 2000 and March 2020, Bobby sold roughly $450 million worth of Activision stock. A large chunk of that windfall came from one sale in August 2016 when he sold $347 million worth of his shares.
At the time the Microsoft deal was announced Bobby owned just under 4 million Activision Blizzard shares. Before the Microsoft deal was announced, Bobby's shares were worth around $250 million. At Microsoft's acquisition price per share of $95, his shares were worth $380 million.
Bobby also owns at least 70,000 Coca-Cola shares.
Controversy
Bobby Kotick became shrouded in controversy in 2020 when several Blizzard employees came forward with accusations of extreme wage disparity, specifically using Kotick's inflated salary and total yearly earnings as an example of this imbalance. While Bobby was raking in seven-figure sums thanks to successful games like "Overwatch," "Diablo," and "World of Warcraft," the employees who were actually creating these games were paid comparatively low wages. Bobby Kotick is paid approximately 320 times as much as the average Activision Blizzard employee, who earns $97,000 per year.
Individuals came forward with shocking stories. Some of these employees were skipping meals due to their lack of available funds. Some reportedly "binged" free coffee served at the cafeteria as a way to suppress their appetites. One employee even admitted that they chose not to have children because of their low wages.
Many were surprised to hear that relatively few people on the Blizzard payroll were earning six-figure salaries, especially considering its success and dominance within the video games industry. An official statement from Blizzard stated that "top performers" received higher salary increases than previous years, and that more employees received promotions than in previous years.
However, it was later discovered that these salaries had increased by less than 10%. In addition, one year prior Bobby Kotick had laid off over 800 workers – even though the company was producing record profits at that time. The wage disparity within Blizzard is a microcosm of what's happening throughout the rest of the video game industry, as similar stories are emerging within other game studios. Many employees are voicing a desire to become unionized.
That said, Bobby Kotick did provide his personal phone number and email to all Blizzard employees if they ever needed to chat about their issues.
In addition, Bobby Kotick's entire business model at Activision Blizzard has drawn considerable criticism. His expressed goal is to focus on titles that can be monetized over a long period of time, and he avoids games that cannot guarantee the creation of sequels. At the end of the day, Kotick is all about business and releases games based on the bottom line rather than their artistic value.
In 2009, he caused a stir when he mentioned "If it were up to me, I would raise the prices even further." He was responding to a question about Activision Blizzard raising the prices of its games. Although the comment was made as a joke, it was seen as insensitive due to the fact that most consumers were struggling with a global recession at the time.
On the other hand, Kotick also threatened to stop making games for the PS3 unless Sony cut the price of the console. This was also in 2009. He also launched a number of initiatives that support small video game developers and has expressed a desire to "keep the passion in game development."
All net worths are calculated using data drawn from public sources. When provided, we also incorporate private tips and feedback received from the celebrities or their representatives. While we work diligently to ensure that our numbers are as accurate as possible, unless otherwise indicated they are only estimates. We welcome all corrections and feedback using the button below.